The class of 2019 caps off its achievements
The class of 2019 caps off its achievements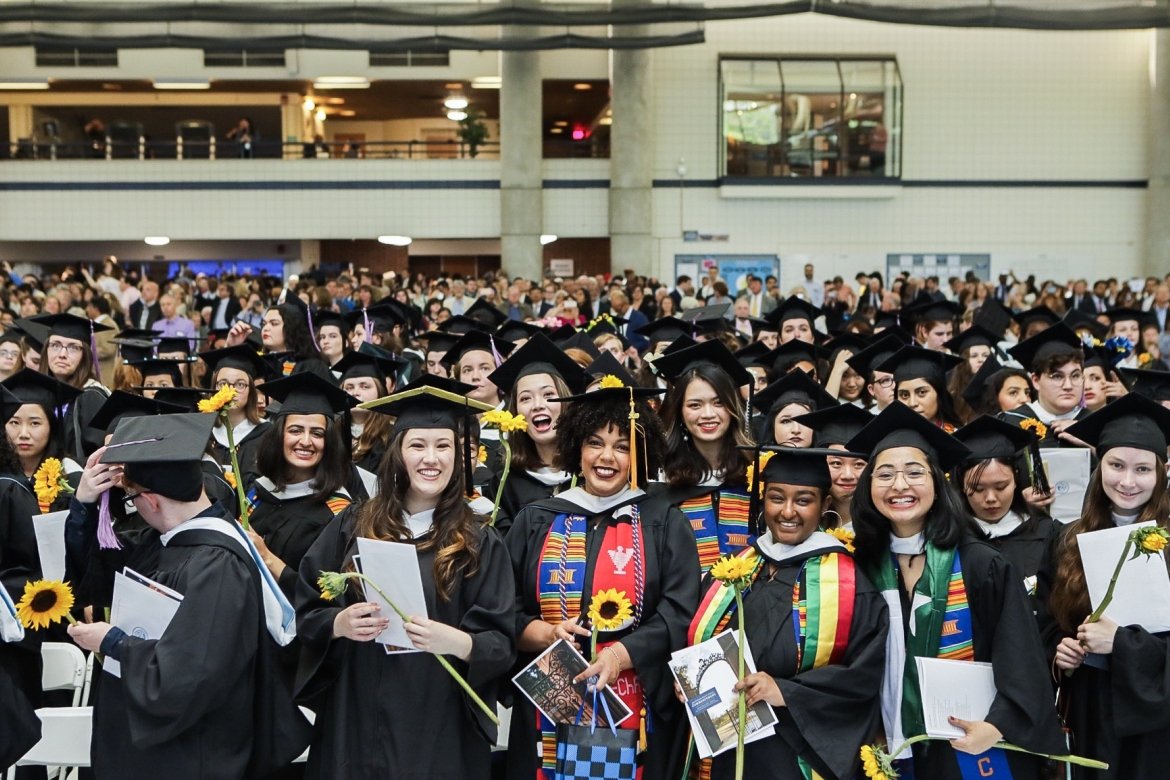 The graduates at Mount Holyoke's 182nd Commencement were urged to speak up, speak out and work together to make the world a better place.
By Keely Savoie
More than 550 seniors and 60 master's degree candidates marched into the Kendall Sports & Dance Complex for Mount Holyoke College's 182nd Commencement on May 19, 2019. They were met by the shouts, cheers and applause of friends and family who had come from near and far — the graduates represent 30 countries and five continents — to celebrate the momentous occasion.
Along with their yellow scarves, the color of their class symbol, the sphinx, the graduates received golden sunflowers to carry as they walked across the stage and into the next phase of their lives — as well as some solid advice: Whatever your journey, whatever your passion in life, follow it where it takes you and leave the world a better place.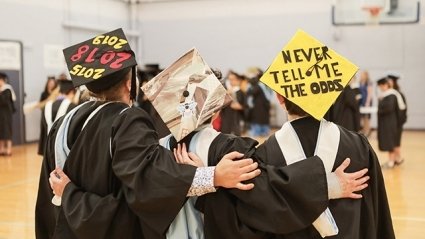 In convening the ceremony, Barbara M. Baumann '77 welcomed the new graduates to the community of more than 38,000 Mount Holyoke alumnae.
"Join us beyond the gates as we continue to open doors for one another and accomplish truly great things," she said.
President Sonya Stephens, in her first Commencement address since her inauguration as Mount Holyoke's 19th president, expressed confidence that the new graduates would do well by the world with the power of their education and the passion of their beliefs. She wished them success in their undertakings and urged them to come back to inspire future Mount Holyoke students.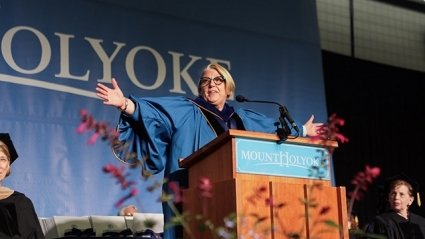 "If this world is in your hands, it is in good hands," she said. "May you see progress in your endeavors and be a force for good and for change in the world. … May the path you have forged here be just the start of your path-breaking, a path that you make as you travel onward — and that I hope will always lead you back here to share your story."
Near perfection — and a charge to act
Adrienne Arsht '63 and Barbara Smith '69 did just that, returning to Mount Holyoke decades after their own commencements to share their stories, their hopes and their hard-won wisdom, and to receive honorary doctoral degrees. Each of them related the unique path she took through life. After becoming the 11th woman admitted to the bar in Delaware, Arsht went on to a ground-breaking career as an attorney, business leader and philanthropist. Smith brought together the feminist, Black and still-nascent LGBT movements that intersected at her identity, before intersectionality was a known concept.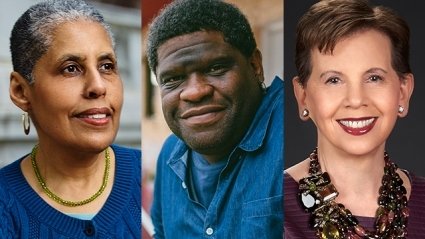 "Those of us who graduated from Mount Holyoke are clearly nearly perfect," Arsht said to whoops and cheers.
"There's a price to pay for achieving near perfection," she said. "It's called responsibility. The responsibility to do the right thing. The responsibility to speak up and speak out."
Smith, whose engagement in the world took many forms, including founding a press for women of color and an activist collective, noted the importance of the true believers who paved her way. Without the hard work and dedication of the activists and the Civil rights movement before her, Smith said, she would not have been able to attend Mount Holyoke College and become the world-changer she is. She also credited her family's prescient support in preparing her for opportunities that didn't yet exist.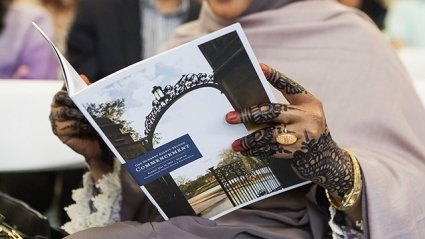 "How brilliant were these women that they prepared me … at a time when none of the elite private institutions of this country were interested in having students like us attend," Smith said. "My family might have done everything possible to prepare me, but ultimately it was an organized political movement that opened the door."
Gary Younge, award-winning and ground-breaking journalist, also received an honorary doctorate and bestowed his advice on the newly-minted graduates.
Younge has built his career using his journalistic instincts and dedication to global justice to shine a light on the complex issues facing our contemporary world, from civil rights to gun violence. He credited his mother for his success. She was a London immigrant from Barbados who worked tirelessly to support her family and taught him the value of a life well-lived.
"You only have one life," he said. "Own it, live it, love it."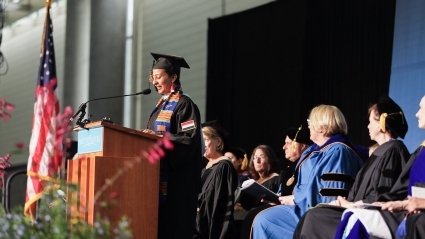 Senior class speaker Nada Taha Al-Thawr '19, wearing a kente cloth stole she received at the Stoling Ceremony for graduating students of color, stood as a living testament to the progress made by forebears, including Mary Lyon, founder of the College.
"We were never willing to settle and always broke boundaries around ourselves, our community and our campus to reach new heights Mary Lyon herself never dreamt of," she said, referencing Mount Holyoke's redoubled efforts to embrace, live and expand its commitment to diversity, equity and inclusion, from its annual BOOM! learning conference to its Living-Learning Communities.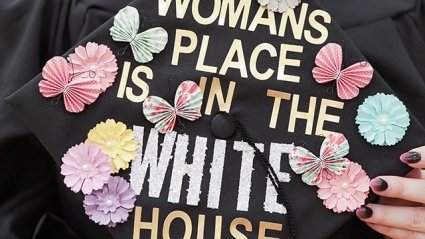 Going forward
Changing the world is no small task for graduates to be charged with, but many of the newly minted Mount Holyoke graduates are already on their way, with nearly a quarter planning to enroll in graduate school in the fall, at institutions such as Brown, New York University, Harvard, Columbia and Cornell. And 70% of graduates who plan to be working full-time post-graduation will be doing so at locations such as Google, Microsoft, MIT and the Smithsonian Institute, to name a few.
"I am not necessarily suggesting that all of you follow my path and become political organizers, although I am inspired that a number of you already are," said Smith. "But I absolutely believe that each of you can speak out against injustice in your workplace, your community, your school, your social and personal networks, and work together with others to find ways to make change."
"We need you to make a difference where you are and however you see fit to do that," she said. "I cannot imagine a group of people better equipped to do that than the remarkable graduates of Mount Holyoke College's class of 2019."
Watch the recap