Decoding ecological interdependency with DNA.
Decoding ecological interdependency with DNA.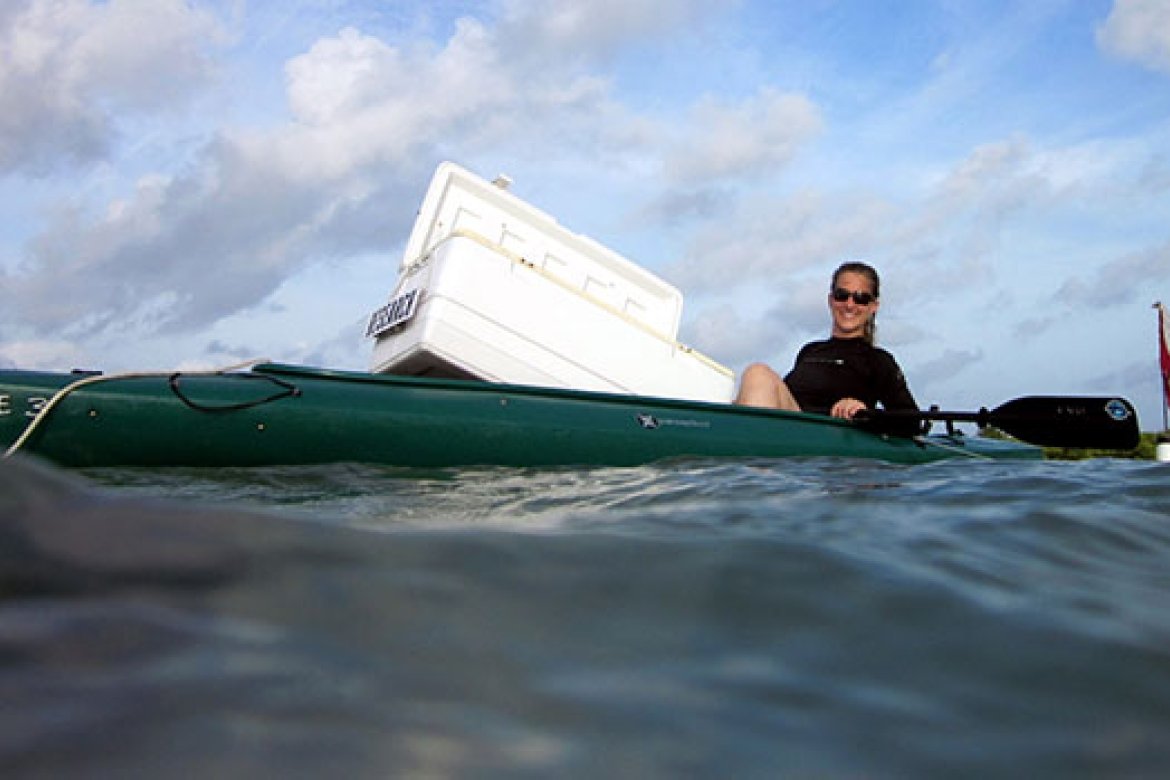 Biologist Koty Sharp '98 employs metagenomics to reveal intricate relationships between interdependent organisms at sea.
By Keely Savoie
Inspiration is never far away for Katherine "Koty" Sharp '98.
A biological sciences major during her time at Mount Holyoke, she has always had a deep appreciation for learning how organisms behave in the world.
Now, a recent approach, metagenomics, has given her a powerful tool with which to probe the world. The method enables scientists to sequence the DNA from many organisms at once and reveals the big picture in genetic terms—how organisms function together in the world, and how that affects their individual survival.
"Sequencing the metagenome of a sample allows us to understand how organisms interact with one another," explained Sharp.
As a post-doctoral research fellow between 2008 and 2011, Sharp worked with Daniel Distel, director of the Ocean Genome Legacy Center now based at Northeastern University. She learned about shipworms—mollusks that attach themselves to ships' hulls and bore through the wood like nautical termites, often causing irreparable damage. Specifically, the researchers wanted to determine how shipworms digest the cellulose in wood.
"In many species, gut microbes are critical for digestion, but shipworms do not have a bacterial community in their gut," said Sharp. "Instead, their gills are packed with bacteria."
When the researchers sequenced the metagenome, they saw that the shipworms were selectively transporting the enzymes necessary for cellulose digestion directly to their guts. The discovery, published in the November 25 issue of Proceedings of the National Academy of Sciences, may have important implications for the biofuel industry.
"This research identifies enzymes that may be used to develop new technologies for converting paper and wood waste products into fuel as a renewable and recycled source of energy," Sharp explained.
Sharp, who is a professor of marine science and biology at Eckerd College in Florida, credits Mount Holyoke biology professor Craig Woodard with sparking her passion to learn about how life works.
"I had my first experience with independent research working with Professor Woodard," she remembered. "It inspired me to pursue a career in teaching and scientific research. He helped me to realize what I love about science—being able to ask and answer questions. And the solid biology and chemistry background I got from my coursework at Mount Holyoke gave me the foundation and the confidence I needed to continue in science after I graduated."
Sharp continues to ply the tools of her trade to better understand the relationships between marine organisms and their microbial symbionts in tropical reefs, while also teaching her own students how to answer the questions of their time—and even more importantly, how to ask them.
"Knowing how valuable my undergraduate research experience was, it's thrilling for me to be able to offer that opportunity to undergraduates, and to be training the next generation of young scientists," she said.
Find your inspiration. Learn how.