Encouraged to follow my passions
Encouraged to follow my passions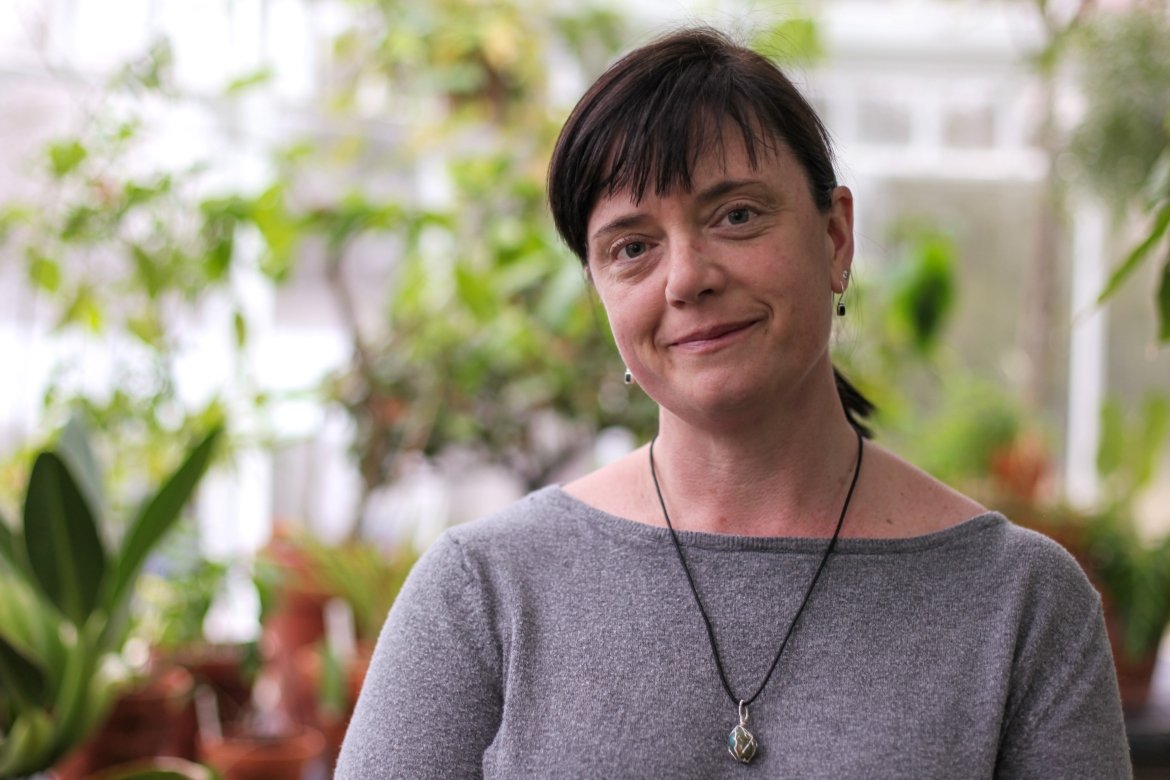 "As a Frances Perkins scholar at Mount Holyoke, you are unconditionally supported and encouraged to find your unique voice and passion. Thanks to this support, the phrase 'the sky's the limit' now applies to me and my professional pursuits."
Hometown: Northampton, Massachusetts
Academics: English major
For Cassie Platt, it all comes down to poetry — and how its interaction with art and music empowers her. 
"There's an inspiring cross-section between theater, art and creative writing majors at Mount Holyoke," she said. "These areas of study promote acceptance of diverse populations, which is exciting for me as a Frances Perkins Scholar."  
Platt has explored the College's cross-disciplinary offerings widely, beginning with an introduction to poetry class taught by Sam Ace, a visiting lecturer in English.
Ace often works with sound in his poetry. He gave the class an assignment to tour the Mount Holyoke College Art Museum while listening to a 12-song playlist they had each created. "Zombie" by the Cranberries was playing when a Picasso drawing caught Platt's eye. 
"I saw this piece that depicted sexual violence against women and it just elicited this very strong reaction," she said. "I was overcome with emotion and the need to write. On my way home I had to pull over twice. The words were just coming."
She spoke about her reaction with Kendra Weisbin, associate curator of education at the Art Museum, who posted Platt's poem next to the drawing.
"I discovered that I actually have a voice and could quietly make some changes," Platt said. 
Emboldened, Platt used her Jean Sudrann Class of 1939 Research Award to explore other art museums, including the Museum of Fine Arts in Boston and the Guggenheim Museum in New York City, while listening to the same playlist. 
She used an anthropology assignment to explore local open mic poetry readings and decided to participate. At one, an audience member was an editor from the Peregrine Literary Journal, which later published two of her poems.
"I never would have taken an anthropology class if I were not encouraged from the moment I got on campus to try something new, something that I had never imagined," Platt said.
Platt's interdisciplinary journey also includes examining letters by Virginia Woolf at the British Library in London, a trip made possible by the College's Lynk funding. She is using her research for a collection of pieces about women's health as a result of trauma, with Ace as her advisor. 
"I came to Mount Holyoke thinking that I needed to focus on an avenue that would get me a job right away," said Platt, who recently received the Class of 1957 Frances Perkins Scholarship. "But I was encouraged to follow my passions and to discover things about myself that I never knew," she said. "I've found my voice in a big way and I'm so thankful."