Fieldwork for all!
Fieldwork for all!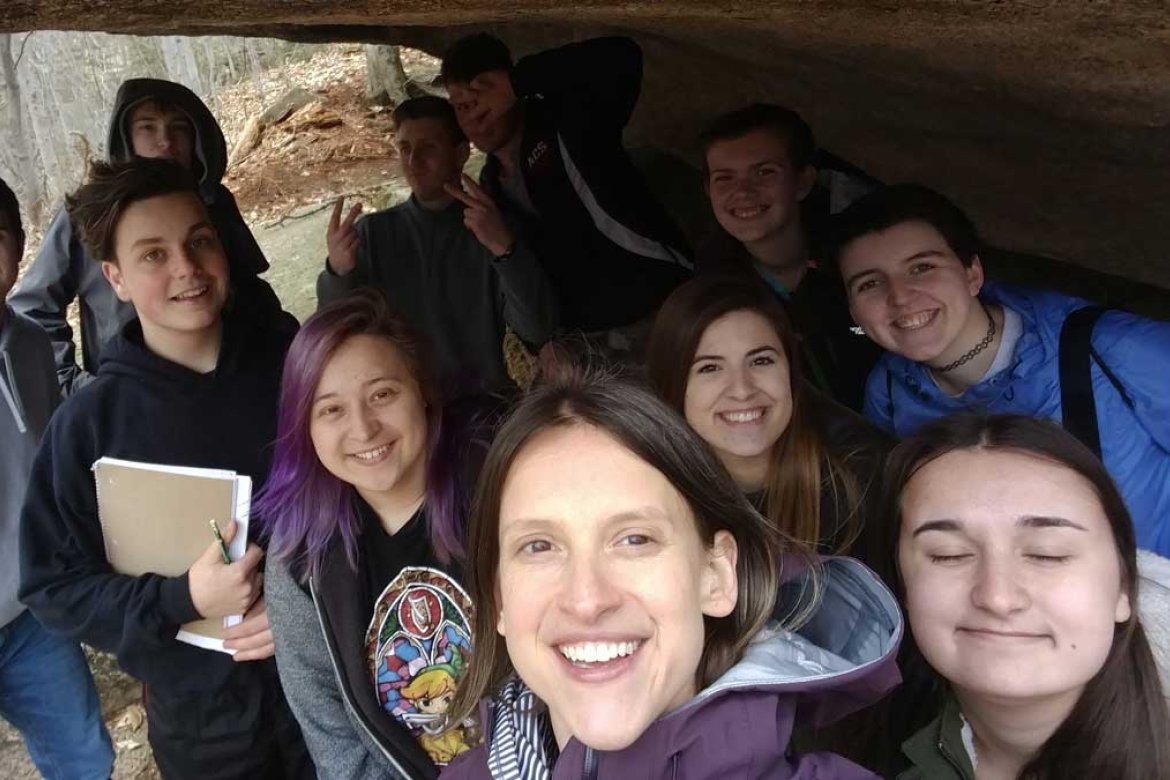 Connecting students to the natural world they live in is why I am teaching and what Mount Holyoke gave me the ability to do.
Academic focus: Geology major, English minor
Advanced degree: M.S. in geology, Brown University
After I finished my master's degree in 2004, I was at a crossroads. I knew I loved geology and being out in the field, but I wasn't enjoying lab work or academia. Like many people in their mid-20s, I was racked with indecision and self-doubt. Not sure what to do next, I heard about a licensing program in Massachusetts that allows you to teach in secondary schools while earning a teacher's license. I thought, Why not? How hard could teaching for a year be, right? I was wrong. It was not easy, and yet it was so rewarding and fun that one year wasn't enough, and I've continued to work at the same school ever since.
My fun fact that I tell my students is that I hated science in high school. My classes were text-based and indoors. It wasn't until the Environmental Geology class I took my first year at Mount Holyoke that I realized science is active, fun and helps me understand the natural world that I love. I vividly remember standing in Stony Brook near the art museum in hip waders, calculating stream discharge and thinking, Wait, this is science? But this is fun! It was a revelation.
Now as a high school science teacher of over a decade, all of my classes are field-based. I teach environmental science, geology, astronomy and archaeology. With my master's degree, I have adjunct status at our local community college, so my students can earn college credit with some of my courses. I even take my students out to Plum Island to measure beach profiles, which I was first introduced to in geomorphology.
Although we live 30 miles from the coast, for some of my students it is their first time seeing the ocean. That opportunity to connect students to the natural world they live in is why I am teaching and what Mount Holyoke gave me the ability to do.
In 2016, I was named as an Educator Collaborator with Science Friday, the radio show with Ira Flatow. With them, I've written articles and published resources for teachers to get their students outside and engaging with real data. I also now travel the country giving workshops for teachers to introduce them to a hands-on and project-based approach to learning and teaching.