Goalie-oke: perspectives from the pitch
Goalie-oke: perspectives from the pitch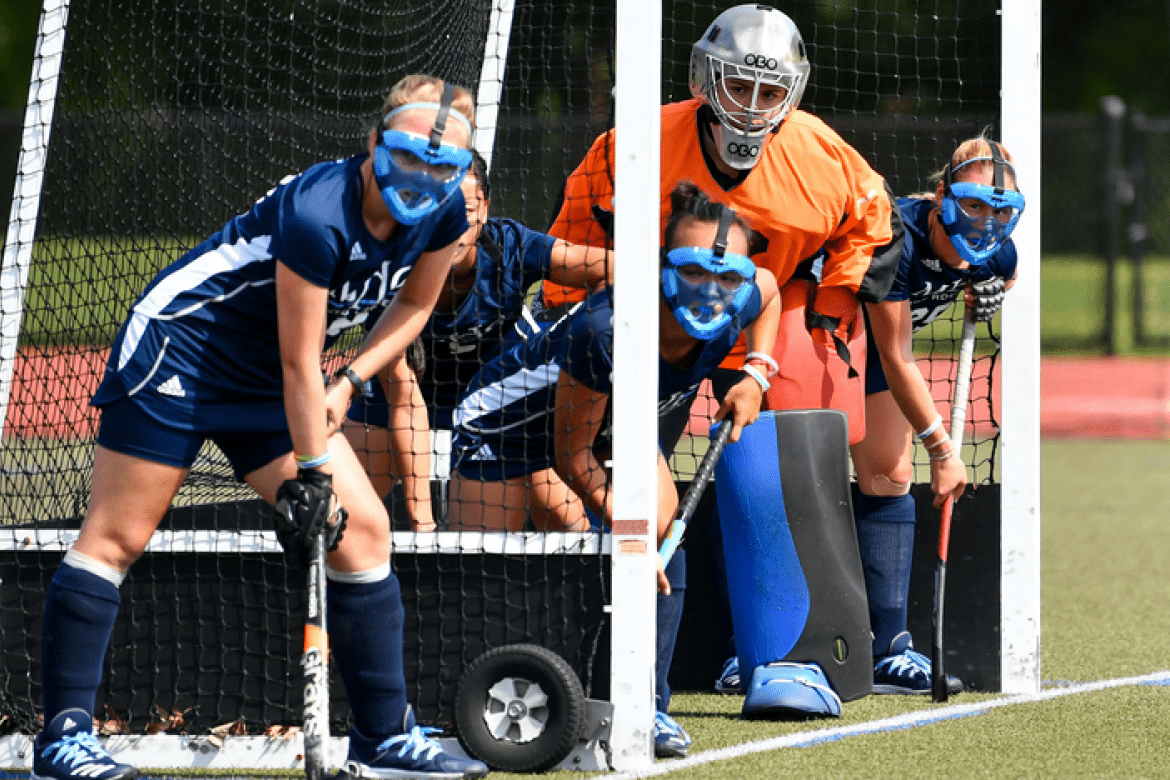 Morgan Turner '20 reflects on her time as a goalie for the Mount Holyoke College varsity field hockey team.
by Morgan Turner '20
Fall in South Hadley means many things: the first opportunity to break out an MHC hoodie, crisp leaves falling on Skinner Green, the long-awaited hike to the Summit House atop Mt. Holyoke on Mountain Day. But for me and my 21 teammates, the changing of the seasons is also accompanied by 5-ounce solid plastic balls. Field hockey balls, to be exact. 
As this November rolls around, I am entering the last stretch of my fourth and final season as a member of the Mount Holyoke field hockey team. Kendall Sports & Dance Complex is more familiar to me than both my residence hall room in North Rockefeller and the Reese Psychology & Education Building, where I've taken every class for my major. We're on the field six days per week. We typically have one weekday and one Saturday matchup, with the remaining days dedicated to practice. Although this schedule can feel tedious, senior year has become about embracing and enjoying each step of the journey. 
"Early is on time, on time is late." Although practice officially begins at 4:45 p.m., you can find our team crowded into Streeter lounge well before then. We're hard to miss, sporting identical practice jerseys (typically flipped to the blue side for defense or white for offense) and navy athletic shorts embroidered with "Mount Holyoke Lyons." 
Practice begins with a warmup run: a lap around Upper Lake, campus or the field. Then it's on to "dynamics." Rock back and forth on your feet for 30 seconds. Heel to toe, heel to toe. Then on to walking quad pulls. Focus on getting your muscles firing after a long day of sitting. After two passes through this stretch, it's time for walking side lunges, forward twisting lunges and hip flexors.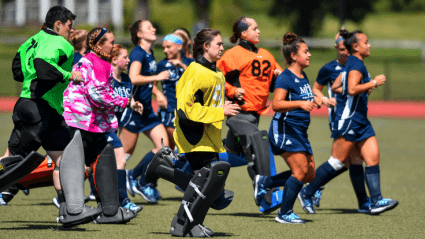 After dynamics, I race to put on my equipment along with three other members of our self-dubbed "goalie-oke" squad. Although I wouldn't consider myself superstitious in other parts of my life, I always put my equipment on the exact same way. Soft pants, hard pants, left kicker then right kicker, left leg guard then right leg guard, chest protector, right elbow pad then left elbow pad, practice jersey, hand protectors, helmet. Could I do this with my eyes closed? Absolutely.
There's a grossly clichéd saying in goalkeeping, "my goal is to stop yours," that nevertheless perfectly sums up our experience in net. While the field players practice running routes, passing and shooting, we work through drills intended to improve our footwork, speed and coordination. This approach to our practices has led to intense camaraderie across the last line of defense. Although the drills we run change day by day, our focus remains the same: Don't let the ball go in.
Even though running around in circles chasing a wheel of plastic doesn't appeal to everyone, allow me to leave you with a few lessons from the field: 
Hard minute. There's nothing you can't do for 60 seconds — give it your all and come away knowing you gave it your best. 
It's a great day to be a Lyon. It may not feel like it when there's 3 feet of snow on the ground and there are piles of homework to be done, but this is exactly where you need to be. 
Hockey strong. Be relentless in whatever you choose to pursue and take pride in yourself and your accomplishments along the way.
And finally, because I'm not sure how many more times I'll get to say this, "YEA YOKE."