I was inspired to let my voice be heard in class
I was inspired to let my voice be heard in class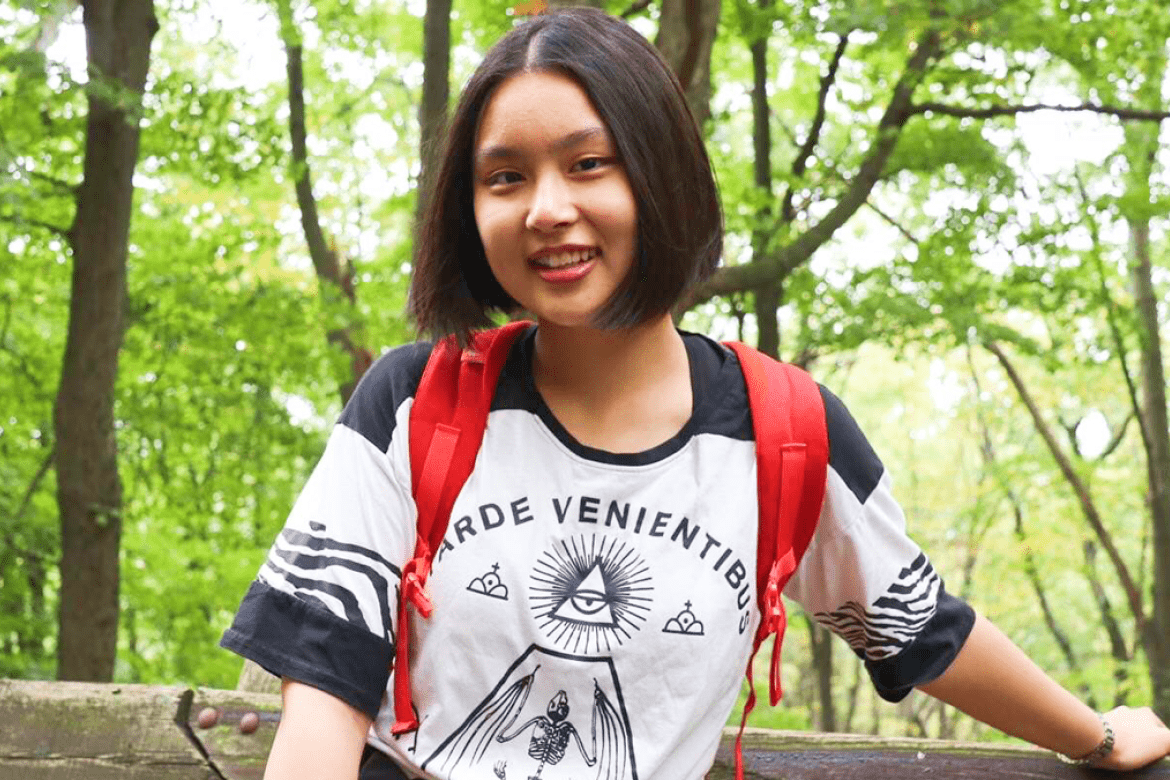 "This is the place where I can really let my voice be heard by other people, where I can figure out my potential as a woman, and as a woman of color."
Two professors guided Muyun (Charlotte) Wang on her Mount Holyoke journey.
A pre-med student who loves chemistry, biochemistry and biology, she learned how to think about her future career as a physician from Alan van Giessen, associate professor of Chemistry and chair of the department. 
"Alan was the first person to tell me that if you want to be a doctor, you cannot leave science," Wang says. "If you want to be a good doctor, you also have to be an outstanding scientist. This is an idea that I deeply believe in and I will hold on to even after I leave Mount Holyoke. I really want to use science and research as tools to push the development of medicine to solve problems, to make the treatment and the therapies for patients safer and more effective and more cost effective. That's something Alan inspired me to."
And Wang learned about life from Rebeccah Lijek, assistant professor of biology. Wang is doing research in Lijek's lab and took her immunology class. 
"Becki is my idol, my mentor along the path and in college," she says. "Every part of her life — her living style, her style of talking — all inspire me so much. She's a wonderful support person who inspired me to let my voice be heard in class — and also outside class. She has a really clear goal of what she wants to do. What she wants her students to learn. What she wants her class to look like." 
Lijek modeled being a successful scientist for her, Wang says. She demonstrated that gender and age don't matter. What matters is the potential for and capability of doing science. The effect was profound.  
"I started speaking up in class," Wang says. "I'm not afraid of confronting any big figures, because I think I also have the potential to become a person just like them. I made a really good choice of choosing Mount Holyoke College, because it offers such an amazing group of faculty members." 
Wang came to Mount Holyoke because of those faculty, the College's strong STEM programs and its liberal arts focus. But then she realized something else. 
"After getting to know about women's colleges and Mount Holyoke College," she says, "I found out that this is actually the place where I can really let my voice be heard by other people, where I can really figure out my potential as a woman, and also as a woman of color." 
She's figured out a lot. Wang is proud of all she has accomplished.
;
"I was able to use the resources around me, including people, academic courses, connections with alums and other experts," she says. "I took the opportunities to attend conferences and to join research. I learned how to think critically, how to do scientific explorations. I was able to communicate with diverse people to gain leadership skills, communication skills."
Those last couple are the skills she's the proudest of, Wang says. "I came here, not for a 4.0 GPA, not to get a good résumé, but to become a person who is able to live their life after they graduate from college." 
Wang plans to go to medical school after working a couple of years. After graduating, she will be a research assistant at a laboratory at Boston Children's Hospital, exploring mechanisms that lead to pediatric food allergy and asthma.
Muyun (Charlotte) Wang on being an international student 
When I call my mother in China, I wake her up. That's the only time that I feel like I'm an international student here. I think this is because the Mount Holyoke community welcomes people from around the globe. We are all family and Mount Holyoke College is really kind of a small version of the globe. Because it's so diverse. And that's the truth of the world — it's made up of people with very diverse backgrounds. 
This kind of diverse background really makes me experience something that a lot of people won't experience. I get to know people from diverse cultural backgrounds, how they think about political issues, racism, medicine. To hear people from other countries, their perspectives on their careers, their perspectives on medicine, education caused me to think about what I really want to do, to accomplish. I don't think patients are only American patients. Patients are around the world, patients are not just in one country. Because I have this opportunity to learn, to be educated, to be trained as a scientist and as a physician candidate, I hope to serve patients around the globe.
I have become more like an adult at Mount Holyoke. I gained more skills that I need. This is the time when I really depend on my own, because my family is not in America. I can only depend on myself. My community here are my peers, my friends. It's such a precious life period when I can re-form and improve myself to become a better person that I personally like and I personally feel proud of. I think it's memorable and I don't regret that I made the choice of studying abroad. It's so precious, even though there are so many stresses. It's still rewarding and I'm glad I made the right choice.  
The McCulloch Center for Global Initiatives offers students and faculty a wide variety of resources for education for global citizenship and careers, including guidance, programming, opportunities and more.