Innovative and fun dining during a pandemic
Innovative and fun dining during a pandemic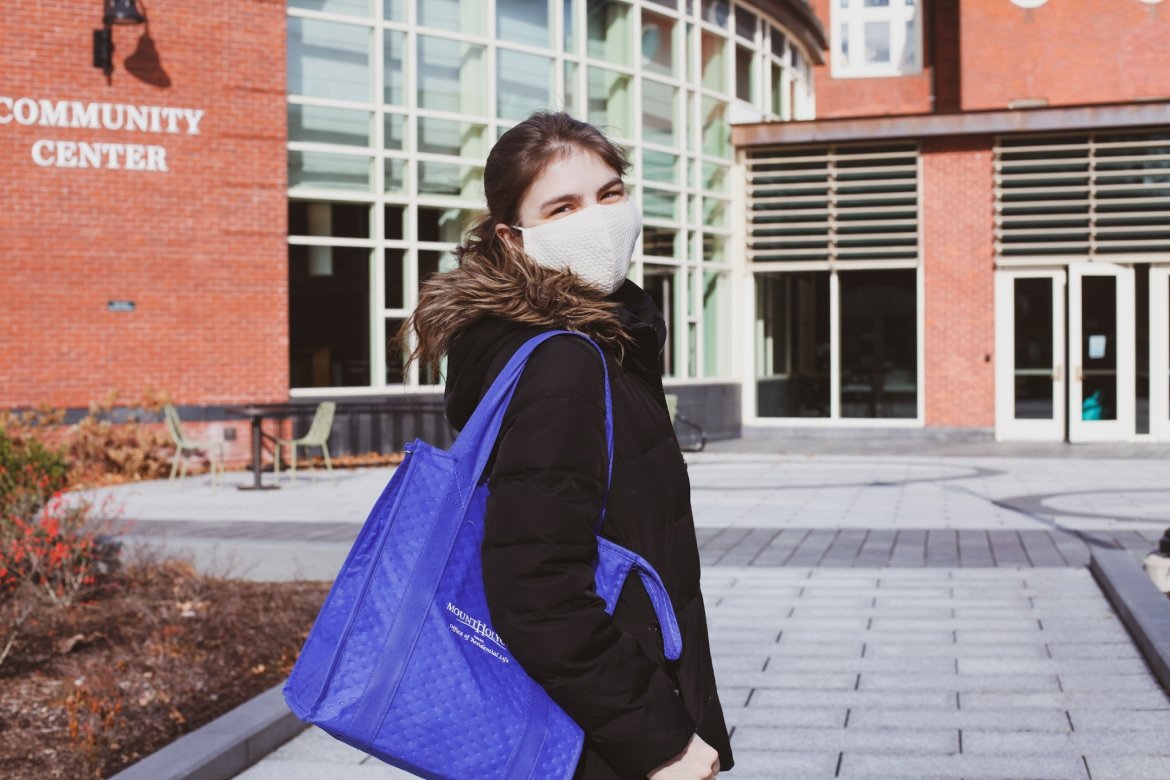 The dining experience at Mount Holyoke is a key component of student well-being. So how do you feed students safely in a pandemic?
Dining at Mount Holyoke College looks very different this spring.
With more students back on campus, Rich Perna, the executive director of Auxiliary Services at Mount Holyoke, wants to ensure students are well-fed and safe, even during the COVID-19 pandemic. The food offerings are different from the fall, when Dining Services was limited to a grab-and-go model and could only accommodate the fewer than 200 students on campus.
Perna's staff now is feeding about 1,000 students while sticking to strict social distancing protocols and Centers for Disease Control and Prevention guidelines.
The challenge required Perna's team to crunch numbers and think creatively while, he emphasized, maintaining the integrity of the program.
After extrapolating the numbers with the students on campus, he discovered that the College spends an estimated $300,000 on paper goods for dining a semester.
"We estimated we would have used 448,000 food containers, 400,000 cups, 400,000 lids, 200,000 cup sleeves, and 205,000 forks, knives and spoons in the spring semester," he said.
Then he started thinking: What if we create a reusable program?
With a $30,000 investment, Dining Services introduced a new concept and business model that is saving Mount Holyoke hundreds of thousands of dollars — and helping the environment too.
When students returned to campus in January, they found a lunch bag with two food containers, two beverage containers, and two sets of utensils in their residence hall rooms. It took one presentation for students to understand the concept. 
"We had to educate the students about the program on day one," Perna said. "By day three, they got it."
Students enter the Dining Commons and drop their used containers in front of the cashier station. "They drop the container in the bin," Perna said. "As soon as they do that, the cashier hands them a new one, the students swipe their OneCard and in they go."
The silverware is a small but impactful gesture. "We're using real silverware to continue the real dining experience. It makes a difference," he said. 
It also is a nod to normalcy in an otherwise very abnormal year. "We wanted to keep the integrity of the program, while other colleges are changing their platforms. We're giving students a program they'd see in a normal year."
A few other things have changed. Dining hours are shorter. There's only one entrance and one exit into the Dining Commons. Stickers are on the floor to mark the suggested six feet distance between people. All the sections — Classics, Grill, Harvest, L'Chaim (kosher), Baraka (halal),, and Wok — are open. While the Cochary Pub & Kitchen and the Frances Perk café remain closed, the Dining Commons now includes a Grab N Go section. 
With the to-go plan in place, Perna had to deal with the logistics. He lost sleep thinking about how to deal with a rush of students.
In the fall, dealing with the crowds was a piece of cake. "For lunch, within 15 minutes we serve 150 people, no big deal. It's a piece of cake. But when you add another 900, that's a different ballgame."
Instead, students now can also take as much food as they want, meaning some may hoard breakfast, lunch or dinner for a few days. "So if you don't want to fill up your container, you could go in there and just grab a quick meal and scoot out the door," he said.
The reusable containers only reinforce the College's commitment to sustainability. "About 24% of our food is locally sourced," Perna says. "We had a goal of 20% by 2020. We hit that in 2019."
Students also are encouraged to compost leftovers before returning them to the Dining Commons. Each residence hall has a compost bin. Residence halls are encouraged to compete to see who can compost the most.
The dining experience is a key component of the College's promotion of student well-being. It's not just nutrition, Perna said.
"Coming to the Dining Commons is one of the students' favorite parts of the day. We don't want to restrict students at all. Life is stressful enough."