It took a village
It took a village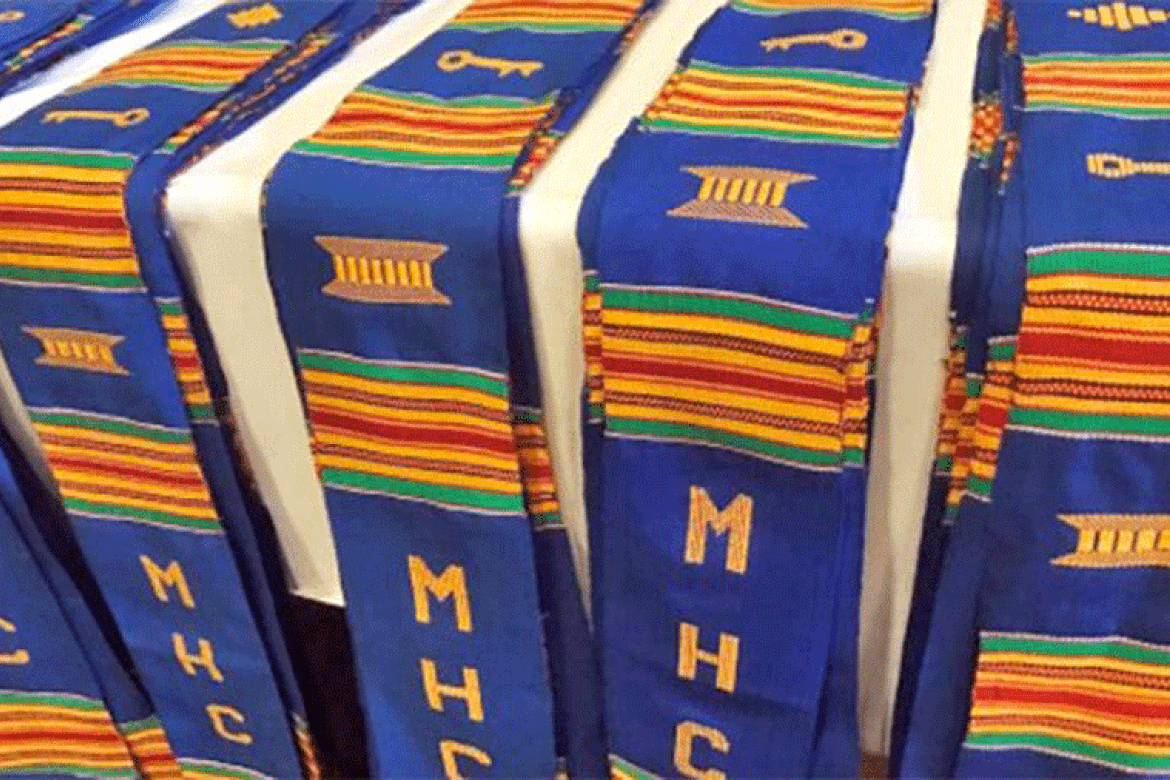 Alheri Egor-Egbe '17 reflects on her time at Mount Holyoke and what the stoling ceremony symbolized for her.
My Mount Holyoke journey began with a jolt: culture shock. Followed by waves and pangs: homesickness.
I endured a 22-hour flight — my first solo intercontinental journey — and arrived in a country that my Nigerian parents and I knew mainly from maps and news stories. Where I had no parents to move me into my first residence hall room or help me adjust to foods so radically different from what I'd eaten all my life. Where I soon met 2,200 strangers who would become the closest thing I had to family in this new land.
My journey wrapped up with emotions cut from a much different cloth — pride, appreciation, awe, excitement, connections — as fittingly symbolized by the College's Stoling ceremony.
Looking back from the finish line
On the Friday evening before Commencement, at the 12th annual Stoling ceremony, I had the chance to acknowledge my mentor and celebrate my achievements at Mount Holyoke. Four years since my arrival, many of those 2,200 people I first met became so much more than strangers. Some even became inspiring and motivating mentors, without whom I wouldn't have crossed the finish line.
The Stoling ceremony brought together students of color with the faculty, staff, friends and family who have helped buoy our success and bolstered our aspirations. There was hardly a dry eye in Chapin Auditorium as students shared a short speech about their mentors and presented them with a rose. In return, the mentors gave students a stole — a long scarf — made of royal and sacred Kente cloth, a boldly colored silk and cotton fabric that is native to Ghana. It's truly a moving ceremony: cue the hugs and stir the emotions!
Symbolizing the connection between students and mentors, the stole is embroidered with "MHC" and three symbols: a diamond for wealth and success, a key to unlock knowledge and a stool that signifies leadership and unity. Graduates wear the brightly colored scarves during Commencement.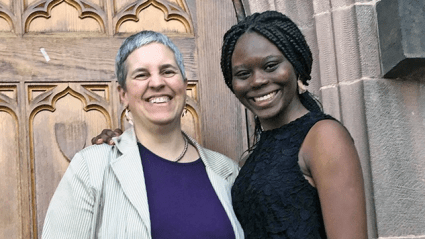 Honoring a compelling mentor
At Stoling, I chose to honor Sasha Nyary, my supervisor at the Office of Communications and Marketing. I worked as a media relations intern in communications for three years, writing news articles and student interest stories for the College website. Throughout my time with Sasha, she taught me a whole range of skills that will undoubtedly serve me in my life and career, from how to properly use the Oxford comma to how to effectively craft a compelling story.
Most importantly, Sasha was fiercely kind to me. Working with her taught me that even while working in a professional environment, I could care for people — in a genuine and very personal way. And that when we feel valued and cared for, we are more productive and better equipped to produce high quality work.
Late this spring, Sasha generously agreed to read and copy edit my senior thesis — all 150 pages of it. Line by line, word for word, Sasha corrected the typos that my eyes had missed after staring at the same pages for weeks and months. And to help me meet the demands of challenging classes in the last semester of my senior year, Sasha allowed me to determine my own work hours. Due in no small part to Sasha's help and mentorship, I graduated with high honors in English.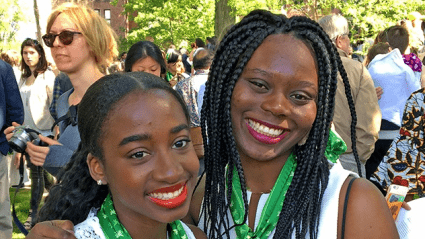 Power to the village
As I crossed the stage to collect my diploma in the presence of friends and family, some moments from the past four years flashed before me. A poignant one was of my first Saturday in the United States, when I called the only friend I had a phone number for, and cried for hours. I was ready to move back home: Mount Holyoke was too much for me, I couldn't warm up to the food, I didn't understand why we had to read several books for just one class.
What a difference four years — and an adjusted food palate! — makes. As I stand now at the cusp of an exciting career, grateful for my time at Mount Holyoke, I remember the African proverb that says it takes a village to raise a child.
I am certain that I have come this far not just by my own power or might. I graduated because of the encouragement and care I received from the wonderful village in this South Hadley haven, especially from mentors like Sasha, who have shaped my four years and challenged me to grow beyond my imagination.
Your village is calling. Learn more
Written By

Alheri Egor-Egbe '17
Published