Launching Leadership: Tahmima Anam '97
Launching Leadership: Tahmima Anam '97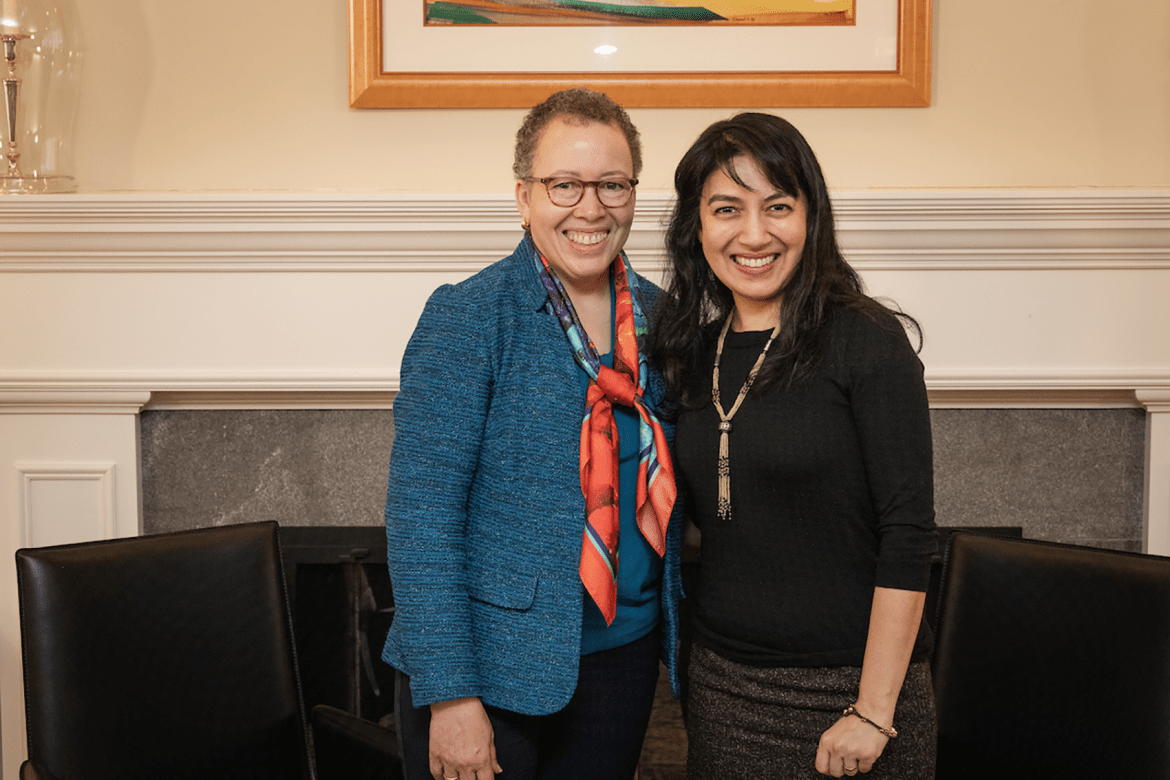 At a Launching Leadership event on Mount Holyoke's campus, alum and award-winning author Tahmima Anam '97 discussed anthropology, intense connections and the perils of writing satire.
Award-winning author Tahmima Anam '97 was feeling intensely nostalgic as she sat in the President's House at Mount Holyoke College before her Launching Leadership conversation with Interim President Dr. Beverly Daniel Tatum. 
"It's incredibly moving and meaningful to be here," she said to the audience. "It was exactly 30 years ago when I arrived here in 1993."
Anam is the recipient of a Commonwealth Writers Prize and an O. Henry Prize and has been named one of Granta's Best of Young British Novelists. She is the author of the Bengal Trilogy, which chronicles three generations of the Haque family from the Bangladesh war of independence to the present day. Her most recent book, "The Startup Wife," is a satire of boardroom culture and office sexism and was named a "Best Book of the Year" by NPR. 
Anam was an anthropology major at Mount Holyoke College and continued her anthropology studies by completing a Ph.D. from Harvard University. She said that she couldn't have become the writer she is without her anthropology studies. 
"I always knew I was going to be a writer," she said. "I grew up in a family of writers. When I discovered anthropology, it was such a gift. If you want to be a writer, you should take an anthropology class."
She continued, "Anthropology is the study of otherness. Writing requires a deep understanding of otherness. The experience of otherness is fundamental to my being." 
The first book in her acclaimed Bengal Trilogy is "A Golden Age." "It was really the novel I had to write first," she said. "It was my inheritance." She recalled writing passages from all three novels with tears pouring down her cheeks. 
Writing a satirical novel such as "The Startup Wife" was a wild departure from her previous work. It was inspired by the company her husband started. "I was on the board for ten years," she said. "I had no idea that the world of work was so unreformed. It was really shocking to me how sexist it still was!" 
Anam was nervous about turning to comedy. "People feel that comedy is apolitical. If you write a story that's about love or power but you make people laugh, people won't take you seriously." She is currently adapting the novel for television. 
Tatum asked Anam to define "authentic boldness." 
"I definitely felt when I was [a student] here that my exuberance or my drive was not something to fear," she said. "I had friends who came from really far away to be here — women who arrived here against the odds, [and we had] professors who expected us to show up and be extraordinary." 
Anam continued, "You have this moment of intense connection when you're here while you're being pushed to be extraordinary."