Launching Leadership: Tara Roberts '91
Launching Leadership: Tara Roberts '91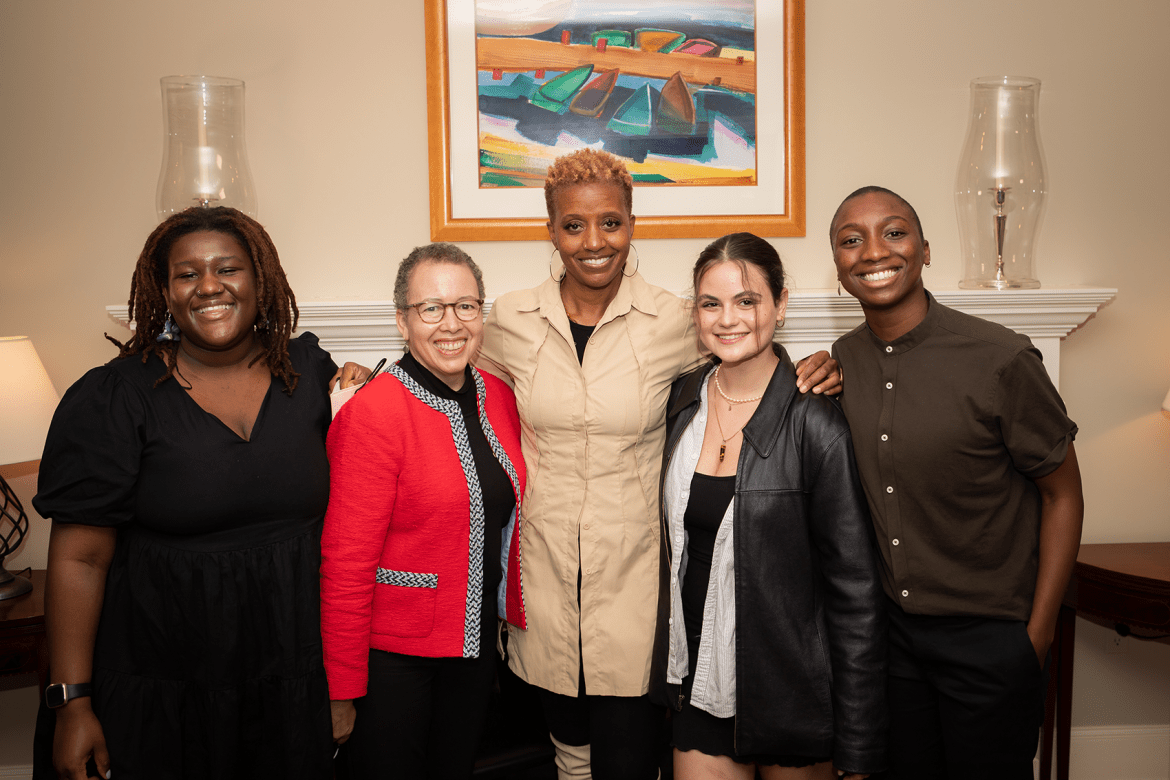 Tara Roberts '91 is the Rolex National Geographic Explorer of the Year and the inaugural Launching Leadership interviewee at Mount Holyoke College.
When Tara Roberts '91 came to the Mount Holyoke campus for the inaugural Launching Leadership talk with interim President Beverly Daniel Tatum on September 29, she was surprised by two things: that she was on campus on Mountain Day and that her podcast, "Into the Depths," won the Jackson Wild's Special Jury Recognition for engaging platforms. 
"It's amazing to be back!" Roberts said to an intimate audience of about 25 students in the living room of the presidential residence. She is the 2022 Rolex National Geographic Explorer of the Year for "Into the Depths," a six-episode podcast about her journey as she followed a group of Black women scuba divers who were searching for and documenting slave trade shipwrecks around the world. She will also be on the cover of the fall 2022 Alumnae Quarterly. 
Roberts was a self-designed communication studies major and worked as an editor for CosmoGirl, Essence, Ebony and Heart & Soul magazine. She founded Fierce magazine. She also served as director of communications for the Ashoka organization and coached social innovators for the Red Bull Amaphiko Academy.
It was while she was working at the Ashoka organization in 2016 that she discovered her new journey. Affected by Trump becoming president, she found herself wanting to tell more stories about race. "I'm a Black woman. Race is present for me all the time," she said. "I wanted to do something in this space." 
So she played hooky from her day job and went to the National Museum of African American History and Culture in Washington, D.C. On the second floor, in the archives, Roberts saw a picture of Black women in wetsuits on a boat. "I had never seen Black women in wetsuits before!" she said. "To me, they looked like superheroes." 
Upon finding out that these women were part of the group Diving with a Purpose, she knew that she wanted to tell their story. She pitched her idea to National Geographic, and what started as a blog quickly morphed into the podcast. 
"At first I thought I was telling a story about these scuba divers," Roberts said. "As I traveled with them, I began to see that this story is so much more complex." 
Approximately 1.8 million Africans lost their lives in the Middle Passage, crossing from Africa to slave ports in North and South America and in Europe. There were over 36,000 voyages that brought 12.5 million Africans to the Americas alone. More than 1,000 ships wrecked, but to date, fewer than 20 have been found and documented. 
"An enormous amount of history is missing," Roberts said. "Where is the official grieving, mourning, for this enormous loss of life?" 
The podcast also delves into how Roberts was personally transformed by the journey. 
"I like to think of myself as a future-thinking person, always looking forward," she said. "But for part of this journey, I was afraid to look back. It's traumatizing. I thought I could avoid the past, but I couldn't. But it's bigger than that — this work was healing and transformational." 
She found encountering actual history to be the touchstone she needed. "You are embracing what happened in the past," she said. "When you're with it, then you can move through it. There's actual power in doing that." 
And that, interim President Tatum said, is an example of being "authentically bold." 
"How did your Mount Holyoke experience help you find your boldness?" Tatum asked. 
"Being here at Mount Holyoke, it was the place where I was really validated as a leader and as someone who had something to contribute," Roberts said. "I felt like I was affirmed as someone who could stand up and hold space for others." 
In working to actualize her dreams, Roberts said, "I had a passion inside that I had to follow. I believe our souls speak to us and tell us when something is not the right thing. Things don't always make sense," she said. "I really believe in the curvy path of life."
She acknowledged, though, that when she followed her passions, she "stressed out" her mother "a lot!"