Learning to create a career in the arts.
Learning to create a career in the arts.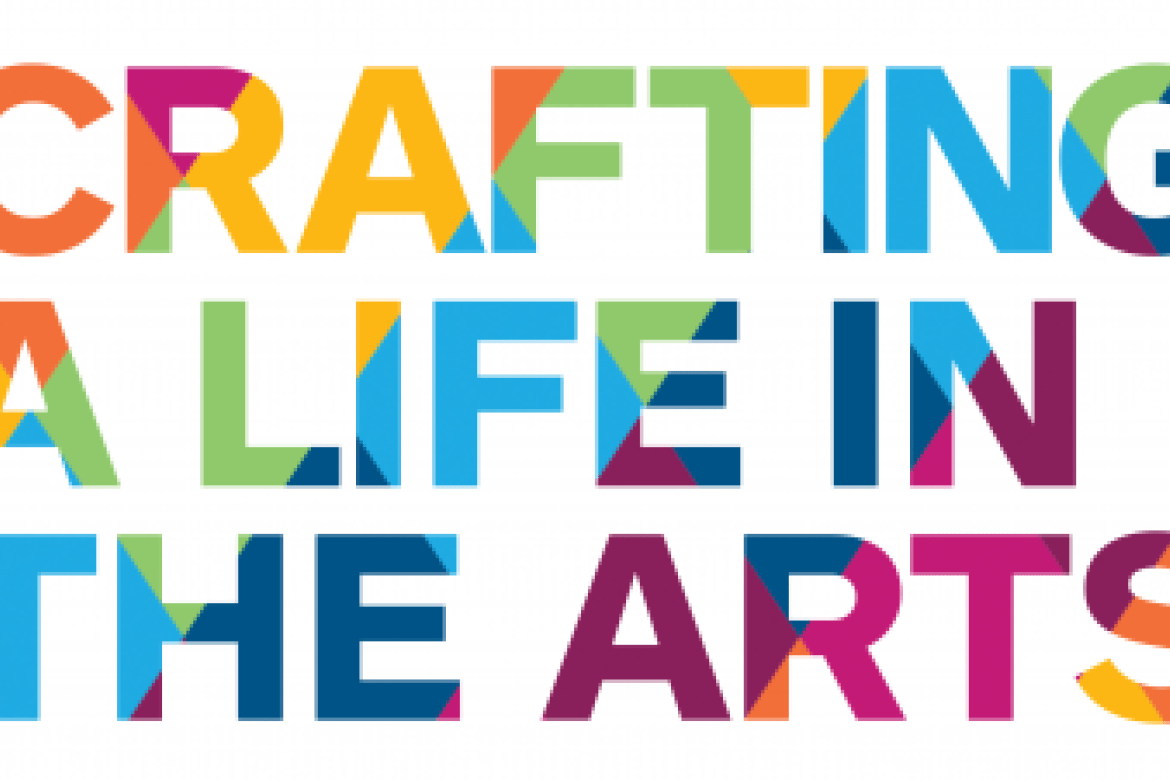 Students attending Crafting a Life in the Arts heard from alums working in the arts and came away with advice, strategies, connections and inspiration.
By Sasha Nyary
Sara-Ann Yong '18 came to Mount Holyoke College as a biology major. She was also interested in architectural studies, so she took some studio art classes, and that's where she found her passion.
Still, Yong wasn't sure how she might parlay that passion into a career in the arts, until she attended a half-day conference for students of all majors who are exploring just that challenge.
Now in its sixth year, Crafting a Life in the Arts connects students with alums working in the world of the arts. It allows students to ask questions, network, and strategize career options in art museums, theater, film, music, dance, architecture, studio art, art history, and creative writing.
"It was good to have the opportunity to talk to alums who've gone through what we're going through, and to see where they ended up," Yong said. She is now planning to go to graduate school for architecture.
Crafting a Life in the Arts gives students a feeling of legitimacy in pursuing their passion because they hear from professionals in the field how they did it, said James Coleman, professor of dance and chair of the Five College dance department. Coleman also directs the InterArts Council, which co-hosts the event with the Career Development Center. This year's Crafting a Life in the Arts occurred on Saturday, February 6, to a packed audience in Pratt Hall's McCulloch Auditorium.
"This event helps students to understand the possibility of a circuitous, serendipitous career path that is connected to the real interests these alums had as undergraduates," Coleman said. "Students also find it reassuring to hear that their dreams, which at times may feel unrealistic, can definitely lead to work that involves those interests."
Keynote speaker Jennifer Kyker '02, who is an assistant professor of ethnomusicology at the University of Rochester's Eastman School of Music, described falling in love with Zimbabwean music in elementary school. Before coming to Mount Holyoke, she dropped out of high school when she was 15 years old. She moved to Zimbabwe to study the mbira dzavadzimu, an African thumb instrument, which she played for the audience.
"Our attraction to particular art forms is related to our experiences of beauty," Kyker said. "As such, it can never be fully or objectively explained. For me, this subjective quality of art is one of its greatest strengths."
Because art "illuminates even the darkest of human circumstances," Kyker said, it is inseparable from activism. She spoke about founding the nonprofit organization Tariro, which educates teenaged girls in Zimbabwean communities affected by HIV/AIDS, after she graduated.
"Art offers unique opportunities for passionate and engaged young people—which describes most students who graduate from Mount Holyoke—to jump into action in confronting the most enduring problems of our times," Kyker said.
After her talk, the gathering broke into smaller groups to discuss specific fields: architecture, art history, art studio, and art museums; creative writing and film studies; and dance, music, and theater arts.
Robyn Sutton-Fernandez '17, a Frances Perkins scholar who is a theater arts major, teared up as she listened to the experience and encouragement of Bonnie Panson '74, a Broadway stage manager. At the reception, they exchanged email addresses and strategized the student's path.
"I've worked in restaurants and retail," Sutton-Fernandez said. "And now I'm getting my degree from Mount Holyoke. I am returning to my lifelong dream of theater—acting, directing, and playwriting. How do I craft a life in the arts, especially as a nontraditional student with a family to support?"
Panson was inspiring, Sutton-Fernandez said, because she does what she loves. "I want to be able to do what I love every day," she said. "She shows me I can."
An important aspect of the conference is creating space for alums and students to build relationships.
"These people are very approachable," Coleman said, noting that the breakout groups and the reception at the end serve to provide students with opportunities to get to know the alums. 
"Our alums are excited to meet and talk with current students," he said. "This is about forming relationships that can lead to mentoring and internships. To find that connection is so important. That's one of the things I like most about this event. It's palpable to students that these alums are involved in careers that still connect them to the things they love."
In addition to Kyker, the alums who participated in the event included:
Heather Hyde Minor '93, associate professor of art history, University of Notre Dame

Margaret (Murray) Trenis '07, senior manager in the valuations department at Sotheby's

Aviva Galaski '11, designer/intern architect at Kraus Fitch Architects

Paola di Tolla '09, graduate student in studio art at Hunter College

Amy Richardson Timberlake '89, award-winning author

Margaret Knoerzer '10, educator at the Museum of the Moving Image, and teaching artist and instructor at The Good School

Jess Edkins '07, program manager of the artist residencies at the Lower Manhattan Cultural Council

Bonnie Panson '74, Broadway stage manager
Events such as this help students appreciate their liberal arts education, Coleman said.
"The liberal arts philosophy pushes students to open to possibilities," he said. "This is a great asset to young artists. It makes them more flexible and opens a variety of arts-related career possibilities. At Mount Holyoke, our students are encouraged to honor the diversity of their interests."
The event was made possible by a wide array of campus partners:
Online resources for Crafting a Life In the Arts are also available.
Start crafting your life. Apply now.