Meet the class of 2021: Rahael George
Meet the class of 2021: Rahael George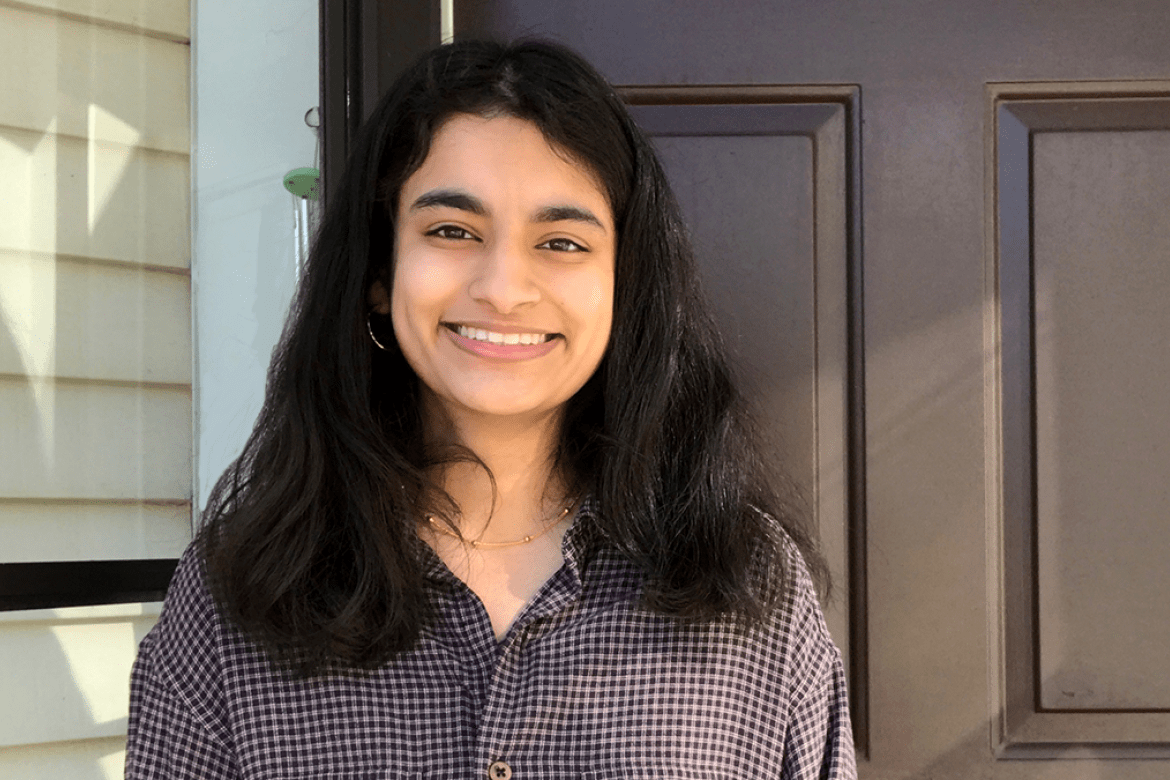 "I want to use my Mount Holyoke education and what I've learned to make sure that my classroom is equitable and do my part as a teacher."
Name: Rahael George '21
Hometown: Princeton, New Jersey
Academics: Spanish major; teacher licensure for elementary school
Pronouns: she, her, hers
As a prospective student, what appealed to Rahael George about Mount Holyoke was the flexibility in taking classes and exploring her academic interests. 
For her first few semesters, that's what she did, taking computer science, math, psychology economics, anthropology, sociology — "I explored as much as I could," she says. "I hadn't studied any of those subjects in high school and I thought I would use the opportunity to really find what I was actually passionate about."
What did that passion turn out to be? Teaching. 
"I've become very passionate about education, and I think that came about from all of the classes that I was taking," George says. "Now, as someone who is student teaching and is an aspiring educator, I want to use my Mount Holyoke education and what I've learned to make sure that my classroom is equitable and do my part as a teacher." 
George came to Mount Holyoke with an interest in teaching. Her Spanish major was more of a happy mistake — she was taking intermediate Spanish to fulfill her language requirement and ended up loving it. 
"I decided that I wanted to continue learning Spanish and keeping up my language skills," she says. "So I just took a course every single semester and I ended up with a major. My advisors were both super supportive and allowed me to explore the intersection between Spanish and education." 
For example, when George was interning with an educational program in Nicaragua, founded by Mika Kie Weissbuch '11, her education advisor, Sarah Frenette, director of Early Childhood and Elementary Teacher Licensure Programs, was able to direct her to educational resources in Spanish. Frenette also connected George to an alum, Majo Correa FP'16, who was teaching in Argentina and helped George get books and worksheets that she was then able to give her students.  
"That internship really gave me a sense of what education looks like outside of the U.S.," George says. 
She also taught a seventh grade language arts class and a science elective class inside the United States, in nearby Holyoke. "In that internship I had the opportunity for the first time to lead my own classroom, which was very scary, but overall a really good experience," George says. 
Her involvement with student orgs on campus also gave her leadership experience, which she uses in the classroom. 
"I joined the Asian Students Association when I was a first year," says George, who has also served with the Mount Holyoke Koinonia Fellowship. "I was looking for a community that shared a similar culture or upbringing as me. That led me into taking more responsibility and leadership positions. The community at the ACE House [Asian Center for Empowerment] and the Asian Students Association in particular have been so influential in providing me a space to connect and take pride in parts of my culture and identity that I had previously tried to hide." 
As one of the Asian Students Association co-presidents, George and her team continued to provide programming and events for the AAPI community despite remote learning. 
"As I led more, I became more comfortable with it and now I feel confident that I can do that outside of Mount Holyoke as well," she says. "Mount Holyoke has changed my life because it's expanded my horizons and given me the tools necessary to be a responsible and effective leader and teacher." 
George will be teaching elementary school in Springfield, Massachusetts, in the fall.