MHC student wins Glascock poetry contest
MHC student wins Glascock poetry contest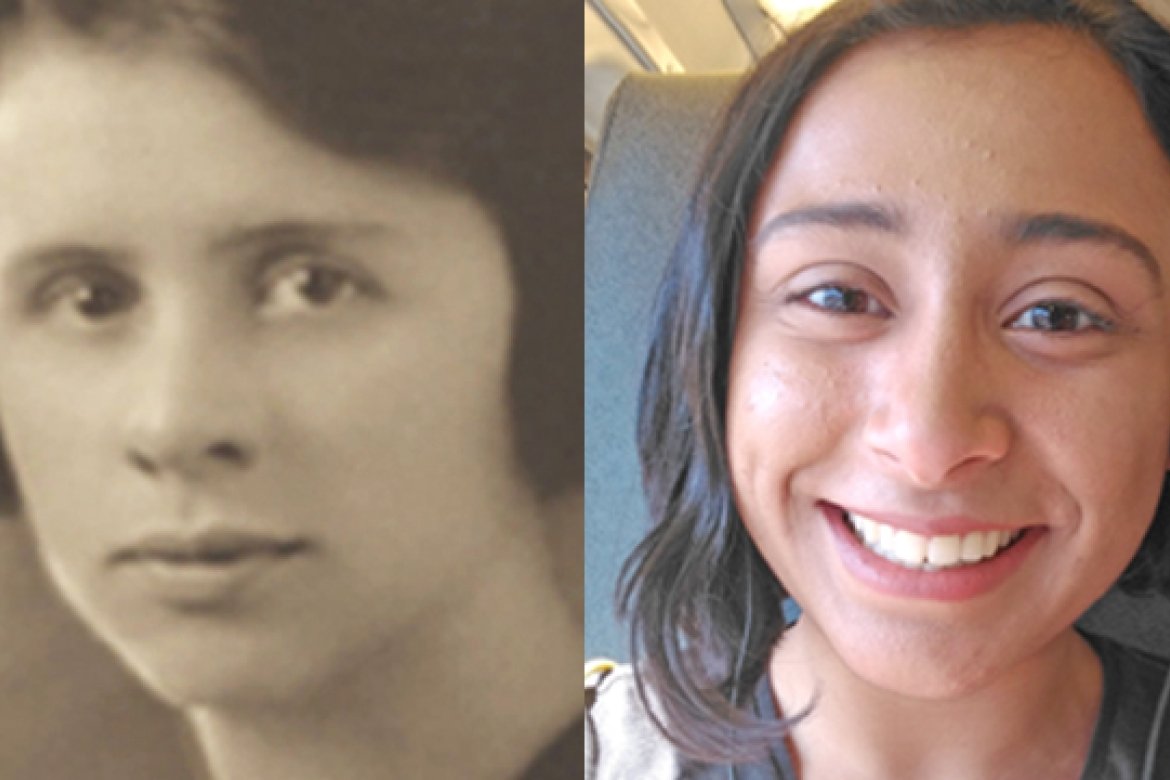 Anisha Pai '19 is the first Mount Holyoke winner of the annual Glascock poetry contest since 2009 and one of only 20 since the contest began in 1923.
Updated 4/3/17 at 12:40 p.m.: Anisha Pai '19 was named the winner of the Glascock poetry competition on April 1. Pai is the first winner from Mount Holyoke since 2009 and one of only 20 first-place winners since the award was founded in 1923. Pai joins past winners including Sylvia Plath, James Merrill, Kenneth Koch and Katha Pollitt — and Mount Holyoke's Gjertrud Schnackenberg '75.
By Sasha Nyary 
An education at Mount Holyoke College is a journey in synthesizing myriad opportunities and experiences into entirely new expressions — as reflected in the story of Anisha Pai '19. 
A woman of Indian origin who grew up in Doha, Qatar, Pai came to the College intending to be an English major. In her first semester she took a class in Indian literature and fell in love with the tradition's classic poetry. Then she took Verse Writing I with Andrea Lawlor, a visiting lecturer in the English department, and discovered 21st-century poets from the United States.
In a different vein, Pai also took the popular iDesign Studio class, where she learned the basics of electronics and programming through wearable and usable technology. That convinced her to become a computer science major.
Now she has been selected as this year's Mount Holyoke College's candidate for the Kathryn Irene Glascock '22 Intercollegiate Poetry Competition. Every year, five students are chosen to compete in the contest. Four are from colleges and universities from elsewhere and one is from Mount Holyoke. The two-day event began in 1924 and is thought to be the oldest continuing contest of its kind. This year the contest is slated for March 31 and April 1. 
Pai's poetry has "a compelling sense of humor and playfulness combined with deep political and emotional urgency," said Lawlor, who compared it to that of contemporary poets Don Mee Choi and Bhanu Kapil. 
"While certainly influenced by hip-hop and spoken-word traditions in terms of sound, performance and critical analysis," Lawlor said, "Anisha's work is also concerned with the line, with how the poem looks on the page." 
Her verse is influenced by female Indian poet-saints who wrote about their connections to God, said Pai, including Antal, a third-century Tamil poet, and Akka Mahadevi, a poet from the 12th century. 
"This poetry is very devotional in a very feminine devotional sense," she said. "It is very patriarchal but also subversive." Her work is also influenced by hip-hop, including Kehlani, Kamaiyah, Chance the Rapper, Childish Gambino and J. Cole. 
Pai first heard about the Glascock contest last year when she read the poems the contestants had submitted. "I thought, wow, it'd be great to attend that some day," she said. 
This year's contestants also include Natalia Rodriguez '17 of City College of New York, Kwamesha Joseph '18 of Fordham University, Emily Robidoux '17 from Smith College and Malini Gandhi '17 from Yale University. The students will recite their poetry on Friday night of the event. 
Pai will read about a dozen of her short poems. "The thing that connects them," she said, "is my identity as a person of color and an international student."
The contestants join an illustrious roster of undergraduate poets who have competed for the award, including James Agee, Kenneth Koch, Sylvia Plath, Katha Pollitt and Muriel Rukeyser. 
The judges, who this year are Ari Banias, Marilyn Chin and Ronaldo V. Wilson, will read from their own poetry on Saturday morning before announcing the student winner. They follow in the footsteps of illustrious previous poet-judges who include Robert Frost, Seamus Heaney, Audre Lorde, Robert Lowell, Adrienne Rich and Richard Wilbur.
Create the poetry of your life. Learn more.