Miller Worley panels explore environmental careers
Miller Worley panels explore environmental careers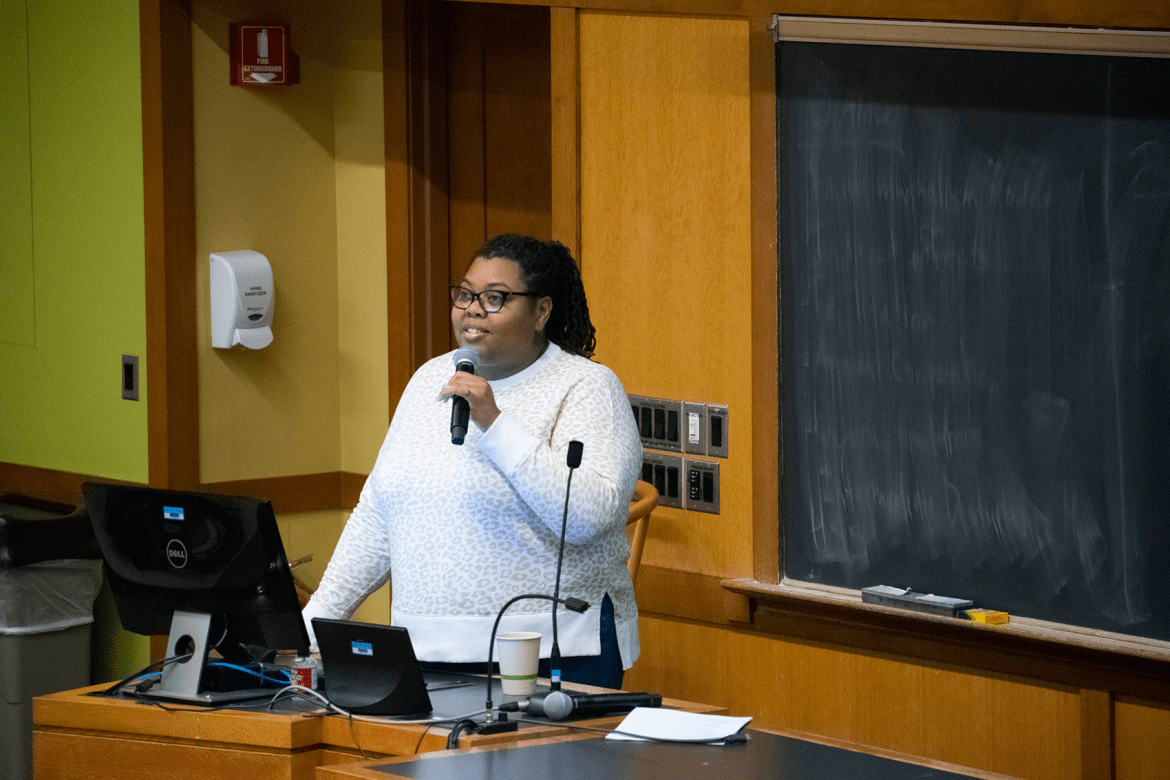 Mount Holyoke alums, faculty and administrators recently spoke with students about career opportunities during the "Exploring Future Possibilities in Environmental Careers" panel series put together by the Miller Worley Center for the Environment.
Carly Peltier '14 had a simple message for Mount Holyoke students thinking of environmental careers.
"Please do go into an environmental career," Peltier said. "Smart young people, especially women, are the ones leading the way out of the climate crisis. We need you. Find something that you really care about and deeply engage in it. Be a lifelong learner, find multiple mentors, be a mentor and ask good questions — lots of them."
Peltier, a Science Policy Fellow with the American Association for the Advancement of Science working in the Building Technologies Office at the U.S. Department of Energy, was one of three recent Mount Holyoke graduates who spoke to Mount Holyoke students about career opportunities during the "Exploring Future Possibilities in Environmental Careers" panel series put together by the Miller Worley Center for the Environment. The Tuesday afternoon Zoom session was followed the next day by two in-person workshops, one on communicating transferable skills and the other on field skills.
Joining Peltier on the Zoom panel were So Quimbita '22, about to start a new environmentally based position after working as a scientific illustrator and tide pool ecology intern with the Nature Conservancy, and Ningzi Xia '19, German power market analyst at Aurora Energy Research based in Berlin, Germany.
According to Olivia Aguilar, Leslie and Sarah Miller Director for the Miller Worley Center and associate professor of environmental studies, "This is the second year we are hosting a two-day event focused on professional development for students interested in careers in the environmental field. As we saw how many students were entering the environmental field that are not environmental studies majors, we realized we could really expand the audience we were reaching by offering a variety of workshops and panels. What began as an environmental studies alum panel has grown to include conversations that are accessible to students — not simply those in environmental studies or about to graduate — but also to students in various departments and students interested in environmental fellowships, internships or grad school. We are eager to see how this event continues to grow over the years!"
As part of the discussion, the alums explained how their Mount Holyoke educations served as launching pads for their careers.
For Peltier, an economics and geology double major, some early research opportunities got her started.
"The research that I was able to do with professors in the geology department and the relationships that I formed with them were what launched me into my career," she said. "I showed up at the offices of a few professors and asked if I could do research with them, and they set me up with a few small projects that allowed me to dip my toes into research. This was really helpful for figuring out what I liked and for getting into a National Science Foundation Research Experience for Undergraduates program. I think whether you want to go into science research or not, this is a really excellent — and well paid — summer job. These experiences were fundamental to my next steps, and I still really cherish the time I got to spend with the professors in the department."
Xia, a German studies and environmental studies double major, also credits her experiences at the College with starting her on her current career path.
"I took my first class about renewable energy at Mount Holyoke and took more courses during my year abroad in Germany," she said. "Because of the study abroad experience, I returned to Germany for a master's degree in renewable energy engineering and management. The internship experience I gained through Mount Holyoke alum connections along with my German skills was a solid foundation on which I could further develop my career in Germany."
For recent graduate Quimbita, a range of experiences, including a two-year fellowship as a Doris Duke Conservation Scholar, an internship with the Nature Conservancy and a position as a student worker at the Miller Worley Center helped form the basis of a career that is just starting. Their next stop is working with the Seattle-based Sea Potential, a nonprofit aimed at opening maritime biology opportunities to BIPOC youth.
Quimbita's advice: Almost anything is an opportunity that can transfer into the next step, including working with small-scale organizations such as nature centers or local museums.
"People care about what you've done, not so much where you've done it," they counseled.
Leading off the Wednesday workshops on field skills and communicating transferable skills, Angelica Patterson, the Miller Worley Center's curator of education and outreach, gave students an A to Z on doing research in the field.
"My goal for this workshop," she said, "was to have an essential conversation with students about all the risks and rewards that come with field research, field studies or fieldwork and how to carefully plan and prepare for such a dynamic work environment. As a woman of color who has experienced various fieldwork opportunities, it was good to share my own anecdotes to set context for how unique everyone's experiences could be. I also hoped to highlight special advice that should be considered for first-timers in the field, especially for those whose identities are underrepresented, so that everyone can have a safe and rich field experience."
For Sarah Purvis '24, who did a fieldwork internship this past summer in Boston testing chromium levels in the Mystic River, the session was helpful in terms of presenting "what life is like, what is expected and what you need to know in the field." The geology and film, media, theater double major comes from Boston, Massachusetts, and is currently working in the Miller Worley Center as a student community sustainability coordinator.
Timothy Farnham, professor of environmental studies, Ryan Lewis, fellowships advisor, and Kelly Woods, associate director for career advising at the Career Development Center, also spoke to students about how to best look at the skills they have developed both inside the classroom and out in relationship to presenting themselves to prospective employers, research programs, graduate programs and funders.
All three emphasized how important it is for students to look at their full range of life experiences to highlight their strengths and tap into the wide variety of resources at Mount Holyoke as they consider next steps.
"So much starts with your own self-reflection about what you have done in and out of the classroom," Woods said. "There is a web of resources and people at Mount Holyoke who want to have conversations with you and help you with your next step."
For Devin Keith '25 and Cayla Ossen-Gutnick '25, environmental studies majors from Denver, Colorado, and Hastings-on-Hudson, New York, respectively, attending the Miller Worley sessions was a good step in that direction.
"I've come to these sessions with an open mind," Ossen-Gutnick said. "I thought it would be good to hear as much as possible about what is such a broad field. Thinking about what comes after graduation can be scary. I want to tap into whatever knowledge these panelists have to impart."