Nation's best teachers become MHC instructors
Nation's best teachers become MHC instructors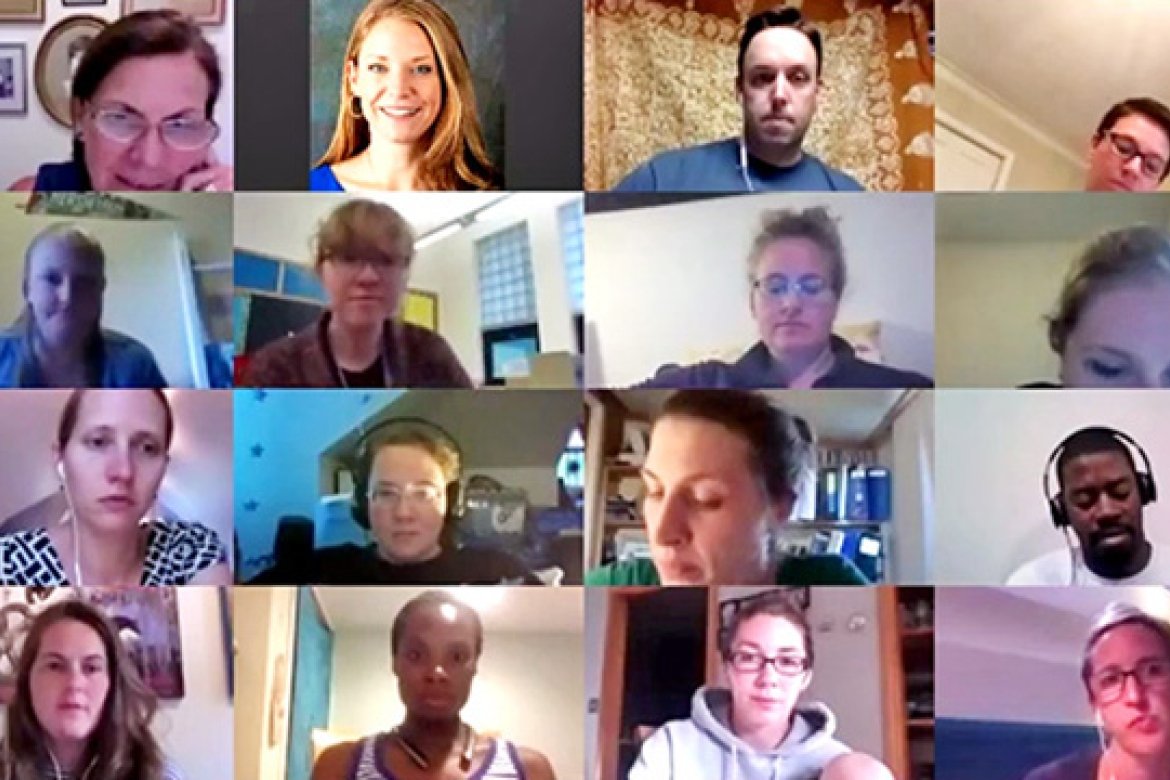 Six of the country's leading educators have become instructors in Mount Holyoke College's master of arts in teaching program.
By Sasha Nyary 
Six of the best teachers in the country have teamed up to inspire and instruct their peers in teacher leadership as part of Mount Holyoke College's master of arts (MAT) in teaching program. 
The six teachers are noteworthy because they have all been named state teacher of the year. Every year, each state selects one public school teacher as its teacher of the year, a professional who is particularly dedicated, knowledgeable, and skillful. 
Their presence at Mount Holyoke is an exciting opportunity for the MAT graduate student students, said Megan Allen, the developer and director of the teacher leader concentration. 
"It is unheard of to have so many state teachers of the year working in one place," Allen said. "Our partnership with the National Network of State Teachers of the Year made this possible." 
Designed for full-time professionals, the MAT with a concentration in teacher leadership is an online coed program that aims to develop and support teachers, empowering them to become leaders with the skills to improve education without having to leave the classroom. The degree program is offered through the College's Professional and Graduate Education office. 
Teacher leadership as an educational concept has taken on new meaning recently after decades of failed education reform, Allen said. 
In the past, teachers had to become administrators if they wanted a greater role in education policy and practice. Today, many teachers are choosing to remain in the classroom while simultaneously working outside it in order to improve the profession. 
The six state teachers of the year join other embedded practitioners and coaches in the MAT program in working as teacher-leader instructors. They focus on issues of instructional leadership, policy, and advocacy to improve public education. 
The teacher-leader skills the graduate students are learning include observing and giving feedback to their fellow teachers, helping teachers collaborate with each other, providing instructional coaching, and helping create professional development, Allen noted. 
Mount Holyoke's partnership with teachers of the year is useful for both the teachers and the students, said Monica Washington, one of the six teachers of the year. 
"Those of us who are teaching in this program are actually living what we are teaching these future and current teacher leaders to do," said Washington, who was the 2014 Texas Teacher of the Year. "As teacher leaders we have learned how to advocate for other teachers and the profession as a whole. And we pass that knowledge on to these students."
Allen, who is a National Board Certified Teacher and the 2010 Florida Teacher of Year, coteaches many of the courses. The other MAT teacher-leader instructors who have been named teachers of the year are as follows: 
Pamela Harman (2008, Alabama), a former member of the US Marine Corps and a National Board Certified Teacher, has presented across the nation on differentiated instruction and has been published in the National Association of Geoscience Teacher's Journal.

Daniele Massey (2013, Department of Defense Education Activity) was honored in recognition of her flipped algebra classroom for her virtual students.

Joshua Parker (2012, Maryland) works at the Paul Laurence Dunbar Senior High School in Washington, DC, as an instructional coach. He is the first African American male educator from Baltimore County to win the state award.

Monica Washington (2014, Texas) is an English teacher and department chair at Texas High School in Texarkana, Texas. She has taught grades 7 through 12. Her other honors include being named a 2015 Lowell Milken Center Fellow and a 2015 NEA Foundation Global Fellow.

Jennifer Walker (2010, Ohio) is a National Board Certified Teacher who has held many roles in in the area of English language arts, including instructional supervisor, literacy coach, and curriculum specialist. She was named an Ohio Master Teacher and a teacher consultant in the National Writing Project. 
How will you lead? Learn more.