Science is everywhere – and for everyone
Science is everywhere – and for everyone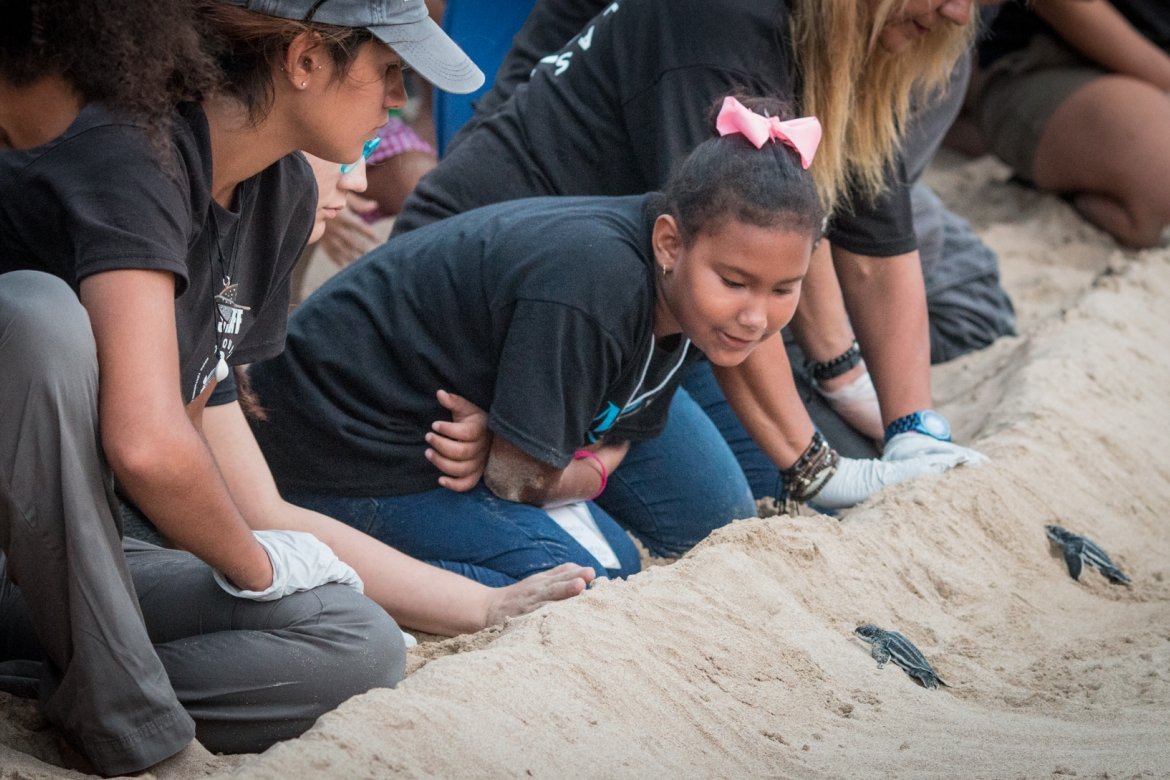 The pilot year of a STEM camp for girls, a joint offering from Mount Holyoke College and the city of San Juan, brings education and renewed hope.
Update: September 5, 2018 — Jennifer Matos, featured in this story, has received a Nexus curriculum development grant to create a new course, Teaching STEM in Puerto Rico, to be offered in spring 2019. Nexus: Curriculum to Career, provides a way for Mount Holyoke students to gain interdisciplinary expertise in a variety of subject areas. 
By Keely Savoie 
The idea was simple: to help San Juan, Puerto Rico, in the wake of Hurricane Maria. 
During Carmen Yulín Cruz Soto's visit to Mount Holyoke College in April, a seed was planted — the mayor of San Juan revealed a need for summer programs for girls whose lives had been upended in the months following the island's devastation. She was inspired by the College community and women's education, and wanted to bring that spirit to her city.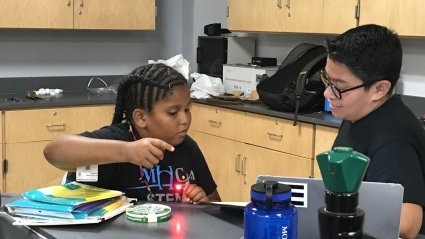 "As part of Mayor Cruz's visit, some faculty and I had asked her how we could continue to partner with the community of San Juan, and specifically how we could help in relation to education and women's leadership," said Amy E. Martin, director of the Weissman Center for Leadership. "The mayor described a particular need to offer STEM opportunities during the summer for girls — and girls in this particular community, the Playita neighborhood." 
Mount Holyoke has worked with the local Puerto Rican community for many years. Mount Holyoke students have long engaged in a variety of projects in nearby Holyoke through the College's Community-Based Learning program. Last fall, shortly after Hurricane Maria wrought its devastation on the island, Mount Holyoke created four scholarships for students in Puerto Rico who had been affected by the storm. 
But this was a new level of partnership: to develop a program that could impart scientific concepts to girls from an impoverished and under-resourced part of Puerto Rico.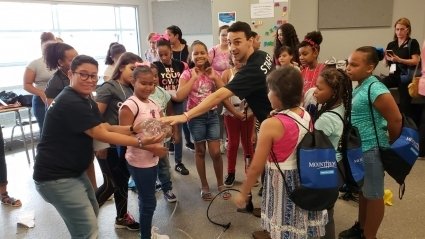 "Our vision was to bring our fantastic, world-class faculty to San Juan to work in the municipality and provide the opportunities for young women that we provide every day at Mount Holyoke College," said Martin, who is also Professor of English on the Emma B. Kennedy Foundation. 
Jennifer Matos, visiting lecturer in psychology and education, enthusiastically accepted the challenge of creating and directing the program. She tapped Jared Schwartzer, assistant professor of psychology and education, to help set up a pilot camp. A certified elementary school teacher with experience teaching science to youth, Schwartzer was a natural choice.
In July, the two traveled to San Juan to meet with Cruz and members of the community to learn more about the needs and expectations around a STEM camp.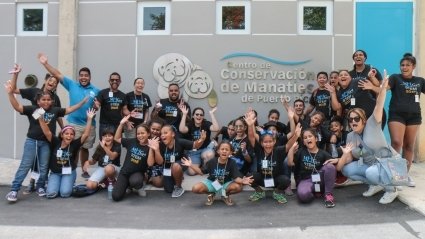 That's when Cruz suggested that they pilot the camp that summer. She offered a science and math school with superb facilities and three teachers to work with the Mount Holyoke team, publicized the program and recruited students. The city also provided a bus and driver, and meals for all campers and staff. The sole requirement from the campers? That they attend every day.
In less than three weeks, Matos and Schwartzer had developed a flexible curriculum to engage 22 registered campers — 21 finished — who ranged in age from 7 to 17.  Their program was designed to build community and teach teamwork while simultaneously demonstrating to the students that science is everywhere — and for everyone.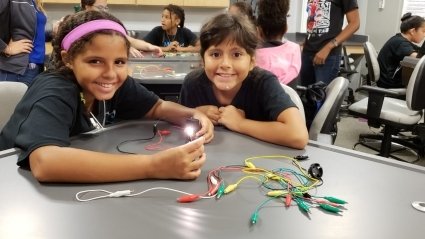 That included, for instance, exploring kitchen chemistry, where the students used items they might find at home to create chemical reactions. Especially important in the aftermath of Hurricane Maria, the program also showed the girls how science can help their communities. For example, they learned how to make circuits and LED lights, which can be used to communicate.
"Every activity that they did used resources that we bought at Walmart," said Schwartzer, who is also part of the College's Program in Neuroscience and Behavior. "All the kinds of things that they had in their houses and communities so they could see science is something that's around them, not something that exists in a lab somewhere off in the distance."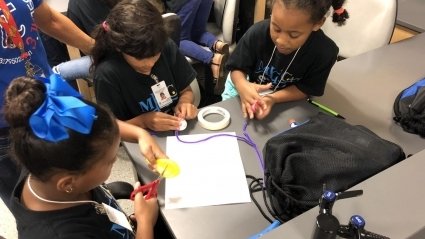 "The task was to create activities that would be engaging and challenging for both a 7-year-old and a 17-year-old," she said. "So we would create an experiment and then modify it. For example, we took eggs up to the roof and the girls had to engineer parachutes for them. The 7-year-olds had free access to materials, but the older girls were given a budget that they had to work within. We also tried to create opportunities for the older students to mentor the younger ones. It was exciting to find ways to make the curriculum challenging and a reach for all ages."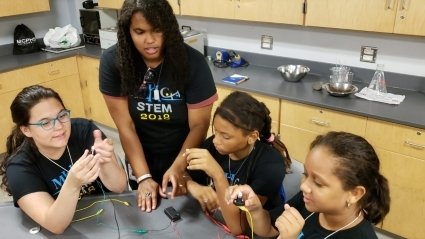 The two professors were helped by the Mount Holyoke community, including field-testing many of their activities in the College's Makerspace before they went to Puerto Rico. Shani Mensing, the Makerspace coordinator, also contributed several innovative STEM activities of her own to the curriculum. Those resources allowed them to bring the maker culture that is inherent in engineering — and essential to Mount Holyoke's technology initiatives — to the girls in San Juan.
Understanding that learning and frustration go hand-in-hand was another underlying theme, said Matos, who noted that community building and learning to work in teams was an important underlying theme of the week.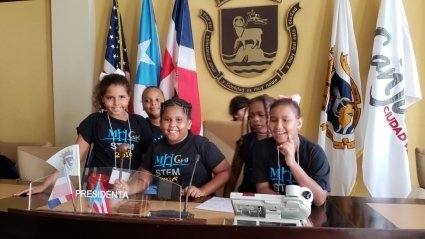 "We kept letting them know that science can be frustrating but you keep trying anyway," she said. "We did trust activities. In one, the girls were in pairs. One was blindfolded and had to lead her partner through a maze, but she had to give the directions in English. So that morning they also learned some English. Right, left, up, down, forward, stop."
The week also included several field trips. The first day kicked off with a visit to Castillo San Felipe del Morro, the historic fort that is now part of the National Park Service, a tour of San Juan City Hall and dinner with the mayor, and releasing leatherback turtles. Other trips included visiting the Manatee Conservation Center and the Museum of Art of Puerto Rico.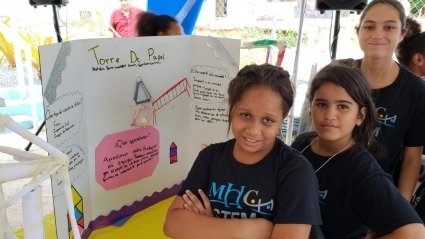 On the fourth day, the team held a science fair. Working in teams of three, the girls presented their week's accomplishments to their families and members of the community. The girls took their science projects on the bus so their families didn't have to find transportation to the city. The mayor attended and formally presented each student with a signed certificate and a new backpack.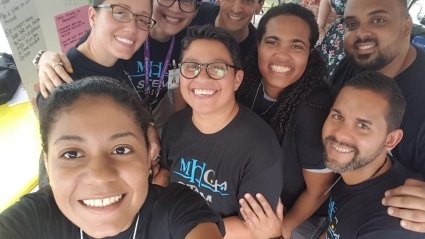 The STEM camp pilot program is just the beginning, said Matos, noting that once the program is stabilized, her team would like to rotate Mount Holyoke faculty and students in and out of the program. 
"More importantly, this was an opportunity for us to do something for the island of Puerto Rico," said the professor, who is Puerto Rican. "In our survey at the end of the week, students were telling us that they had learned to have patience, to be a better person, to work in a group. One girl said, 'I can be a scientist,' and another wrote, 'Although I get frustrated, I must continue trying to do science.' They're approaching the world in a different way now than they did a week earlier."
Go further. Learn more.