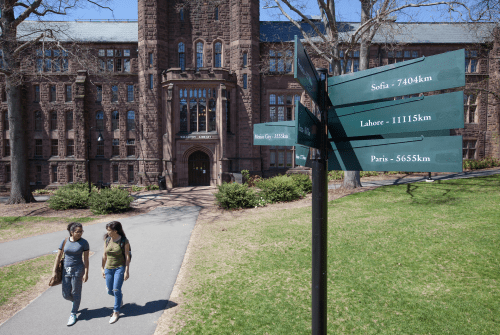 International Admission
International Admission
Application process
Live and learn alongside students from the U.S. and from more than 70 other countries at a college where international students are a vital part of our community. Diverse people and perspectives make our college a vibrant and energizing place, which is why Mount Holyoke has welcomed and supported international students from the beginning. International students make up over 25% of our student body — creating all kinds of opportunities for personal and academic growth.
What does it mean to be an international student?
The College defines international students as those who do not hold U.S. citizenship or U.S. permanent residency or qualify for U.S. refugee or DACA status. Of course, the perspectives and life experiences of U.S. students who live abroad, as well as U.S. permanent residents, refugees and DACA students are recognized and valued, even though they are not considered traditional international students.
Regardless of citizenship, first- year applications are reviewed according to the country in which a student is educated. This means that if you're an international student who attends school in the United States, your application will be reviewed by the domestic admission staff. Transfer applications are reviewed by our transfer admission team, regardless of citizenship or the country of the transfer institution.
If you're an international student who is transferring from another higher education institution, please apply as a transfer student. If you are an international student over the age of 25, please apply through the Frances Perkins Scholars program.
Application materials
To apply, please submit the following items:
Secondary School Report, including official high school transcript.
Counselor recommendation.
Two teacher evaluation forms.
Mount Holyoke writing supplement (optional).
Interview (optional).
Standardized test scores (optional).
Fine or performing art supplement (optional).
English Proficiency Test Scores (for nonnative English speakers).
Early Decision Agreement (if applicable).
Midyear report for Regular Decision applicants only (due February 15).
International Financial Declaration, IFD (this form is required for non-U.S. citizens who are not seeking need-based financial aid and a link to the form will appear in the application status page checklist).
CSS Profile (required of students applying for need-based financial aid).
Submitting documents
Translations. If your secondary school documents and letters of recommendation are not in English, professional translated documents must be submitted. Many Education USA offices offer low-cost translation services. Translations are also required for any documents submitted to Student Financial Services.
Official documents.Transcripts, standardized test results and English proficiency results are expected to be submitted as official documents. Academic transcripts must be submitted directly from your school. Test results must be sent by official test organizations (Duolingo English Test, ETS, IELTS, Pearson for English proficiency and ACT and the College Board for standardized tests). Academic documents submitted by students are not considered official.
Using an agent. It is not necessary to hire an agent to achieve admission to Mount Holyoke College. If we detect a portion of an application was completed by someone other than the applicant, that application may be denied. In addition, the contact information on the Common or Coalition Application must be the student's. We do not communicate with agents.