Kathryn A. McMenimen
Associate Professor of Chemistry
Chair of Chemistry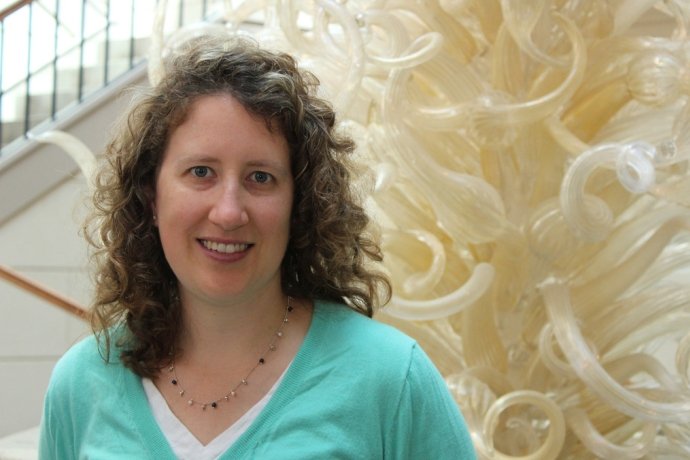 As a biological chemist, Kathryn McMenimen is drawn to how and why molecules interact, and particularly how they function in biological systems. Her research focuses on understanding protein-protein interactions, and how these interactions relate to protein folding, protein misfolding, and disease. She studies heat shock proteins, a family of proteins that she describes as "molecular chaperones involved in maintaining proper cellular protein folding."
McMenimen is trying to determine how the structure of small heat shock proteins underlies their function. She currently is working with several undergraduates on projects that manipulate their structure. These projects involve designing synthetic proteins and related structures, incorporating mutations into the proteins, and purifying the proteins to perform functional assays.
"These proteins are implicated in several protein misfolding diseases (such as Alzheimer's, Parkinson's, and cataracts), which is one of the reasons why I am excited about developing a better understanding of their function," she explains. "Our students are very interested in working on  scientific research that is often relevant to their lives outside of Mount Holyoke."
At Mount Holyoke, McMenimen teaches organic chemistry I and II and biochemistry. Some of her student researchers have accompanied her to the national meeting of the American Association of Biochemistry and Molecular Biology and the national meeting of the Protein Society where they have presented findings.
"One of the greatest things for me about being at Mount Holyoke is getting to work with and inspire amazing student scientists to pursue their interests in chemistry and chemical biology," says McMenimen.
Areas of Expertise
chemical biology, heat shock proteins, protein-protein interactions, protein misfolding and disease
Education
Ph.D., California Institute of Technology
A.B., Mount Holyoke College