Amherst Futures: a win-win pathway
Amherst Futures: a win-win pathway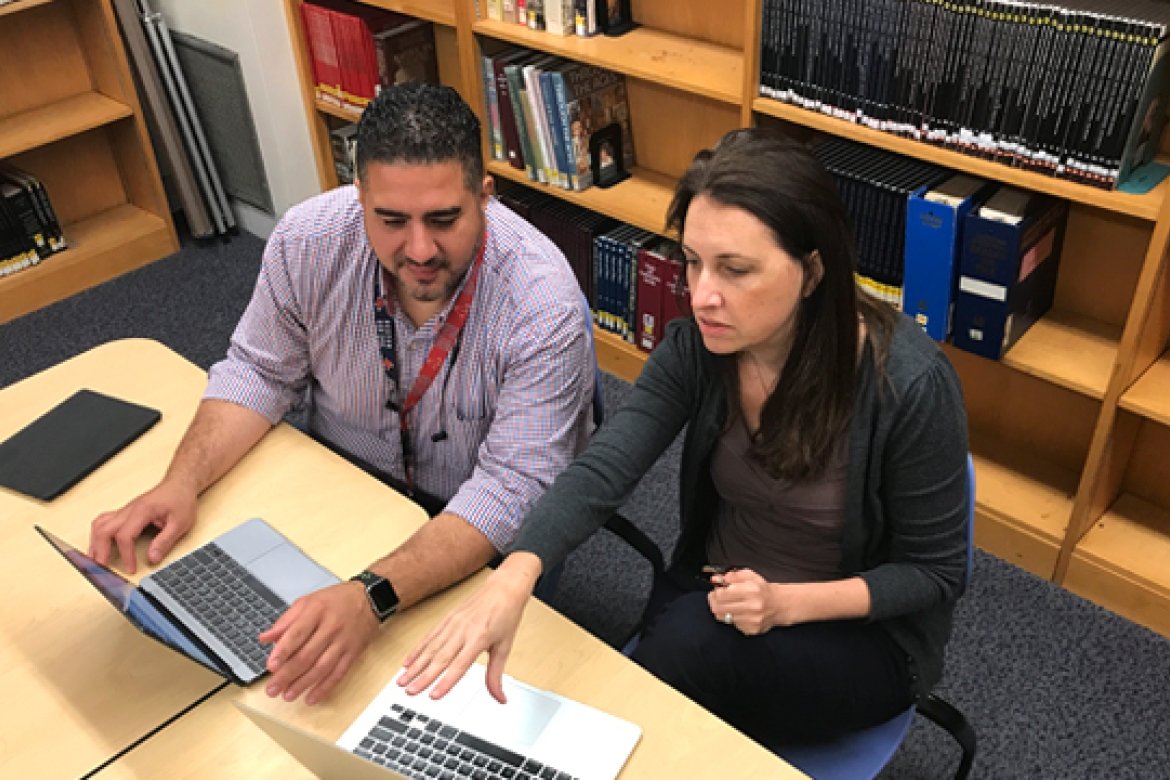 The newest program offered by graduate programs at Mount Holyoke trains paraeducators of color working in Amherst public schools to be teachers.
Mount Holyoke College is teaming up with Amherst-Pelham Regional Public Schools to help diversify the professional teaching staff in the school system.
The new program, called Amherst Futures, invites paraeducators of color working in the district's schools to apply for the coed, two-year Master's of Arts in Teaching Program through the College's division of Professional and Graduate Education. The College offers substantial scholarships to those who are accepted.
Amherst Futures aligns well with the College's educational goals, said Tiffany Espinosa, executive director of the division.
"Mount Holyoke is deeply invested in supporting communities near and far," she said, "whether it's one student developing College Access Workshops for middle school girls in the nearby city of Holyoke or another one starting a business for indigent women in college in her home country of Ethiopia."
Amherst Futures offers professional opportunities for people who are already working with students, she said. "We are providing a pathway to a higher level job, a job with more income, as well as the ability to make a bigger impact in the classroom."
The new program, which enrolled its first four students this fall, is designed specifically for paraeducators of color, said Ruth Hornsby, assistant director of professional and graduate education at Mount Holyoke.
"The goal is to diversify the Amherst teacher workforce in order to more accurately reflect the student body and the community as a whole," she said. "This is important work."
According to the Amherst regional public school district, students of color make up 51 percent of its school population, while just 15 percent of the teaching staff fits that designation. The town of Amherst's population overall is 23 percent people of color.
Hornsby herself is a graduate of the College's master's of arts in teaching program, as well as a former teacher and paraeducator in Amherst schools.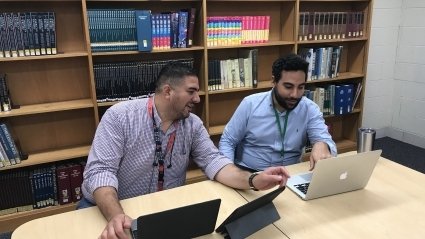 Amherst Futures is further enhancing the excellence of an already talented teaching staff in Amherst schools, said Damany Gordon, an equity and diversity specialist for the district who was instrumental in getting the program started.
"This program offers the school district a chance to grow from within," Gordon said. "It benefits the paraeducators as well as the district. Mount Holyoke gives them an education of excellence and the tools to become good teachers. It's a win-win situation."
Those winners are exemplified by Julio Fernandez MAT'20, a longtime attorney in Puerto Rico. Now an Amherst paraeducator, Fernandez enrolled in the Amherst Futures program this September. Students and families often don't see themselves in their teachers, he noted, and this is an important step forward. 
"For the families, it's very important that their teachers are part of their communities," said Fernandez, pictured here with fellow grad student Danilo Ferro MAT'20. "We need minorities as teachers."
Although he has degrees in law and international law, the master's in teaching program at Mount Holyoke offers Fernandez the education and tools he needs to be a truly effective teacher, he said. 
Two-way street
The benefits work both ways, Espinosa noted. The College offers students a path toward a professional teaching career and the paraeducators bring their diverse backgrounds and experience to their Mount Holyoke classes.
"They really help us understand what kinds of challenges and struggles teachers will have," Espinosa said. "They have a depth of experience and they know better than most what kids are facing."
Amherst Futures is the second teacher-training partnership between the College and a local community. Urban Teacher Pathways, which began in 2015, is a Mount Holyoke partnership with Holyoke Public Schools that offers educators the opportunity to earn master's degrees in teaching and teacher certification. The first four graduates completed the course in 2017.
While the programs are separate, Hornsby said, they share the goal of offering a pathway to graduate-level teacher education for those already working in other capacities in the schools, and to broadly increase the diversity among teaching professionals in local school systems.
In addition, Mount Holyoke College is a signatory on the Diverse Teacher Workforce Coalition, a Five College initiative to support diverse teacher-training programs in western Massachusetts.
"Our programs are forerunners of this bigger initiative, and we support it — and all efforts to diversify the teacher workforce," Espinosa said. "These programs present an opportunity for everyone to get more highly qualified, wise people at the front of the classrooms, working with children."
Find your pathway. Visit.