Creating jobs for Ethiopian college women.
Creating jobs for Ethiopian college women.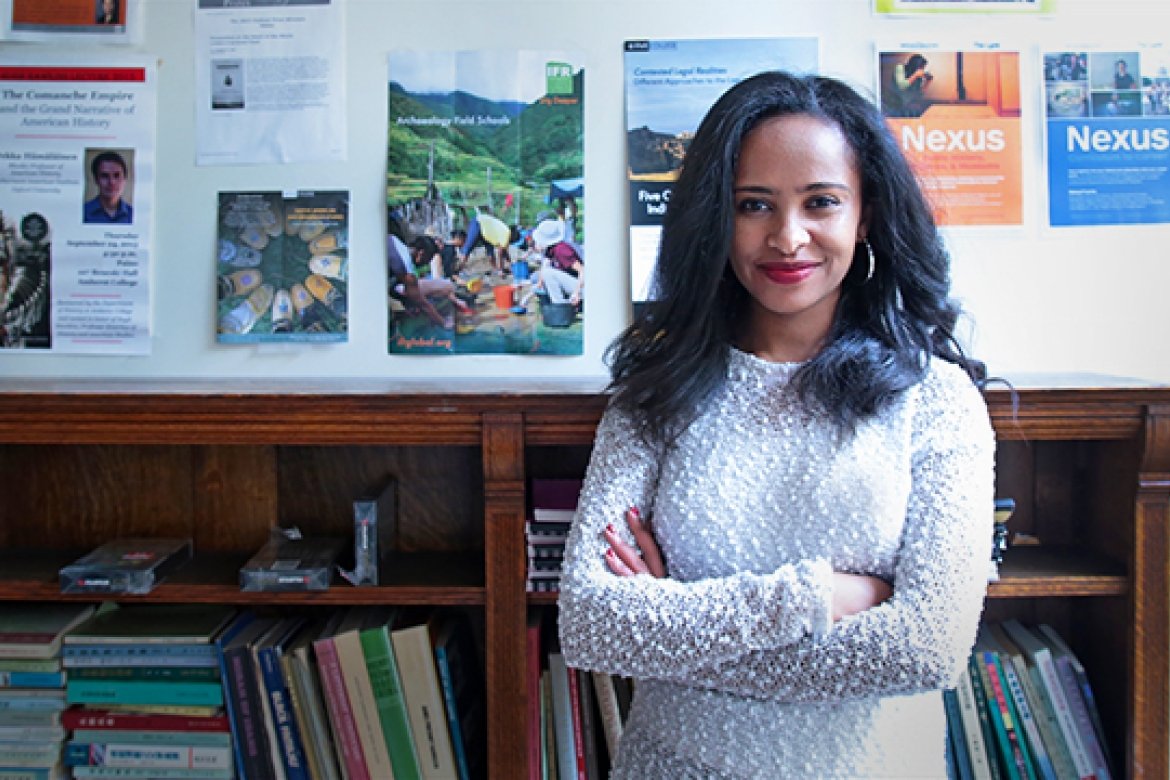 Empowered by the skills, vision, and resources she gained at Mount Holyoke, Woyneab Habte '17 founded a copy shop in her country to help women students.
By Sasha Nyary
Growing up in Ethiopia, Woyneab Habte '17 dreamed of going to college in the United States. But at 18 years old, enrolling in a university 170 miles from her home felt like a big enough first step.
When she arrived, however, she was shocked to find a widespread sex trade among her female classmates, who were struggling to pay for food, never mind school supplies.
Habte spent two semesters at the university and came to Mount Holyoke College the following fall. But she kept thinking about her former classmates and she decided to do something to help them.
Now a junior, Habte wrote a business plan last spring and raised $10,000 to start a business in her home country to help her former classmates. She returned to Ethiopia in the summer of 2015 to start On-Her-Own, a copy shop on the campus of her former university. A social entrepreneurship project, the business provides jobs for women students so they can pay for their education without having to resort to desperate measures.
Campus jobs are unheard of in Habte's country. On-Her-Own now employs nine people; the shop primarily copies and collates the readings required for classes, as students do not usually purchase books. With the support of the university, the business made a 41 percent profit in its first four months.
"My parents always encouraged me to talk, to have opinions," said Habte, who is an economics and international relations double major, with a Nexus concentration in global business. "When I was a small child, they took what I said seriously, and they built my confidence. I believe that shaped me."
Soft-spoken but passionate, Habte radiates both self-assurance and friendliness. She also is skilled at convincing others to join her cause.
Kirk Lange, director of international experiential learning at the McCulloch Center for Global Initiatives at Mount Holyoke, worked with Habte on her start-up. He noted that she worked diligently to build relationships and develop a network around her cause.
"She is emblematic of a certain kind of student who comes here with awareness and convictions," Lange said. "They really want to be agents for change."
In addition to garnering support from many in the Mount Holyoke community, Lange noted, Habte persuaded the Clinton Global Initiative University and the Harold Grinspoon Foundation that this business was needed and that she was the right person to lead it. She also navigated the highest levels of the Ethiopian university administration.
"She has a remarkable ability to get everyone engaged," Lange said. "It's leadership, is what it is. It's remarkable that she could organize these different constituencies from country to country."
From Ethiopia to Mount Holyoke College
Habte had heard rumors of the sex trade among students before she enrolled in her local university, but she didn't believe them. Then she got to campus, where she saw fellow students working as "bar ladies," or sex workers, at local establishments. She saw cars waiting for women students lined up outside the university, and hotels offering guests catalogs with photos and phone numbers of available young women.
"They will not graduate," she said sadly. "They take a picture of themselves in a graduation gown and send it to their parents. They send money. There's no way of getting out of this once you're in it."
Her outrage at the campus culture compelled Habte to follow her original dream to attend college in the US. When she heard about Mount Holyoke from a friend who is currently a senior and adores it, Habte remembered loving the all-girls school she had attended before high school. She applied early decision.
Habte enrolled at Mount Holyoke as a first-year student the following fall. Adjusting to the winter weather and being so far from her home and family took some time. The transition became easier when Habte found a campus job in the accounts payable office, and with it, a kind of second family in the staff.
"It's not just the amazing professors and the classes here," she said. "It's also the people on campus I come across in so many ways. They also impact the way I think."
Even as she settled into her new life, Habte didn't forget about her former classmates. She knew how lucky she was to be at Mount Holyoke and she began to understand the conditions and fear that led some of them into sex work. She started to craft an alternative.
"I could see what it would be like if I didn't have options," she said. "Those students didn't have the opportunity to realize they could make it on their own."
She came up with the name, On-Her-Own, from the idea that if the students were able to support themselves, they could make it, too. They needed steady income, but Habte also wanted to pass along the growing sense of empowerment she was gaining at Mount Holyoke.
"When financial difficulties are combined with disempowerment," Habte said, "people don't have the vision or the strength to say, 'I'll stay hungry before I sell myself.' My job made me think of bringing the same model to my former university, because it changed my life. I want to empower students."
On-Her-Own's success
A key part of On-Her-Own's mission is to offer empowerment along with financial resources, giving students the inspiring combination Habte had found in her campus job.
"The business hits multiple goals at the same time," said James Hartley, professor of economics and Habte's advisor. "And it's sustainable, which is the smart thing about it. She's thinking, 'How do you set up something that could theoretically still be there in 50 years?' She's willing to start small and build over time rather than do the splashy thing that will die right away."
With the business up and running, Habte is refining her long-term vision. In addition to private donations, Lynk funding from Mount Holyoke, and assistance from the McCulloch Center, she has qualified for a grant from Valley Venture Mentors for up to $50,000. Her business model comprises other college start-up companies including an ice cream store, a coffee shop, and a laundry service. She expects to hire up to 50 more students this summer and expand to other campuses around Ethiopia.
"I came to Mount Holyoke where the culture of being bold was celebrated," Habte said. "Here, I can be bold."
Be confident. Be bold. Find your passion.