Black women rock math
Black women rock math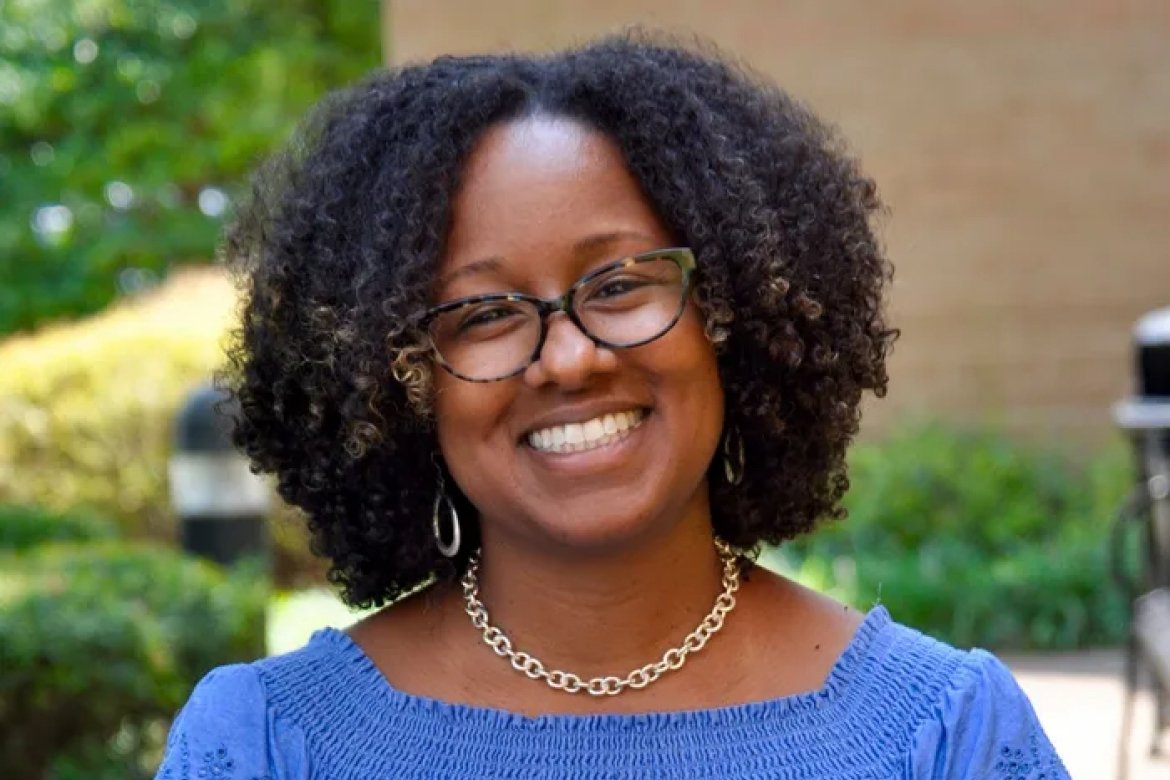 Mount Holyoke alum Kaneka Turner MAT '15 has created an initiative to celebrate Black women in mathematics.
When Kaneka Turner MAT '15 started college, she wanted to be a veterinarian. But she quickly became discouraged after learning how competitive veterinarian school would be — and even more so when she saw how few Black women were in the field. So she turned to teaching, which she loved immediately. 
"I loved working with students," she said of her first few years in the classroom. "Even the relational side of teaching, getting to know parents and other educators, was great."
There was one thing missing: Teaching math wasn't Turner's favorite. As a fourth grade teacher in Charlotte, North Carolina, she felt very confident in the classroom teaching English, writing and other literacy content, but "was feeling a bit fragile with math. I wasn't feeling very confident and was trying to avoid it. I didn't want to fail," she said.
That's when she ended up in Mount Holyoke College's Master of Arts in Teaching Mathematics in 2013. Turner was part of the inaugural cohort of the program, which consisted of four women. Turner was the only Black woman.
She enrolled in the program because she wanted to gain confidence in the classroom when teaching math. Turner also wanted to prove to herself that those negative things she believed about her mathematical ability were wrong. 
"It was my quest to heal the broken spaces that were created in one course during high school and again in undergrad, when I realized how difficult it'd be to become a vet," she said. "Because of those moments, I didn't learn all the math I hoped to learn."
After graduating from the program in 2015, Turner still felt like she wasn't where she needed to be. But all around her, her peers were singing her praises. 
"When people thought of me, or talked about me, they did so as if I was this highly mathematical person," she said. 
Through the support of her peers, she ended up in an interview with Illustrative Mathematics, a nonprofit organization aimed at helping educators and students know, use and enjoy math. The organization was looking for educators to help shape K–5 mathematics curriculum and they wanted Turner to serve on their team.
Turner has been working with the organization since 2018. That's where she met Deborah Peart and Dionne Aminata, two Black women mathematicians helping to shape mathematics curriculum. In conversation with these women, Turner realized how similar their experiences were of often being the only Black women in education and mathematical spaces.
"Black women are not normally writing curriculum, nor are we taught to," she said. "When I realized that we had similar stories that were aligned, I thought, where are the Black women in leadership? We were tracing back over all our experiences and realized we were normally the only ones, or one of a few. We wanted to find the other people. We thought 'where are the other unicorns?'"
So in July 2020, Turner, Peart and Aminata launched Black Women Rock Math, an initiative aimed at highlighting Black women in the mathematics field and showing young girls that a career in math is possible. They use the hashtag #BlackWomenRockMath to find Black women teaching math in order to connect with them, create a network and celebrate them.
"In our small group of three, we've noticed opportunity seems to be about who you know. If you're networked well, you've got opportunities." Turner said.
Black Women Rock Math is about connecting current educators to networking, career and support opportunities, and showing Black girls what's possible. That's something educators like Chassidy Bozeman, Clare Boothe Luce Assistant Professor of Mathematics at Mount Holyoke, does as well. 
"I believe that my presence in the classroom breaks down many misconceptions that people have about who does mathematics," Bozeman said. "In addition, I highlight contributions that other underrepresented mathematicians have made and are making to the field."
She wouldn't be where she is today without people who opened doors for her along the way, Turner said. The Black Women Rock Math Initiative is her way to pay it forward. 
"I appreciate the white women who stood in the gap for me and created a bridge to opportunities that I didn't know existed. I want to do that for other Black women," she said. "I think it's really important for a Black woman to be present on the journey of another Black woman. There is a unique set of things that you understand as a Black woman, that you can help another Black woman navigate through that. Maybe other women wouldn't be able to, because they haven't experienced it. 
"The belief of Black Women Rock Math is that if we can connect each other to create this system of support through professional development, coaching and mentoring, we can catalyze change for the younger versions of ourselves."