Carving a path back into the dance world through academics
Carving a path back into the dance world through academics
"It has been really uplifting to have so much support for nontraditional opportunities and carving my own path back into the dance world through academics."
Prior to coming to Mount Holyoke, Felix Bryan spent three years performing with a ballet company, centering his whole life on dance. It was through movement that he found a comfort zone as he made the shift from professional ballet dancer to student.
"I felt a lot of my peers already were on their very academic trajectories," he said, "whereas I was coming from a place of physical knowledge."
Bryan initially planned to pursue STEM — something he had been drawn to all his life, since his childhood affinity for puzzles. He also had an interest in taking a few college-level dance classes but did not plan to integrate dance into his academic pursuits. 
Bryan credits his advisor, Alanna Hoyer-Leitzel, and her linear algebra class for convincing him to declare math as his first major. "She spoke about mathematics as something beautiful and malleable, something connected to reality beyond just abstract numbers," he said. 
As he delved into his study of mathematics, Bryan chose to take dance courses at Mount Holyoke for fun and to stay in shape.
After taking a few contemporary dance classes, however, he realized that he still valued dance as an integral part of his life. Thanks to his professors and fellow classmates, Bryan began to feel he was in a safe and supportive environment in the dance studio for the first time since leaving ballet and beginning his transition. After his first year, he decided to declare dance as his second major.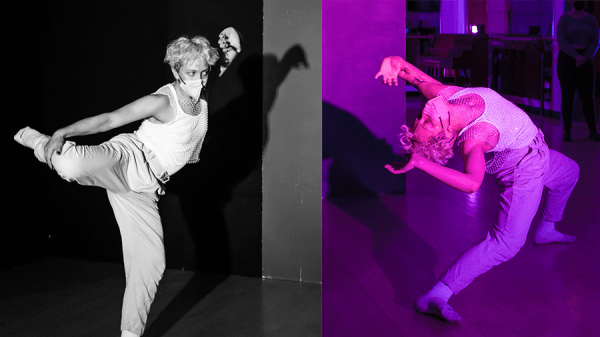 During the second semester of Bryan's first year, he was offered a spot to train at Hubbard Street Dance Chicago, a professional dance company, for the 2019–2020 season. "It was a really immersive environment to study dance technique and be deeply involved in the creation process and community," Bryan said.
Bryan's math and dance advisors worked with him to plan his courses around the time he was in the program. Through their support, he was able to interweave his learning in Chicago over this gap year with the coursework he had taken at the College.
Returning virtually to Mount Holyoke in his junior year, Bryan also took part in COMMON conservatory, another dance program in Chicago, where he was offered his first choreographic commission.
"It was really special to be able to take on a creative leadership role. It demonstrated to me the value of my art, and I used the things I learned at Mount Holyoke in terms of making dance and operating in a contemporary dance space," Bryan said. "I was inspired by how professors and upperclassmen who had led the dance classes I had taken carried themselves at the front of the room. I took a lot of the lessons I learned from them about how to be a leader."
While Bryan arrived at Mount Holyoke believing that he was ending the dance chapter of his life, he has instead added a new chapter to that ongoing story. "I think that Mount Holyoke was a place that told me it was OK to be my full self as a critical thinker and a dancer," he said. "It bounced me back into the world of professional dance from a totally different angle."
After graduation, Bryan will continue to be a freelance artist, performing with companies in New York City and Kansas City. He also enjoys finding how the lessons and principles from his math studies emerge in his dance work. 
"It has been really uplifting to have so much support for these nontraditional opportunities and carving my own path back into the dance world through academics," he said. "I'm so fortunate to not yet have graduated and have several contracts with dance companies."