Connecting with the environment through dance
Connecting with the environment through dance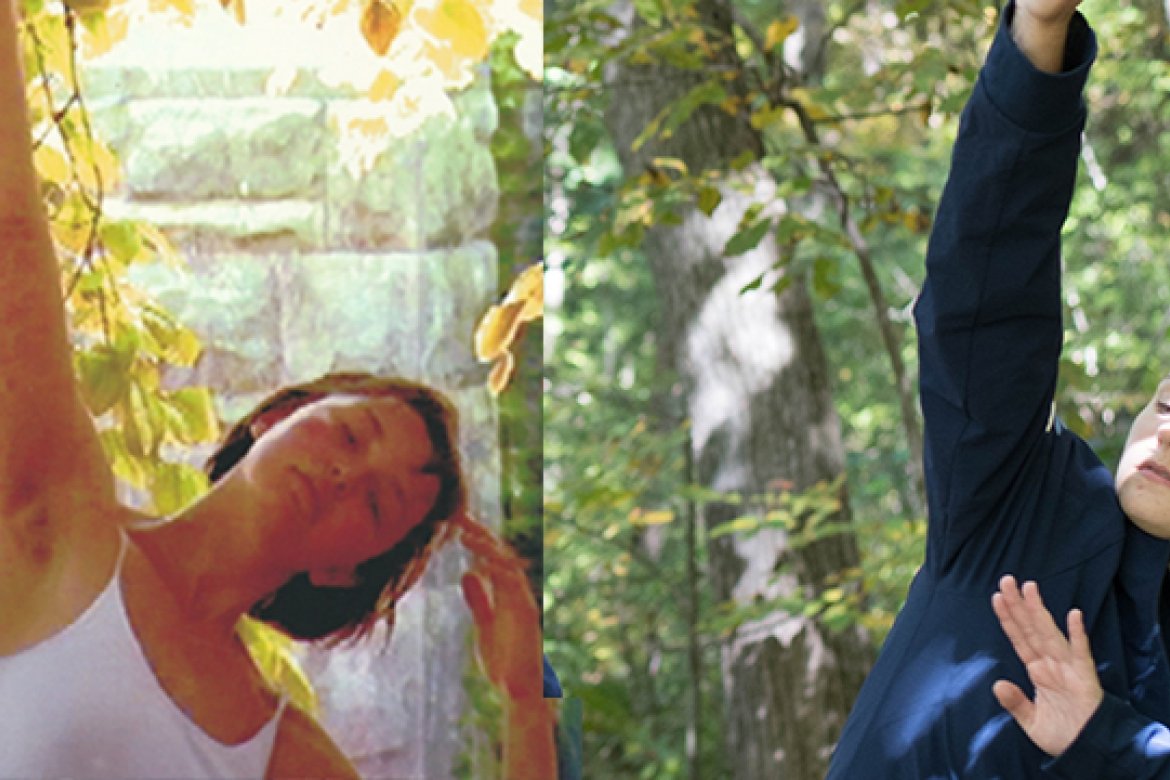 Terre Vandale '02 uses Mount Holyoke's Campus Living Lab as her classroom to teach her dance students about place, movement and the environment.
In Mary Deacon Bullard Garden next to Abbey Memorial Chapel, eight women moved to an unheard score of their own making. It was one of those gray New England afternoons in November. The rain had only recently stopped, leaving the grass sopping.
Nevertheless, two women sat on the ground, their backs against stone fountains. Another lay flat on her back in the brick walkway. One perched on a metal railing. Four more sat next to each other on a stone bench while a fifth sat alone on another bench.
They didn't talk, but that did not mean there was no communication. A low chanting emerged, as each person slowly moved around the space.
A ninth woman watched, occasionally commenting on what she saw.
"See if you can take the next five minutes to be aware of the ensemble and see if there could be a single activity. Take that loooonng time," the observer said, turning "long" into a multisyllabic invitation. "See what the activity could be."
Barefoot in the wet grass, hair pulled back into a ponytail, hands on hips clad in wide-legged pants and topped with a comfy shirt, the woman stepped back, watching expectantly.
"Keep looking for the activity that will bring you together," she directed.
Welcome to Site-Specific Intermediate/Advanced Modern Improvisation, a dance class at Mount Holyoke College taught this fall by visiting artist Terre Vandale '02. This dance class does not meet in a studio, or even in the same place every week.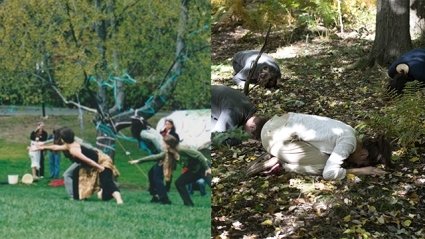 Mostly, they meet outdoors, at the bridge over lower lake, the College's Botanic Garden, the woods behind upper lake, or here, near the chapel, with a simple sign reading "Dance in Progress" propped against a bush. If strangers happen through, as one did this afternoon, no matter. ("People walking through is definitely part of it," Vandale cheerfully said later.)
Wherever they dance, there's no attempt to control, only to respond, mindfully, to their surroundings — which sometimes includes a blue heron, sometimes another student.
The campus itself is a lab
Vandale's class is one of the many perhaps unexpected ways that Mount Holyoke's Campus Living Laboratory is used in courses and research. The Campus Living Lab, which is overseen by the Miller Worley Center for the Environment, transforms the College's more than 700 acres of both natural and built landscapes into a limitless assortment of interdisciplinary opportunities to engage with the environment. Those opportunities include everything from dance to gender studies, as well as the more expected environmental studies and STEM subjects.
As an undergraduate, Vandale created her own major, combining dance, anthropology, women's studies, religion and community dance theater. Introduced to site-specific dance in high school, she was thrilled to find encouraging mentors at Mount Holyoke in now professors emeriti James Coleman and Terese Freedman, and professor Rose Marie Flachs, all of the dance department.
"They were very supportive of my alternative path," said Vandale.
Coleman introduced the undergraduate to the work of Anna Halprin, an iconic postmodern dancer who pioneered techniques that include site-specific dance, which includes environmental dance. Inspired, Vandale created an independent study and spent an entire semester dancing in sites all over campus, including at Mary Lyon's grave and near the lower lake bridge. After graduating, Vandale went on to work, study and dance professionally with Halprin.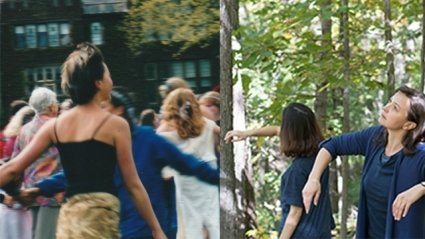 Responsive and sensitive to the surroundings
The idea behind site-specific dance is that dancers interact with what's around them in a way that is both responsive and sensitive to what's there. This means that a dance is different every time. Vandale encourages her students to rely on all of their senses as they observe and engage with their surroundings when they dance.
"It changes the way you relate to the environment," she said. "The ultimate goal is for the dancers — and the passersby — to have a felt connection with the environment."
That connection was felt by Evelyn Kirby '19, who like many of her classmates is not a dance major. "Every time I leave the class, I notice where I am more and I pay more attention to color and shape and movement," she said.
Thinking students, thinking dancers
Vandale, who lives in nearby Florence, Massachusetts, with her husband and son, has danced, taught and choreographed at festivals and venues around the world. She founded and runs the Movement Arts Ensemble, an intergenerational group, and works at the Arts Extension Service at UMass Amherst. Her teaching this semester holds special resonance for her as an alumna.
"Doing this at Mount Holyoke is really exciting," she said. "These students are exceptional. These are dancers who are thinking dancers."
She said she is impressed with the rigor and creativity they bring to the dancing: "It's just a joy."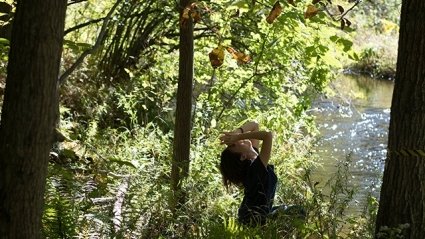 Joy is an apt description of the way dancers wrapped up their dance outside Abbey Memorial Chapel that early November day. Nearing the end, Vandale added a sense of urgency to her instruction: "How can you give more of yourself to this activity? What does this activity want to be?"
Soon the dancers had clumped together near a fountain in the center of the courtyard, wordlessly passing leaves from one to the next.
"Take a moment to find an end," their teacher instructed.
A giggle emerged from deep within the cluster. Soon, every dancer succumbed to full-throated, hearty laughter.
Vandale had one word.
"Beautiful."