Curating at Joseph Allen Skinner Museum
Curating at Joseph Allen Skinner Museum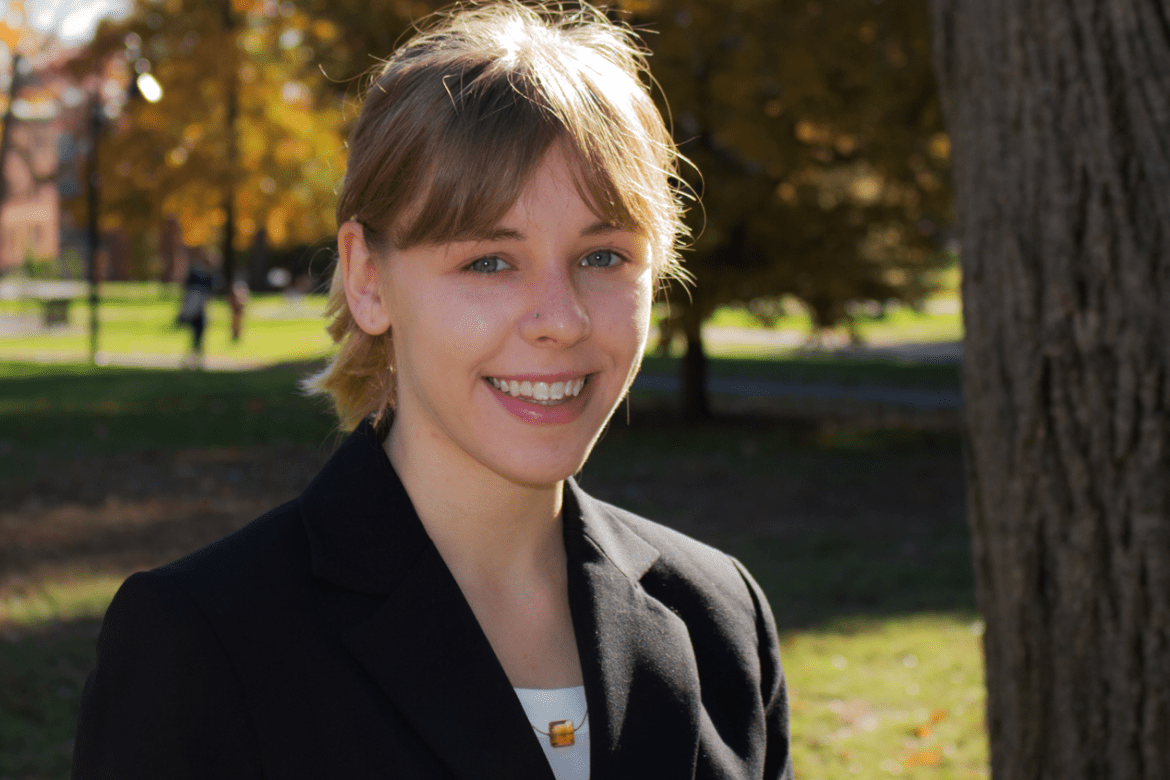 Seeking alum advice, opportunities, and experience during an internship at the Mount Holyoke College Joseph Allen Skinner Museum.
CDC Spotlight on Student Employees
When art history major Sabrina Smith '17 was younger there was only one way to get her to set foot inside a museum: cupcakes.
"Hated it," explained her mother, Jessica Smith. "The only way to get that child into a gallery at the Minneapolis Institute of Art, we had to bribe her."
"Then, we had to see one gallery only," she continued. "We better find a horse going to or in the gallery because she loved horses. Whatever time she spent in the gallery, we doubled it for the family center and then we had to buy her a coloring book or a paper doll on the way out."
Mrs. Smith assumed that her daughter disliked the entire experience. Once her daughter decided to study Art History she realized that her daughter felt alienated in those spaces. The issue was not with the content but rather how it was presented to visitors.
Smith, also double minoring in french and educational studies, is now driven by those negative experiences.
"The more that I learned about art, I realized I wanted to address this problem of accessibility—that idea that sometimes these parts are very closed off to certain audiences." Smith said that at times museums expect a certain level of education from visitors. She then aspired to make museums appealing to everyone.
Guidance from an alum
Smith discovered a newfound respect and understanding of art during her AP World History course in high school. Her teacher used images to study a single period.
"Coming to college, I realized I liked using that visual medium to learn. It's using art as a lens to learn about history," said Smith. She knew that museums could then be used as a classroom.
She yearned to better understand the industry through an insider's perspective. Utilizing the Mount Holyoke College Alumnae Association career directory, she searched for "art history majors" and found the name of a recent graduate.
"I noticed that sometimes recent graduates are much more able to help students since they just entered the workforce," said Smith. "They know a little bit more of what it's like to go and graduate Mount Holyoke and enter the workforce."
She requested an informational interview with Gina Ciralli '14, a project coordinator for a series of outdoor exhibitions called "Inside Out" at the Philadelphia Museum of Art. Ciralli was eager to assist Smith.
"One of the most attractive features of Mount Holyoke was the strong pool of alumnae support. It's the sisterhood," said Ciralli. She received similar guidance during her years at the College from other graduates and found their support critical.
Her first tip to Sabrina was that she should find an internship at a local museum during the academic year. She informed Smith that such experience bolsters a candidate's resume for summer internships. Smith applied to the College's Joseph Allen Skinner Museum, since she loved their collection.
New Opportunity
Smith inquired about internship opportunities at the Skinner Museum to Aaron Miller, the Assistant Curator of Visual and Material Culture and NAGPRA Coordinator. Miller, who divided his time between the Mount Holyoke College Art Museum and the Skinner Museum, was intrigued by Smith's request.
Students rarely showed interest in that museum. After receiving and glancing at her resume, he requested an informational interview. He was particularly impressed by her Fulbright Summer Institute experience that previous summer at Nottingham Trent University.
Smith prepared for the interview by using services provided by the Career Development Center (CDC). She understood the standard questions she would likely be asked and developed strategies to remember her crafted responses. She also conducted in-depth research about the museum.
"I always have three reasons as to why I want the position, what I want out of it; those are two questions that it doesn't matter what job you're applying for, they always come up," said Smith.
After the interview, Smith was offered a position with the Museum. Although she knew the position would be unpaid, Smith prioritized the opportunity to get experience in the field. She accepted the offer. Her first task in September was to investigate the life and times of former College trustee Joseph Allen Skinner.
A Unique Project: Redesigning the Introductory Cabinet
Smith first learned the fundamental details of Skinner's life. He was born in 1862. Later on, as Skinner traveled around the world, he searched for a treasure trove—a place to keep his findings.
He purchased a Congressional meetinghouse and converted the building to a museum in 1929. The first official opening to the public was in 1932. After his passing in 1946, Mount Holyoke College inherited his museum that same year.
The majority of the items remained untouched and where Skinner had left them. He left labels and catalogs for half of the items, but no record as to his overall vision and intent for his life's collection.
Smith studied the different concepts surrounding collections and museums. She utilized the help of the archives staff, library research assistants, and a PhD candidate at the University of Massachusetts Amherst. She spent the second half of the internship conceptualizing how she wanted to curate the introductory cabinet.
She realized that the cabinet gave the illusion that the museum was a wunderkammer. Wunderkammers, Smith explained, were museum cabinets popular during the Renaissance. People kept any item that they found to be exotic, like a specimen in a jar, and displayed it where visitors could witness their worldliness. Skinner, however, lived in another period.
Smith compared his collection to a zeitgeist, representing a "spirit of the age." She then planned to incorporate items from the collection that did have labels written by Skinner himself. "We're planning on letting Joseph Allen Skinner's voice guide us," she said.
Smith continued her work over the J-term winter break. She worked closely with Miller to select objects for the introductory cabinet and chose a z-shaped timeline to draw in visitors.
She then received the Almara grant from the History department after applying in November. The grant provided funds for airfare, dorm room, and food. While Smith studies abroad at St. Andrews University in Scotland this semester, Miller will conclude the project and debut the project by April or May.
Smith learned how to voice her opinions through the experience. She also furthered her research skills. "It just develops your ability to present [and] think objectively from the perspective of both a curator and a museum viewer," she said.
Miller said that he tries to always create projects for hard-working students interested in the field. "What I often take notice of is students that contact with very specific interests," he explained. "Say, they're interested in a very specific type of object or collection. Those are ways that they can get involved."
Summer Goals
Smith hopes to apply to larger museums for summer internships, such as the Philadelphia Museum of Art. She said, "Big museums that everyone wants to work at—the Barclays of the museum world—they don't want anyone without museum experience." She feels confident her experience at Skinner will open new doors.
Art History Professor Paul Staiti, Smith's academic advisor, said that the opportunity that Smith had was indeed special.
"Mount Holyoke is a small enough place so that an ambitious student might be given the opportunity to do that," said Staiti. "In some other place that's not going to be possible."
Written By

Rebecca San Juan '17
Published