New Mount Holyoke College students descended on the campus, where they were welcomed by honorary "firstie" President Danielle R. Holley.
On September 1, President Danielle R. Holley stood at the podium on stage in Chapin Auditorium, facing a packed audience of students and families during the Presidential Welcome for the entering class.
"This is a very special day for me — you are the very first class that I am welcoming at Mount Holyoke College." As applause rang out, she added, "We are firsties together!"
Move-in for the class of 2027, as well as for transfer students, exchange students and Frances Perkins scholars, was a day of firsts. For President Holley, who assumed the presidency on July 1, it was her first time presiding over the joyful and sometimes frantic process of moving the new class into residence halls and introducing them to the MHC campus and community.
For many families, it was their first time dropping a student off at college, and the feelings ranged from excitement to astonishment.
Ofosu Jones-Quartey, who was dropping off Sammi Jones-Quartey '27 from Washington, D.C., said, "I am caught in the spiritual gravitas of the moment. I'm extremely proud and anticipating the avalanche of emotion."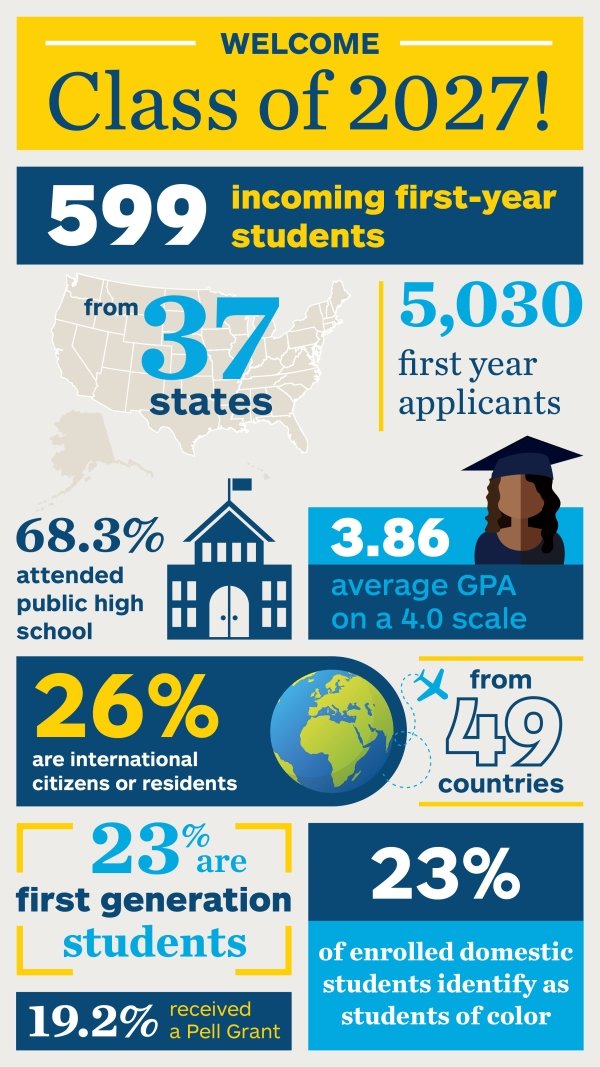 The class of 2027 are a lively and distinct group of students. As detailed by Dean of Admission Leykia Nulan, the incoming group of first-year, first-time students are 599 strong; their average GPA on a 4.0 scale is 3.86; 23% are first-generation college students; they come from 37 states and 47 countries; 68.3% went to public high schools; 19.2% are Pell-grant eligible; 23% of the first years are domestic students of color; 26% of the class of 2027 is international, hailing from countries such as Armenia, Australia, Brazil, Egypt, India, Morocco, Poland, South Korea, Spain and Turkey.
President Holley explored the class distinctions even further.
"One of you," she said to the class, "has written a 50,000-word novel every November for the past five years. At least two of you hold black belts in karate. One of you releases endangered terrapins into the wild every year. One of you is an amateur taxidermist. Every single one of you has a rich and exciting story."
She continued, "Mount Holyoke prepares you for lives of purposeful engagement in the world. I advise you to reflect on what, to you, 'the good life' means. What good do you want to do in the world?"
She also advised the students, "Text and call your families — they want to know that you are OK!"
Families also were able to meet the faculty and staff who would be part of their student's new community, including resident advisors, members of the Office of Student Life, faculty and staff from the Miller Worley Center for the Environment, the McCulloch Center for Global Initiatives and the Weissman Center for Leadership, as well as Development staff handing out mugs bedecked with Jorge the Goose.
Members of the Alumnae Association were also at hand. Alums from the class of 1977, garlanded in green as proud griffins, were on hand to welcome new students to campus. The class of 1977 are the Connection Class for 2027 — when the new students graduate in 2027, it will be the class of 1977's fiftieth reunion.
The wide array of people on hand to help their students impressed many of the families and spoke to Mount Holyoke's commitment to community-building.
"From everything I've seen," said Josh Torrance, father to Sophia Torrance of Ellsworth, Maine, "Mount Holyoke is a supportive community that will be there for students as they grow into themselves."
But perhaps the final word on Move-in 2023 came from a new student outside of Mary Woolley Hall with a brand-new OneCard.
"Mom, look!" The student waved her OneCard in the air. "I'm officially a college student!"