Launching Leadership: Aimée Eubanks Davis '95
Launching Leadership: Aimée Eubanks Davis '95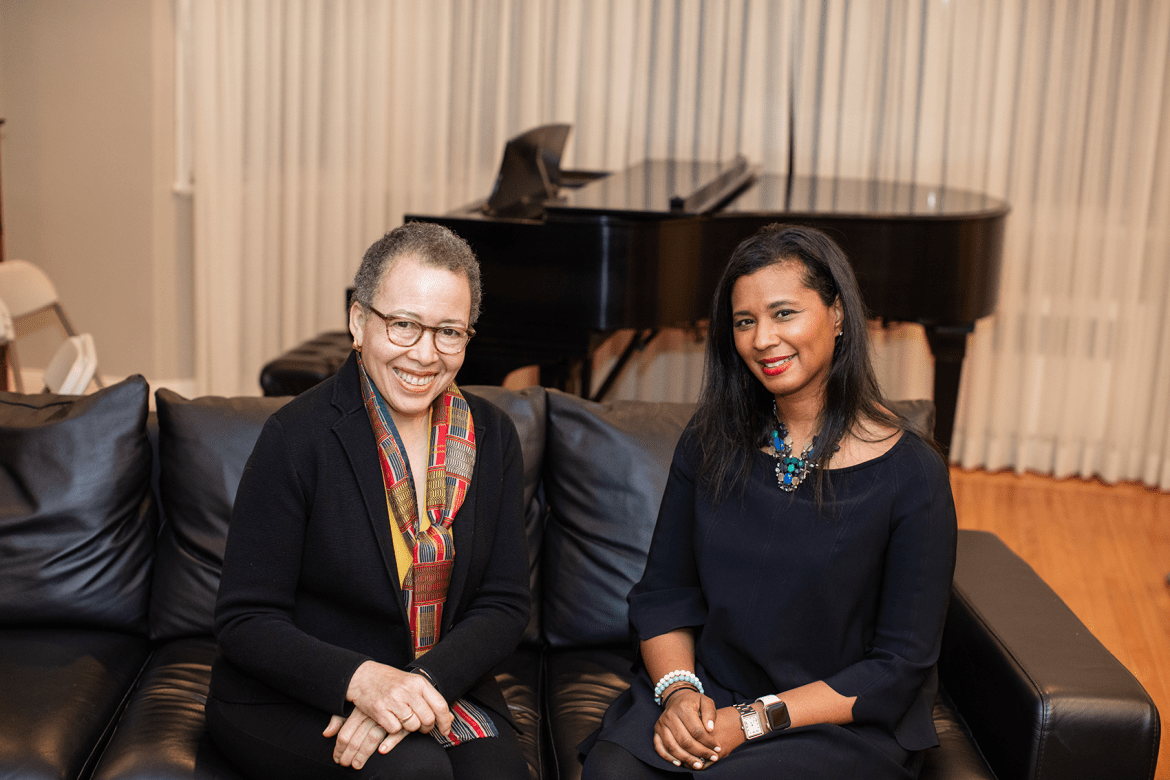 At the most recent Launching Leadership event at Mount Holyoke College, Aimée Eubanks Davis '95 discussed following her passion, being authentically bold and finding your own superpower.
Mount Holyoke College celebrated Founder's Day on November 8 by enjoying its traditional morning ice cream and coffee but also by hosting Aimée Eubanks Davis '95 for the third Launching Leadership conversation with Interim President Beverly Daniel Tatum.
Davis is the founder and CEO of Braven, a nonprofit that bridges the college-to-job gap for underrepresented college students by partnering with universities and offering the skills, experience and networks to aid in landing a strong first job. She founded Braven based on her deep belief that the next generation of leaders will emerge from everywhere.
She is a recipient of The 1954 Project's 2021 Luminary Awards, and she is a 2020 Leadership Greater Chicago Fellow, a 2019 Obama Foundation Fellow, a Pahara-Aspen Fellow, a member of the Aspen Global Leadership Network, a Braddock Scholar, a Draper Richards Foundation Entrepreneur and a Camelback Ventures Fellow. In 2022, Forbes named Braven one of America's Best Startup Employers.
"Connect the dots," Tatum urged Davis at the beginning of the conversation. "You majored in history, with a minor in politics. How did that happen?"
"I can't believe it myself!" Davis said, laughing.
Davis came to Mount Holyoke, she said, "as a wounded girl." Moving from a primarily Black high school in Chicago to a primarily white high school in the suburbs took a psychological toll on her — she struggled with racism, isolation and not feeling comfortable in her own skin.
"When I came to Mount Holyoke College, I felt at peace," she said. "I needed a place to really come and heal."
Davis didn't declare a major her first two years at Mount Holyoke and enjoyed exploring classes with different professors. While she was unable to take a class with Tatum — "They were very, very full," she said — she did take a course on spirituals and the blues that helped her "rebuild a vision" of herself.
She minored in politics because her parents urged her to become a doctor or a lawyer after graduation. However, Davis decided to join Teach For America instead.
"My mom said, 'YOU'RE RUINING YOUR LIFE!'," Davis said. However, her older sister — a lawyer and Mount Holyoke alum — told their mother to let Davis follow her passion.
Davis spent the majority of her career at Teach For America. She first started as a sixth-grade teacher in New Orleans. While she was initially overwhelmed by the classroom, she "became very close with [her] students and their families." Teach For America's founder, Wendy Kopp, heard about Davis' work and invited her to work for the organization.
Davis spent the next 13 years at Teach For America and oversaw its human capital and diversity initiatives. During her tenure, she managed the human assets strategy for the organization's 3,300+ full-time and seasonal staff and led the organization's 130-person human assets function, which fueled the $300 million dollar organization's growth and success.
Davis noticed that her New Orleans students were advancing in their education and lives, but their post-college careers were troubling.
"I had one student who graduated from Northwestern University at the same time that Hurricane Katrina [made landfall]," Davis said. "And the only job she could get was as a cashier at a fast food restaurant."
This was only one example. Davis, a self-described "talent nerd," analyzed the data available through Teach For America. "First-generation college students are young people who don't have the networks and connections other students have," Davis said. "No one was helping them maximize their potential." She realized that millions of first-generation college graduates were not obtaining strong jobs after college.
"It's not who you know; it's who knows you that matters more," Davis said. "I really do believe this is a solvable problem." She founded Braven to bridge that gap.
Tatum asked Davis what she thought it meant to be "authentically bold."
"I will say that the authentic part really matters to me," Davis said. "One of the greatest assets of Braven is that I built what I wish I had when I graduated. I wonder what would have happened if I had more guidance during that time of life."
"Authentically bold means recognizing that each of us have our own superpower," she continued. "You have to find your own voice, your own place. Within yourself there is something that you'll be better at than anyone else, if you focus on it."