The Lynk goes on the road
The Lynk goes on the road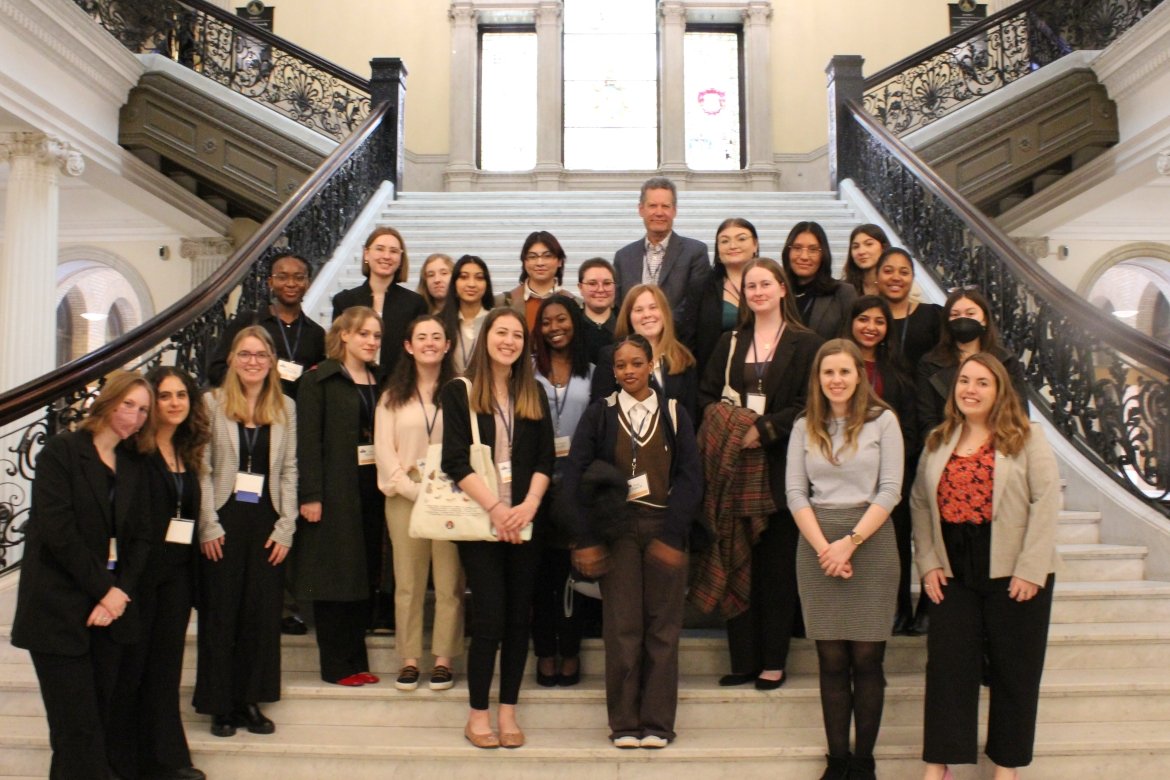 Mount Holyoke's career-focused curriculum program went on the road to Boston this past spring, allowing students to connect with alums in both the biotech and public service sectors.
In college, career plans can seem abstract and ambiguous. The Lynk, Mount Holyoke's career-focused curriculum, bridges the gap between classroom and career by connecting students with funded internships and research opportunities. Lynk on the Road takes things several steps — or miles — further. The program mobilizes Mount Holyoke talent for career exploration and networking beyond campus.
This past spring, Lynk students traveled to Boston for an immersive visit with alum leaders in biotech and public service. The Career Development Center hosted the sciences portion, and the Weissman Center for Leadership oversaw the public service outing. To cap off the day, the Alumnae Association co-hosted a networking event for students and alums with both Centers, the Mount Holyoke Club of Boston and Suffolk University.
Biotech students gathered at Cambridge's Broad Institute of MIT and Harvard to meet with campus recruiters. Next, they heard from Meredith Fisher '97, a partner at Mass General Brigham Innovation, and Eilish Brown '09, program manager at Brigham Ignite, before touring LabCentral, a launchpad for life-science and biotech startups on Harvard's campus.
Students interested in public service toured the Massachusetts State House and met with Kira Arnott '16, chief of staff for Representative Dave Rogers, and Madeline Miller '21, legislative aide for Representative Jack Lewis. Next up was a luncheon with Margret R. Cooke '92, commissioner of the Massachusetts Department of Public Health, followed by a panel discussion with Brenda Hernandez '04, the city of Boston's executive director of people and culture; Nicole Friederichs '94, the Human Rights and Indigenous Peoples Clinic director at Suffolk University Law School; and more.
Both groups capped off the day with an alum networking event co-hosted by the Alumnae Association, both Centers, the Mount Holyoke Club of Boston and Suffolk University.
The trip was transformative for Tehani Chandrasena Perera '25, an international relations major who grew up in Sri Lanka. She was struck by the majesty of the State House, and she was truly inspired by the accessible, relatable alums she met afterward.
"One big takeaway is that nobody really pressures you at Mount Holyoke to be someone or do something. It's inherent for us," says Perera, who's considering an advanced degree in either law or public policy. "They explained how a career trajectory isn't just a straight, tunnel-vision journey. They made me feel better: I don't need to have it all figured out right now."
Biochemistry major Diksha Batra '24 felt similarly. While Batra hopes to become an ophthalmologist, the tours truly opened her eyes: She was gratified knowing that a biochemistry degree unlocks possibilities beyond traditional medicine.
"I was amazed. The trip expanded my view of what's out there in terms of careers and jobs. I thought you could do either research or pre-med. I didn't know what other jobs existed. I learned about M.D.-Ph.D. programs and venture capital," she said.
Batra especially enjoyed meeting venture capital pioneer Fisher. In her role at Mass General Brigham Innovation, Fisher oversees funding for technology development and commercialization for their medical inventions. For Fisher, a former scientist, the event was an opportunity to pay it forward in true Mount Holyoke fashion.
"Mount Holyoke was the jumping-off point beyond the small town I grew up in. When I have the opportunity, I love to expose students at Mount Holyoke to a broader, expansive vision of what a career can look like," she said.
In particular, she was impressed by the students' determination and ambition to succeed in a largely male-dominated, cutthroat field.
"It was energizing to see all of these bright, brilliant young [people] who are interested, articulate and eager. It was such a shamelessly feel-good opportunity to see fabulous women from my alma mater, future leaders, who will go beyond the little path I'm helping to forge," Fisher said.