Meet the class of 2021: Michael Lawrence-Riddell MAT'21
Meet the class of 2021: Michael Lawrence-Riddell MAT'21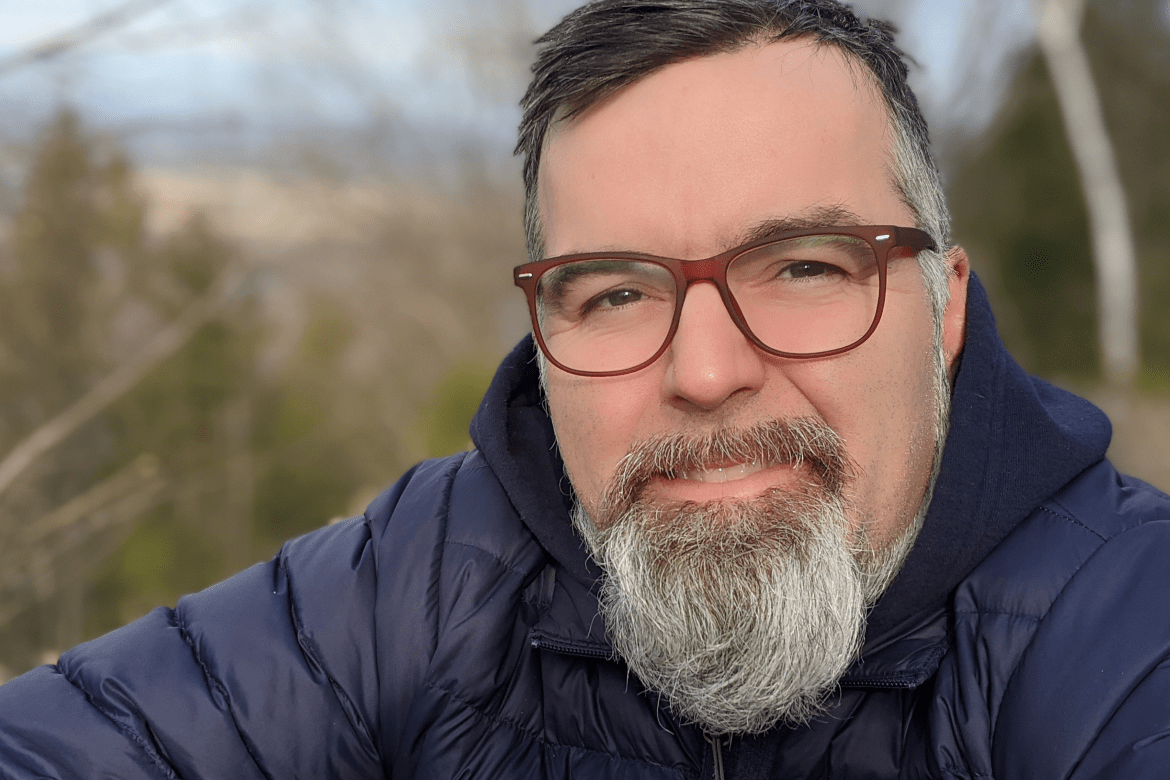 "I don't leave a class without having thought about something in a new way that helps me solidify and sharpen my thinking about the work that I'm doing."
Name: Michael Lawrence-Riddell MAT'21
Hometown: Florence, Massachusetts
Academics: Master of Arts in Teacher Leadership, Professional and Graduate Education
Pronouns: he, him, his 
When Michael Lawrence-Riddell won an award for his teaching, he went back to school to become a better teacher. 
He's earning a Master of Arts in Teaching, teaching leadership, through Mount Holyoke's Professional and Graduate Education program because he won the Pioneer Valley Excellence in Teaching Award, given by the Harold Grinspoon Foundation. It came with a $10,000 scholarship to take classes through the College's graduate program.  
Inspired to become a teacher two decades ago in part to help eradicate systemic racism and racial violence, Lawrence-Riddell was teaching English and history at the Amherst Regional Middle School in 2019 when he won the award. The event clarified for him that this was the moment to take his life's mission to the next level.
"I'd been thinking about ways that I could take some of the learning that I've done about teaching and bring it to a wider audience than my classroom and my school community," he says. "It felt like the perfect time to align with Mount Holyoke." 
Lawrence-Riddell enrolled in the teacher leadership program, which is designed for teachers to continue working full time while taking classes. With the help of a fellowship in entrepreneurship in education from Mount Holyoke, he decided to take a leave of absence from teaching.
He's using the time to create a new educational company, Self-Evident Media. The goal is to create a digital humanities resource for American history teachers that's designed to encourage educators and students to think critically about the role of race and institutional racism.  
"Oftentimes people think you become a teacher leader when you're a principal or superintendent," Lawrence-Riddell says. "One of the things that is really appealing to me about the teacher leadership program is that it honors the fact that leadership can be done in a whole bunch of different ways. It allows me to think about what leadership means in my own unique experience and passions and contexts."
In fact, the classes he's taken have allowed him to build on what he already knows while continuing to develop his company. 
"All of the educators who teach the classes are themselves either in the classroom in some way or have been in the classroom," he says. "The classes have been phenomenal, a wonderful mix. They've allowed me to take the work that I'm producing professionally and relate it directly to the work that we're doing in class — and the work we're doing in class relates directly to the work that I am doing professionally. It's been this wonderful circle, this wonderful synergy." 
He's worked closely with Jemelleh Coes, a lecturer in the graduate programs. Lawrence-Riddell took two of her classes and she is now his faculty advisor on his capstone project.
"Jemelleh is the perfect combination of encouraging and affirming," he says. "She points out the things that students are doing that are great. And she's also really good at asking the questions that make you drill down and get more specific and focused. Her classes are always fun and interactive — and so positive. She has an ability to force us to question our assumptions or presumptions and she does this with grace and eternal positivity that I would love to be able to move through life with. I could go on and on about the professors and how great they are."
Lawrence-Riddell also became a published author at Mount Holyoke, writing three articles with Gwen Bass, director of teacher leadership programs, on universal design for learning. One of the articles later appeared in a book. 
He can't say enough about his time at Mount Holyoke. 
"There's so much to love — I love the campus, just being on that campus is awesome and amazing," he says. "I love the people who run the programs. Everybody at Mount Holyoke is on your side and wants you to succeed. Their job here is to help you succeed and do the things that you want to do as a teacher leader. The camaraderie with the other people in the group has been awesome. It's been really nice to have this core group of people, our cohort, who have moved through the program with me. I don't leave a class, ever, without having thought about something in a new way that helps me solidify and sharpen my own thinking about the work that I'm doing."