A new space for Native and Indigenous students
A new space for Native and Indigenous students
Mount Holyoke's Zowie Banteah Cultural Center has reopened in a new, accessible space so all can come and celebrate the culture and heritage of the Indigenous community.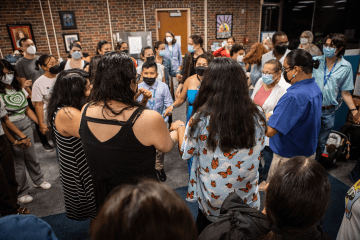 The Zowie Banteah Cultural Center opened the doors to its new, spacious and airy home between Ham and MacGregor halls in September 2022. The space is new, but the center is not: It originally opened in 1995, the result of the hard work and endless dreaming of Zowie Banteah '96.
The occasion was celebrated outside with a blessing from Nipmuc elder Larry Spotted Crow Mann and a reception, during which the community gathered to sing, dance and reflect. As the sun set, a great blue heron flew over the gathering on silent, triumphant wings, as if it, too, were joining the celebration.
As dusk fell, the gathering moved inside the brightly lit home of the Zowie, where the celebration continued with food, music and speeches memorializing the event.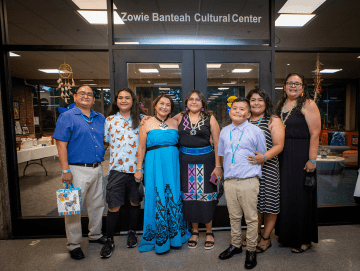 "I stand here blessed," said Banteah, who had traveled with her family from New Mexico for the occasion. "I am so grateful to be here in this new space, where Indigenous students will have a place to call home."
That need for home and community on campus is what drove Banteah to start the center. When she was a student at Mount Holyoke, she found herself 2,000 miles from her home in New Mexico and her Indigenous community. As one of the only Native students in all of the Five Colleges, she recalled feeling "very lonely."
Her vision was to develop a cultural center where Native Americans like herself could gather in community, a safe and welcoming home away from home. That dream led her to tirelessly work to convince College leadership and the Five College community of the need for affinity spaces. It paid off, and in 1995, the original cultural center, then named Native Spirits, opened for Native students. Later it became the Zowie.
Kijua Sanders-McMurtry, vice president of equity and inclusion at Mount Holyoke, took a moment to acknowledge the immense power of dreaming up the impossible. "This is the culmination of Zowie Banteah's freedom dream, and I am grateful to her for the opportunity to be here and celebrate it with her," she said.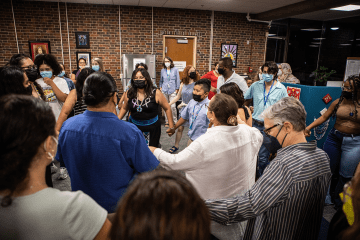 Rachel Beth Sayet, Five College Native American community development fellow, spoke of the violent history of Native and Indigenous culture being eradicated by "educational" initiatives as recently as the twentieth century — and of the urgent need to ensure Native survival in those settings.
Celebrants enjoyed chili and fry bread from a catering company dedicated to serving local Indigenous foods and a drumming group led by none other than Zowie Banteah's brother. The group played songs to honor Banteah and ended their set with a circle dance of unity. Everyone who was able, from babies-in-arms to grandparents, danced together in a long, undulating line.
When the gathering settled back to their seats, interim President Beverly Daniel Tatum took the floor to reminisce about when she was a faculty member and first met Banteah.
"I don't think I'd be here today if it weren't for Zowie," Tatum began with an appreciative laugh.
Tatum explained that she taught a class on the psychology of racism, and it was the students in that class who formed a coalition and took over the administrative offices to demand leadership support for cultural centers. Tatum was so swayed by their arguments and the need for the spaces at the College that she visited then-President Joanne Creighton's house to weigh in on the issue as a faculty member. Tatum's commitment to the cause so impressed Creighton that a year later she invited Tatum to become dean of the College. That simple step set her on the path that brought her back to Mount Holyoke just in time to celebrate another milestone for the Zowie, said Tatum.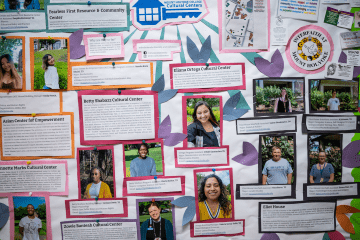 The Zowie is one of Mount Holyoke's five cultural centers for community members who identify with historically marginalized groups.
"Our cultural centers create spaces for coalition building between different cultural communities and are islands of sanctuary for individuals," said Latrina Denson, associate dean of students and executive director of the Office of Community and Belonging. "They're a home away from home, a place to be together with people who have similar identities, but they're also places to find your sense of community."
Juliette Gagnon Strong Heart '24, of Lee, Massachusetts, is the building manager and program assistant for the Zowie. She said that having the space is essential to her feeling of connection to her community and to her personal resilience.
"It can be isolating and lonely to be part of a marginalized group on campus," she said. Spaces like the Zowie, and the speakers and events it hosts, are important reminders that she's not alone.
"The cultural centers provide that space; it's kind of a refuge from the traditionally colonial spaces [of higher education] where I can just be myself," she said. "I go there, and it's a relief because I have my own space. We have our own space — and I know that we can come in here and do whatever we need to do and use the space however we find it to be meaningful."