New space, same place
New space, same place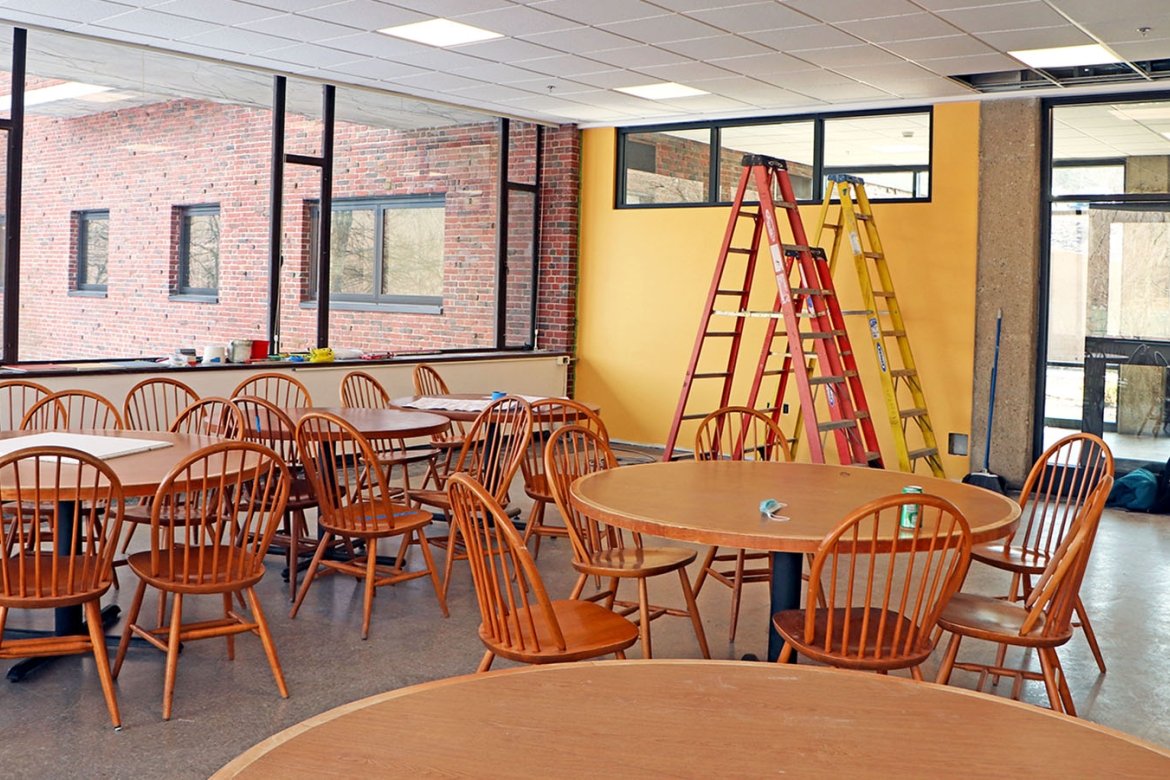 The Zowie Banteah Cultural Center is moving, but its mission to promote Indigenous visibility remains the same.
The Zowie Banteah Cultural Center (commonly referred to as "the Zowie") is undergoing an overdue change and moving into its own dedicated space. Formerly upstairs from and sharing a house with the Eliana Ortega Cultural Center, the Zowie will soon replace the Ham-MacGregor Dining Room in a grand remodel. Students will be able to access the center through a new entrance facing Park Street and nestled between Ham and MacGregor residential halls.
Following the College's commitment to land acknowledgment and repatriation, Latrina Denson, associate dean of students for community and belonging, felt the center required a marked difference from the top-floor area it was originally in. Given that a key purpose of the center is supporting Indigenous identity in relation to environmental justice, the new space has been strategically placed near Upper Lake and the Equestrian Center, which won out over other proposed hall locations like Torrey and Prospect. 
"There will be a full glass entrance, meant to retain the view as much as possible while creating a separate, identifiable space," said Jeffrey Noble of Hill-Engineers, Architects, Planners, Inc. "This way the activities inside might be casually observed from passersby, but not intruded on. People can feel comfortable doing their 'thing' within."
The College has contracted Hill for remodeling and Lorin Starr Interiors for designing the furniture layout. The goal is to keep the warmth, brightness and color of the initial space. While the area will be open for gatherings soon, it will later include a kitchen space like the other cultural centers, which is meant to host community-made meals and events. 
"We chose furniture flexible enough to support all the functions of the center," Starr said. "We developed a color palette that appealed to the students and staff and that will serve as a good backdrop for everything they will add to make the space their own."
Originally called Native Spirit when it opened in 1995, the center was renamed two years later to honor alum Zowie Banteah-Yuselew '96, who was instrumental in its founding. The same applies to the Ortega, named after Eliana Ortega '67, a former professor and a staple of Mount Holyoke's Latinx community. 
"The Zowie has always been above the Ortega," Denson said. "The founders were close, so it made sense to keep the cultural centers close. At the time, there was also a desire for coziness and intimacy for each house. And now, based on our commitment to the anti-racism action plan, which includes accessibility, we're expanding."
Serving as both the program assistant and building manager for the Zowie, Juliette Gagnon Strong Heart '24 of Lee, Massachusetts, an environmental studies and Spanish double major, is one of many students looking forward to seeing the space expanded. She believes this will open up the Mount Holyoke community to new possibilities.
"I cannot wait to see the Zowie grow," Gagnon Strong Heart said. "Not only as a space for Native and Indigenous students but for all of us on campus. For the future, I intend on relating programming to my study of the environment, including encouraging self-empowerment and a sense of place for BIPOC students through nature walks and reflections. I want to see the space hold more educational workshops and serve as a place to discuss, be open and leave with a new understanding."
Last year the Five College Consortium hired Rachel Beth Sayet, a community development fellow, who is meant to support Native American and Indigenous studies across the five colleges. Sayet's office is on the Mount Holyoke campus, so Denson's hope is that she'll be able to host consortium events in the space as well, inviting students from other campuses to participate.
"We have a lot of new students, and, for many of them, this is their first year living on campus. Because they have experienced the past few years in a remote learning environment, they'll create a new dynamic that's different from previous years," Denson said.
The ribbon-cutting ceremony for the center is planned to align with the next BOOM! conference. Both Denson and Gagnon Strong Heart hope this opening will encourage non-Indigenous students, faculty and staff to join in on events held at the new, more accessible Zowie.
"Relearning is slow," Gagnon Strong Heart said. "In fact, the speed at which we go through life is inherently capitalist-driven. I challenge my fellow students to be critical of colonial-based knowledge and be aware of how it influences their thoughts and identity. But I feel that change is possible at Mount Holyoke. I have seen folks willing to listen and change."