Passion for Film Leads to Prestigious Internship
Passion for Film Leads to Prestigious Internship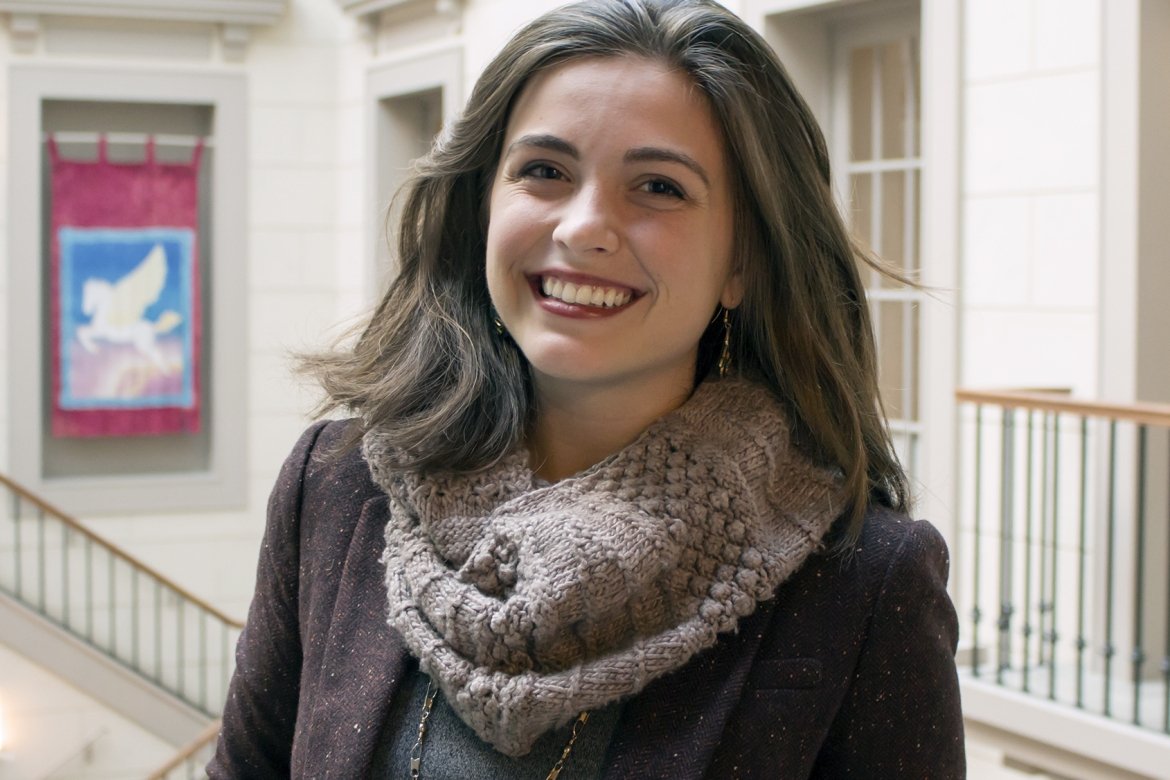 Miranda Gontz '16 discusses her internship at the Academy of Television and her plan for career success in the future.
Major: Film Studies and Philosophy
Employer: Academy of Television
Miranda Gontz '16 scrolled through her Google calendar on her phone. She sat at a table in the atrium of the Williston Memorial Library. Over her cream-colored blouse, she sported a blazer—a staple in her closet. She peered at me once she found an available meeting time for our follow-up interview. I stared at her calendar and discovered that she even scheduled her meals.
"If not, I forget to eat," Gontz said.
Gontz organizes every minute of every day in order to meet deadlines. In addition to her coursework, Gontz juggles work at the Media Resource Center as an assistant videographer, at WMHC 91.5 FM as the station manager, and at the philosophy department as a liaison. In addition, Gontz is devoting time to her senior thesis. As a film and philosophy double major, Gontz is the second student in the film studies department to attempt a production thesis.
Love of film blossomed at an early age
Gontz hails from South Pasadena, California, a suburb of Los Angeles filled with families that work in the entertainment business. Her parents even met on a film set. Her father, Gregory Gontz, is an editor for NCIS and her mother, Denise Whiting, is a retired ADR, or automatic dialogue replacement, editor. She recalled how a sixth-grade project in English sparked her love of storytelling.
Gontz made her first film centered on the novel Out of the Dust by Karen Hesse. She focused on a single chapter and created 19 shots for her storyboard. She borrowed her father's camcorder and shot the scenes at a friend's house. In order to realize her vision, she asked for a few favors. She pleaded with her father to eat dirt in order to get the effect of him spitting it out. She later stayed up until 2:30 a.m. editing the content with her father.
"Until this day," Gontz said, "I still think that was the best film I ever made, because I had everything plotted out."
After submitting her project, Gontz was hooked.
"That was my moment where I thought, 'I want to do this for the rest of my life,'" she said.
Gontz worked on another project during her second year in high school that once again changed her path. She filmed a documentary that captured the history of the Rialto Theatre, which had closed down due to water damage. After finishing the documentary, Gontz realized that she could further edit the film. She embarked on a yearlong endeavor that concluded in her editing down the film from 11 to eight minutes. The Rialto: A Fading Treasure won a spot in the LA Film Festival during her last year in high school.
"[The film] did make a difference," Gontz said. "It also told me that I never want to make a documentary ever again."
The experience motivated Gontz to try narrative-commercial filmmaking.
Reaching for her dreams in the industry
Gontz secured an internship at CBS TV Studios after her first year at Mount Holyoke. She worked as a floating administrative intern. The experience exposed her to television development and widened her range of interests in job opportunities. She watched as talent pitched story ideas and how the development team nurtured the shows selected. Gontz then decided that if she pursued television she ultimately wanted to work as a producer or with an administrative department.
A few months before junior year concluded, Gontz perused through the internship listings on the Mount Holyoke LyonNet career portal (now Handshake) and discovered an opportunity that caught her eye. The Television Academy Foundation offered internships for the summer in 40 different divisions in the industry. She requested two letters of recommendation, one from her film studies faculty advisor, Professor Robin Blaetz, and another from her supervisor at the Media Resource Center, Michael Urgo. She received notification in May that she was accepted into the internship program for the division of development of television. During the summer, Gontz worked for ABC Studios in Los Angeles, providing loglines for scripts and deskwork.
Gontz then defined a five-year game plan.
"My after-college plan is to work as an assistant for three years in development or current programming," she said. "That's giving me the three years of experience in the industry that I need to apply to a directing or producing program that studios have."
When questioned about graduate school, Gontz frowned. She is confident that her ten years of work experience and networking will get her a job.
Gontz shared a few tips for those yearning to break into the entertainment business. She placed emphasis on building connections early on. Gontz advised seeking work at any organization affiliated with that of a dream company.
"Find LinkedIn connections. Find assistants. Try to find out all of the different connections that that company has," she said.
The next step: prepare for an interview by simply watching television. "When you're in the entertainment industry," she said, "you need to consume the products that you want to be making and want to contribute to."
Sharing credit for her success
Gontz allotted her success to her parents. She said that being raised in a supportive environment—as well as having the encouragement to discover her own filmmaker voice—led to her feeling self-assured. Gontz admitted, however, that at times she questions the definition of success in the long term. "The concept of being a filmmaker: you will never make it." She said, "You are always learning."
Gontz also credits Mount Holyoke for preparing her as a filmmaker. Her coursework taught her to think critically about film. Professor Blaetz, her advisor, helped Gontz by introducing her to experimental film. She noticed that, as a first-year student, Gontz understood the technicalities of creating a film. She wanted to push Gontz beyond just the practical. Professor Blaetz said, "How could what you see in a much looser type of film loosen what you do? Help you to become a better artist, not only technically but also intellectually." Philosophy also helped Gontz better analyze stories. Gontz said, "Philosophy[…]takes all of these what-ifs and what-ifs are storytelling."
Mount Holyoke helped Gontz see television in a new light. She recalled a question in the Academy of Television internship application. The application posed the question: "What is television?" Gontz saw the opportunity to approach the question philosophically. She said, "Television is no longer defined by the device in front of you. It is now any type of over-arching concept. It's a short form, multi-episode movie that can exist on any device, in any format." She suspects that that response was the key to getting into the program. She now sees storytelling with a critical eye: without any constraints.