Pressley and Cruz discuss threats to democracy
Pressley and Cruz discuss threats to democracy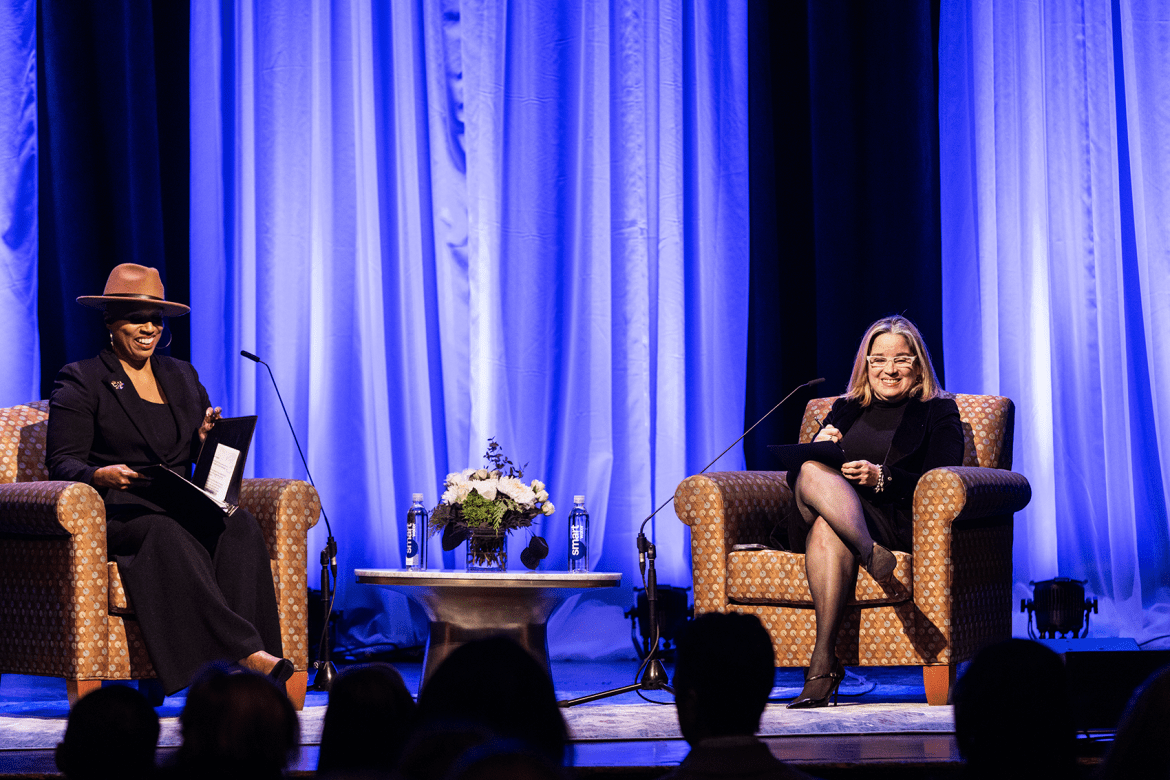 For the last "Our Voices, Our Platforms" town hall at Mount Holyoke College, Rep. Ayanna Pressley and Carmen Yulín Cruz discussed power, politics and democracy.
On December 10, 2022, the "Our Voices, Our Platforms" speaker series ended the way it began — with speaker Congresswoman Ayanna Pressley.
This time, however, Rep. Pressley came in person to Mount Holyoke College's campus and shared the Chapin Auditorium stage with Carmen Yulín Cruz. Cruz, the inaugural Harriet L. Weissman and Paul M. Weissman Distinguished Fellow in Leadership at the Weissman Center for Leadership at the College, said of Pressley, "We started with the best — we finish with the best."
Launched in 2021, the "Our Voices, Our Platforms" series of town halls has explored how people can use their voices to make meaningful change and how people can discover and create the platforms necessary to achieve that transformative change. Speakers such as Senators Ed Markey and Bernie Sanders, Dolores Huerta, Cori Bush and LaTosha Brown participated in the series, which comes to a close as Cruz finishes her fellowship at the College.
Pressley said, "I'm certainly glad to be here in person! There's a lot of punditry that speaks to our divisions — but I believe the root of that is disconnection. We [need to] see each others' fights as our own."
Cruz and Pressley had a wide-ranging conversation about power, politics and democracy.
"How powerful are we? The power of the people has never been more powerful," Pressley said.
"To the bone, I believe that the power of the people is greater than the people in power."
"Many people feel that the state of democracy is weak. Do you feel that way?" asked Cruz.
"It's certainly being attacked," Pressley said. "As someone who survived an insurrection, I certainly cannot deny that democracy is being threatened by hateful moments and policy violence. I do have a baked-in … optimism bias. These threats are real, but the power of the people is real too."
Cruz brought up the recent midterm election. "Progressives … had no problems in this election," she said. "But Senator Warnock was too close for comfort. What do you have to say?"
"I put more [focus] on the people than I do on the pundits," Pressley said. "When any marginalized people get elected, [pundits say,] 'It's a wave, it's magic, it's serendipitous.'" However, "we are not anomalies. We're here because we're damn good." Progressives pursue "good politics and good policies, and are wildly popular."
Pressley mentioned that she holds Shirley Chisholm's former physical office on Capitol Hill. She updated Chisholm's famous saying: "If they don't give you a seat at the table, bring a folding chair."
"If we bring a new chair to an old table," Pressley said, "Nothing changes!"