Students, meet World. World, students.
Students, meet World. World, students.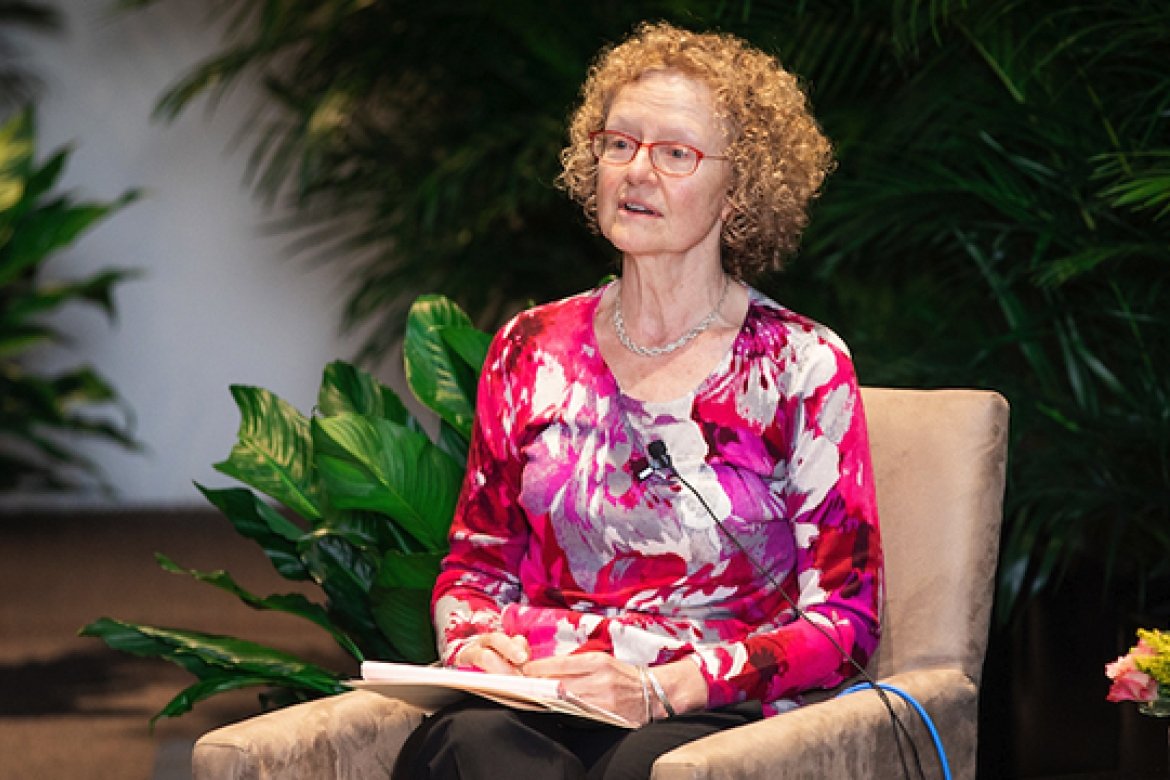 The McCulloch Center for Global Initiatives has changed the Mount Holyoke world — and Mount Holyoke has changed global education.
International engagement has been part of the mission of Mount Holyoke since the College first opened its doors as a seminary in 1837.
But with the founding of the Dorothy R. and Norman E. McCulloch Center for Global Initiatives in 2004, Mount Holyoke College has become a lauded national leader in global education. That's because it brings the world to the student and the student into the world. 
The force behind the globalization of every aspect of intellectual, social and residential life at Mount Holyoke? Eva Paus, the founder and Carol Hoffman Collins Director of the McCulloch Center, said Jon Western, vice president for academic affairs and dean of faculty.
"Global education at Mount Holyoke has been transformed under Eva's leadership," Western said. "Mount Holyoke has had a long history of emphasizing global education, but nothing like it is today."
The process of internationalizing every student's education was first articulated in the College's 2010 strategic plan, presented under then-president Joanne Creighton. Often, such a goal is accomplished by creating an academic center that is located in a related department, such as international relations, and setting certain distributional requirements or offering a new major, such as global studies.
The critical choice to create a new model changed everything, said Western, who is also the Carol Hoffmann Collins '63 Professor of International Relations.
"They meant to infuse the McCulloch Center's mission throughout the College," he said. "As a way to becoming a global community, the decision not to put faculty in the Center was critical. This was Eva's vision and execution. Her idea was a strategic universality of global initiatives, filtering into every corner of the College. It was a profound contribution to the institution, a truly transformational process."
The McCulloch Center as a national model
That vision has earned Mount Holyoke a reputation as a leader in global education. In 2015, the College was awarded the prestigious Senator Paul Simon Award for Comprehensive Internationalization by NAFSA, the Association of International Educators. Other honors include the COIL Leaders in Internationalization Through Technology Award for the innovative VP-50 program, which helps faculty use videoconferencing to bring alumnae, authors and activists from around the world into their classrooms.
"The College is recognized as a place where we have successfully embedded global education across campus, on campus, off campus, in the classroom, outside of the classroom," Paus said. "We are convinced that you cannot understand global issues and global challenges from one disciplinary perspective. It was our desire to bring people together across disciplines and look at issues from different perspectives. The extraordinary international diversity of our student body and faculty provides a uniquely powerful context for engaging different perspectives."
Paus' goal was to develop programming and initiatives so that students could gain intercultural competence, build global knowledge and engage the world with purpose. To that end, she brought together a dedicated staff and established close collaborations with faculty and staff across campus, all aided by funding from national foundations and through the generous support of alumnae.
With such resources, the McCulloch Center has animated the entire campus through its efforts: The signature Global Challenges course and conference, offered every other year. The annual Carol Hoffmann Collins Global Scholar-in-Residence. Partnerships with institutions and organizations around the world that help students find purposeful study abroad and international internships. Support of students domestic and international. A multifaceted curricular and co-curricular emphasis on an interconnected local/global world, including funding for social innovation projects.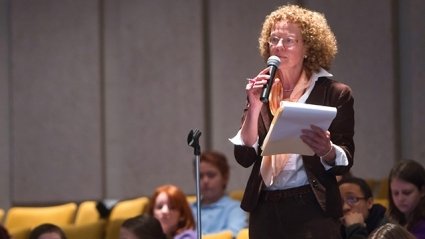 Eva Paus, global educator
The Dorothy R. and Norman E. McCulloch Center for Global Initiatives was created through the vision of the McCullochs. Paus, who first came to Mount Holyoke in 1987, was selected to direct the Center after a national search.
Her qualifications were clear. A native of Germany and an economics professor whose research focuses on globalization and economic development and on international trade and finance, Paus understood global education on levels both deeply personal and deeply professional.
Paus also understood academic centers — she had recently stepped down as a co-founding director of the Weissman Center for Leadership when she was selected as the McCulloch Center director. The Weissman Center, which was also founded under Creighton's leadership, will celebrate its 20th anniversary in early November.
"In some ways I consider myself a citizen of the world, which I see as an obligation in the cosmopolitan sense, as a responsibility for making the world a better place," Paus said.
"An essential part of her vision is her understanding of the crucial importance of putting a liberal arts education to work in the world," said Eleanor Townsley, Andrew W. Mellon Professor of Sociology and director of the Nexus program. "That is, both in the world at Mount Holyoke, with people from many different countries in a living global community, and the world beyond the College, where students study, do internships, work and play."
Paus' "extraordinary leadership" has raised awareness about Mount Holyoke's impressive global curriculum and international profile, said Lynn Morgan, Mary E. Woolley Professor of Anthropology.
"The Global Challenges courses brought faculty from multiple disciplines together to talk about big issues of global concern," Morgan said. "The Global Scholars-in-Residence program brought internationally renowned leaders to campus for intensive conversation. Eva's support for global-local initiatives allowed us all to connect classroom learning and study abroad with local community-based internships."
The McCullochs have been loyal, enthusiastic fans of the Center and of Paus.
"We have been so pleased with what Eva's done," Dorothy McCulloch said. "Her conferences have been amazing — we've gone to most of them — with so many great speakers. We're so pleased by the number of students who get involved, the audiences she's involved, the participants she's brought in."
Paus will begin a well-earned 18-month sabbatical on July 1, at which time Kavita Khory '84, Ruth Lawson Professor of Politics and the former acting director of the Center, will assume the role of the Carol Hoffmann Collins Director of the McCulloch Center.
"I honestly cannot think of anyone else who has made more of an impact on the College during my time here than Eva," Townsley said. "Mount Holyoke would look very different without her."