Summit on climate justice delivers hope and expertise
Summit on climate justice delivers hope and expertise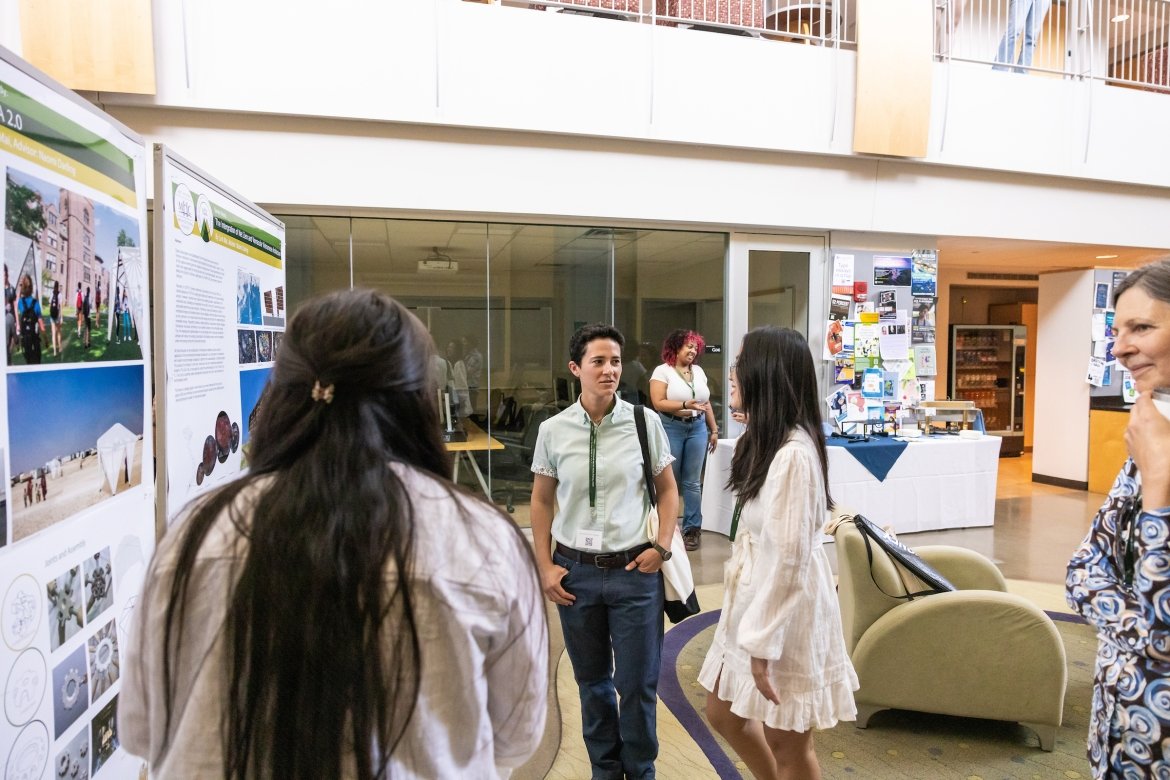 The Summit on Women's Leadership on Climate Justice at Mount Holyoke College held more than a dozen events over the course of the three-day summit that included keynote speakers, panelists and workshop leaders, all who were women or gender-diverse people.
Noted climate scientist Katharine Hayhoe vowed 12 years ago that she would reduce her carbon footprint by transitioning 80 percent of her appearances at national and international (primarily climate change–focused) meetings and conferences to remote participation.
This was a highly unusual decision in a prepandemic, pre-all-Zoom world. Nevertheless, Hayhoe persisted.
But Hayhoe's appearance April 13 as the opening keynote speaker for the Miller Worley Center for the Environment's Summit on Women's Leadership in Climate Justice marked the first time she received an invitation specifically requesting remote participation in order to avoid cross-country travel.
"You are leading the way in this," she said, appearing on the oversized screen in Gamble Auditorium. "You are setting an example and encouraging others to not only talk the talk but walk the walk," she told those who were gathered (in person and via Zoom) to hear her.
Olivia Aguilar, Leslie and Sarah Miller Director of the Miller Worley Center and associate professor of environmental studies, said early on that they decided to ask nonlocal speakers and panelists to take part in the summit remotely. They also gave participants the option to tune in remotely, and about a third of the 200 people registered for the summit participated via Zoom, including a class from a public school in Brooklyn that wanted to hear Hayhoe.
Aguilar said she conceived of the conference after noticing a severe underrepresentation of women as experts at climate conferences. While they seemed to be well represented in the world of climate activism, they were not when it came to the arena of climate science expertise.
"I knew a lot of the people I worked with were generally women, and I wondered where we were getting the visibility and the credit for the work we were doing," Aguilar said.
"I felt like Mount Holyoke was a place to highlight that."
And the summit did just that, holding more than a dozen events over the course of the three-day summit that included keynote speakers who are luminaries in the field, as well as panelists and workshop leaders, all who were women or gender-diverse people. They all touched upon a similar theme: Climate justice is also racial justice. Mitigating and reversing its impact is still possible, but it will take collective effort.
Some of the panels featured in-person participants as well as remote ones, including one panelist who joined via Zoom from India. One panel consisted entirely of Mount Holyoke alums.
In introductory remarks, Mount Holyoke's Interim President Beverly Daniel Tatum, who introduced Hayhoe at the conference launch, noted that many people, particularly young people, find themselves nearly paralyzed with despair over the state of the climate.
Effective antidotes to such despair, she suggested, are action and bold steps, such as the College's efforts to become carbon neutral by 2037, divesting from fossil fuels and hosting a women's leadership summit.
"Women and gender-diverse people are leading the way on climate justice," Tatum said before handing the (virtual) podium over to Hayhoe.
While Hayhoe, chief scientist for The Nature Conservancy and professor of public policy and public law at Texas Tech University, delivered a sobering lecture on the history and current state of the world's climate crisis, her remarks were also optimistic. She is, after all, author of "Saving Us: A Climate Scientist's Case for Hope and Healing in a Divided World."
"We are conducting an unprecedented experiment with the only home we have," Hayhoe said. "We've never seen this much carbon going into the environment."
The effects of global warming — which, she maintains, can also be called "global weirding" due to the increase in extreme weather events around the world — do not impact everyone equally.
Hayhoe noted that the countries that have contributed the least to the crisis are actually suffering the greatest impact of climate change.
Students from area colleges, members of the general public, Mount Holyoke students and alums took part in the summit.
Carley Przystac '15, a civil engineer who works in ecological restoration for a conservation nonprofit, drove to campus from Arlington, Massachusetts, where she lives. She was sipping lemonade in the Willits-Hallowell Center while waiting for closing keynote speaker Maria Ivanova '96 to Zoom in, having just left an invigorating workshop that looked at how to operationalize sustainable development goals.
Ivanova, director of the School of Public Policy and Urban Affairs at Northeastern University, titled her talk "Ideas, Individuals and Institutions: Women's Leadership in Climate Justice" and offered a long list of women who have led the way in climate justice issues, including playing key roles in the landmark Paris Accord.
Przystac said she was thrilled to take part in the summit at her alma mater. "This community has a way of creating space for people to engage in rigorous thought and rigorous discussion," she said.
The opportunity to showcase scholarship was what brought Mount Holyoke students Yuyang Wang '24 and Catelyn Fitzgerald '23 to the summit, each presenting posters detailing their research. Wang's project, "Outcome of Competition Between Two Saltmarsh Plants," was based on research conducted at Woods Hole over the fall semester. Fitzgerald's was an independent study looking at restoration of campus waterways.
Fitzgerald said she found the emphasis on collective action and community at the summit to be particularly hopeful.
"I thought it was really inspirational, especially seeing alums who have done so much and been really successful," said Fitzgerald.
In delivering her parting remarks, Aguilar said, "We all have a part to play" and circled back to comments from some summit speakers about the theme of equity and the intersection of climate justice and human rights. "I encourage us all to be creative and imaginative when we think about equity and reaching out and lifting others up so that we all might enjoy another day," she said.
Meanwhile, Przystac, who would be returning to her job working in the field of climate justice, said she felt renewed after engaging with others who brought different perspectives to the issue but were all passionate about the work.
"I have a whole list of different podcasts and books to read," she said. "Even though the conference is ending today, I still have some work to do."