Teaching and coaching in Vietnam
Teaching and coaching in Vietnam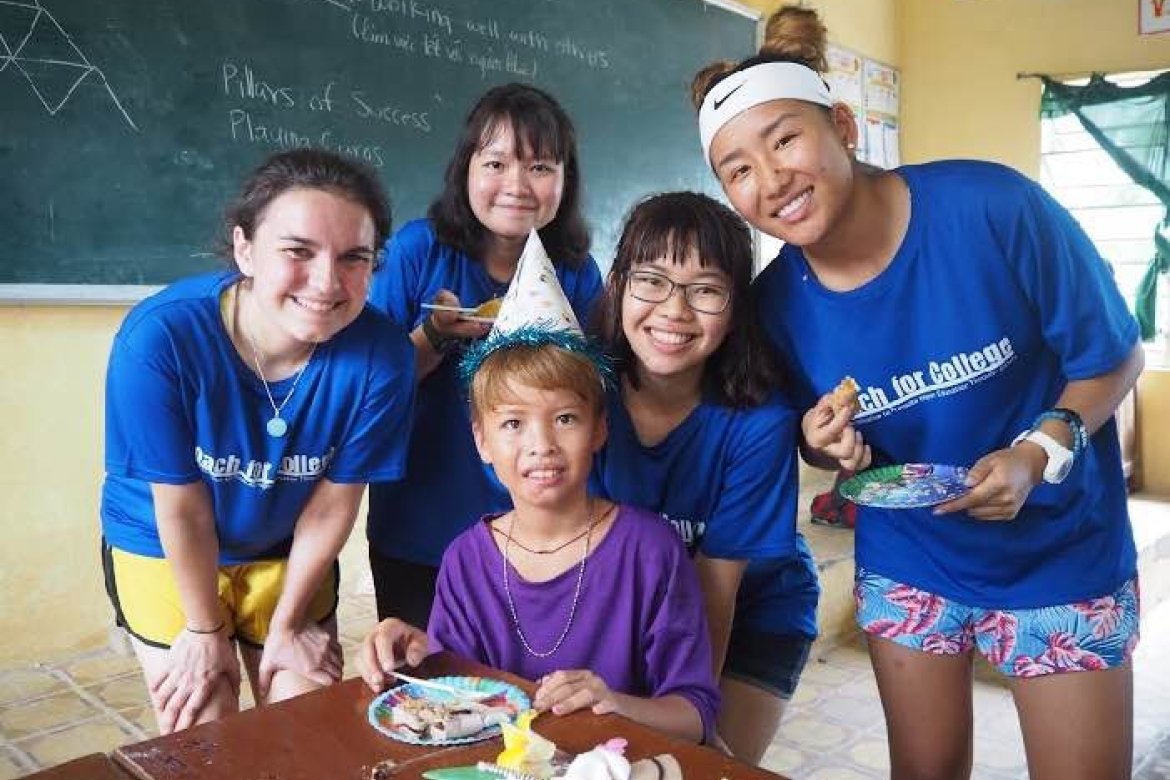 Six student-athletes spend part of the summer with the Coach for College program to teach sports and academics to middle-schoolers in Vietnam.
By Sasha Nyary and Derrick Redd 
Sharlow Hitchcock '19 has found the perfect summer activity: She is sharing her academic and athletic skills with sixth and seventh graders living in Vietnam.
A varsity rower and an anthropology major from from Methuen, Massachusetts, Hitchcock is one of six Mount Holyoke College student-athletes who are spending part of the summer participating in Coach for College, a national program that brings together U.S. student-athletes and university students from Vietnam to teach academics, sports and life skills to Vietnamese middle-school children. 
Mount Holyoke is only NCAA Division III institution represented in the Coach for College program, which has historically attracted Division I student-athletes. 
"I teach biology and basketball and life skills," said Hitchcock in an email from the country. "So far in biology we've taught the kids about photosynthesis, respiration, the water cycle, adaptations and biodiversity. Today they played their first real basketball game. Then on the weekend we visit different places in Vietnam."
Each participant co-teaches a sport, an academic subject and a life-skills class. They also lead their team in weekly athletic competitions. 
"Many of our student-athletes have global interests in teaching, international relations and business," said Lori Hendricks '92, chair of the physical education department and director of athletics. "Coach for College provides an extraordinary hands-on experience for our students. This is a significant opportunity for their leadership development and growth." 
The program is making her so much more appreciative, said Liz Rose '18, a varsity soccer player from South Hamilton, Massachusetts, who double-majors in psychology and art history. 
"Being a student-athlete kids look at me differently here," she said in an email from Vietnam. "They see role models in the coaches. Seeing someone who plays soccer as an adult makes the kids dream and want to succeed. Though I am not as talented as the Division I players here, the kids see how hard we work and how much fun we have teaching them our favorite games." 
Her twin sister, Suz Rose '18, also on the trip, is captain of the Mount Holyoke soccer team and majors in psychology and education. "I have been looking for ways to combine my love for teaching and mentoring with athletics," she said. "This is perfect." 
The basketball team is represented by two players as well. Katlyn Grover '20, a pre-med student majoring in Romance languages and cultures, is from Bernardston, Massachusetts. Kathryn Violette '20 is from Yokosuka City, Japan, and has not yet decided a major. Joy Maran '19, from Santa Fe, New Mexico, plays volleyball and tennis and majors in international relations.
Before they left, all the Mount Holyoke students participated in an orientation, organized by Hendricks and other College staff, that focused on sport pedagogy, community-based learning and lessons in the Vietnamese language. 
That preparation prior to their departure makes them stand out, Hitchcock said. 
"We learned a lot about the culture from our Vietnamese teacher, Tam Tran The '17, during our language lessons," she said. "I found it difficult to remember a lot of the Vietnamese words we learned, but once I got here, I remembered them. The lessons helped with my pronunciation too."
The trip was a partnership between the athletics department, the Weissman Center for Leadership and the McCulloch Center for Global Initiatives. It would not have been possible without the generous support of Harriet Levine Weissman '58 and her husband, Paul M. Weissman, Hendricks noted. 
"We are grateful for the Weissmans' gift and their continuing support of student leadership at Mount Holyoke College," she said. 
Hitchcock, who wants to be a teacher, agreed, saying that the gift made the trip possible for her. 
"I would not have been able to fundraise the money on my own," she said. "I'm so grateful for this opportunity to allow me to travel to a part of the world I would probably never have seen otherwise."