Toward a global future
Toward a global future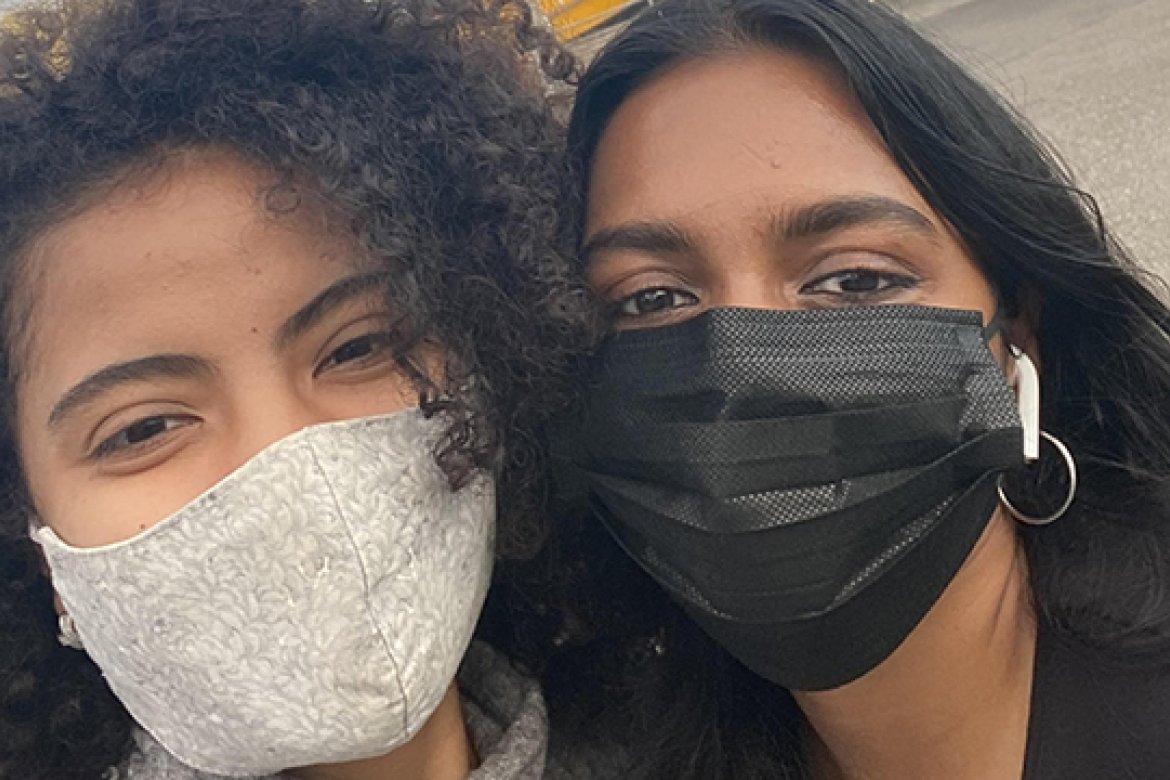 Mount Holyoke's joint degree program in Geneva gives students on-the-ground experience in international work and a graduate degree.
Imagining your future five or 10 years down the road — particularly during a global pandemic — can be daunting for many undergraduate students. But the students in this year's cohort of Mount Holyoke College's joint degree program with the Graduate Institute in Geneva are certain of one thing: participating in the transatlantic B.A./M.A. program, which is a part of the McCulloch Center for Global Initiatives, is going to lead them to their future.
Maya Sopory '22, of Farmington Hills, Michigan, is one of the four senior students this year who were admitted into the competitive joint degree program, which is in full swing after its establishment in 2017. The students are now spending their fall semesters studying at the Graduate Institute in the heart of international Geneva — just blocks from the United Nations, the International Trade Organization, the World Health Organization and other international organizations and NGOs.
"The Graduate Institute really emphasizes hands-on application," said Sopory. "It makes me feel a lot more confident in my future when everything is so uncertain, especially for young professionals … I'm excited for the future where I'll be able to apply what I'm learning."
The growing awareness among Mount Holyoke students and faculty about the program, as well as the feedback loop between the program's alums and current students, showcases how the joint degree can be a gateway to realizing career goals. 
Paola Granados '22 of Houston, Texas, for example, grew up in Mexico and Colombia. Her childhood experiences and observations about the challenges different countries face compelled her to double major in international relations and environmental studies at Mount Holyoke. Granados — who hopes to work in the realm of environmental peace building — had also been curious about the program in Geneva since she first heard about it at a Mount Holyoke college admissions panel when she was in high school. 
So when Granados was preparing her application for the B.A./M.A. degree, she didn't hesitate to ask a fellow MHC student for advice. She approached a student whom she knew had gone to the program the year before her. "I was like, 'Can I talk to you? I'm planning on doing this.' So it got more personal," Granados explained, of being able to talk with the student one-on-one.
Now, Granados, Sopory and the two other students in this year's cohort — Maya Mauroof '22 of the Maldives and Nina Larbi '22 of Philadelphia — are all part of an online group started by Javeria Kella '19, who was part of the inaugural class to first study in Geneva in 2018. 
"I decided to create a WhatsApp group to answer all [incoming students'] questions and just be there in case they needed support," Kella said in an email, adding that she is more than happy to keep adding future students to the WhatsApp group. "[I] feel like it is important for students to have the right information to maximize their time and take advantage of as many opportunities as possible."
After interested students submit an application that includes recommendation letters and a personal essay detailing what they would do with the joint degree, a review committee at Mount Holyoke then evaluates the applications and selects students to nominate to study in Geneva. The MHC committee also offers feedback on how these students can improve their applications, as the students will then apply directly to the Graduate Institute. 
Once accepted into the joint degree program, students spend the fall semester of their senior year in Geneva then return to Mount Holyoke for their final undergraduate semester and to finish their B.A. Following their graduation at Mount Holyoke, students go back to Geneva for the following school year, to finish a fifth year of studies and earn their M.A.
"The graduate institute offers an academically rigorous curriculum, cutting-edge programs, and exceptional professional opportunities and networks within walking distance of the campus," said Kavita Khory '84, Ruth Lawson Professor of Politics and the Carol Hoffmann Collins Director of the McCulloch Center for Global Initiatives. "At the graduate institute, global is not an abstract concept. Students are living, learning and working in a truly cosmopolitan city — and there is no substitute for that kind of firsthand experience!"
Students tailor their curriculum at the Graduate Institute according to their goals. For instance, Larbi is an environmental studies major and Spanish minor at Mount Holyoke and is currently taking courses in Geneva to pursue a master's degree in development studies, with a focus on environment, resources and sustainability. She hopes to eventually work in environmental policy. 
"If I was considering going into international development or sustainability, I would need a graduate degree to get a position at most of these NGOs or even within the government," Larbi said. "I think what's exciting about this whole situation is that a lot of people who are in my classroom were deprived of study abroad [because of the pandemic]. And so this is essentially my study abroad, but I'm getting my master's degree."
Students can apply for Laurel Fellowship funding toward the first semester of the program and for scholarships through the Graduate Institute for their second year. While the graduate program is more affordable compared to its U.S.-based counterparts, the students don't deny that Geneva is a very expensive city. So they offer each other advice on how to ensure their U.S. dollar goes as far as it can against the Swiss Franc. Mauroof, for example, picked up the tip from a Geneva program alumna that France is just a 20-minute bus ride away, and it's a lot cheaper to get groceries in the neighboring country.
Indeed, figuring out independent living in another country, the logistics of European bureaucracy, and the additional hiccups that the pandemic has posed on "normal circumstances" this year are part of the experience. 
"If I could go back and give myself advice, it would be to think more about what it means to be an undergrad student and a graduate student at the same time," said Mauroof. "You have to be comfortable with that idea of being at two places at the same time."
Still, the challenges are worth both the experience and the opportunities, according to Mauroof. "Every day I wake up in this apartment in Geneva," she said. "And if I have a class, I take the bus from right outside my apartment, and then the bus stops right in front of the United Nations. And then I walk three minutes to class every single day. And in my walk … I'm surrounded by all these international organizations and embassies of different countries around the world. It's just — sometimes I pinch myself, you know, like, this is real."