VR adds new dimension to classroom teaching
VR adds new dimension to classroom teaching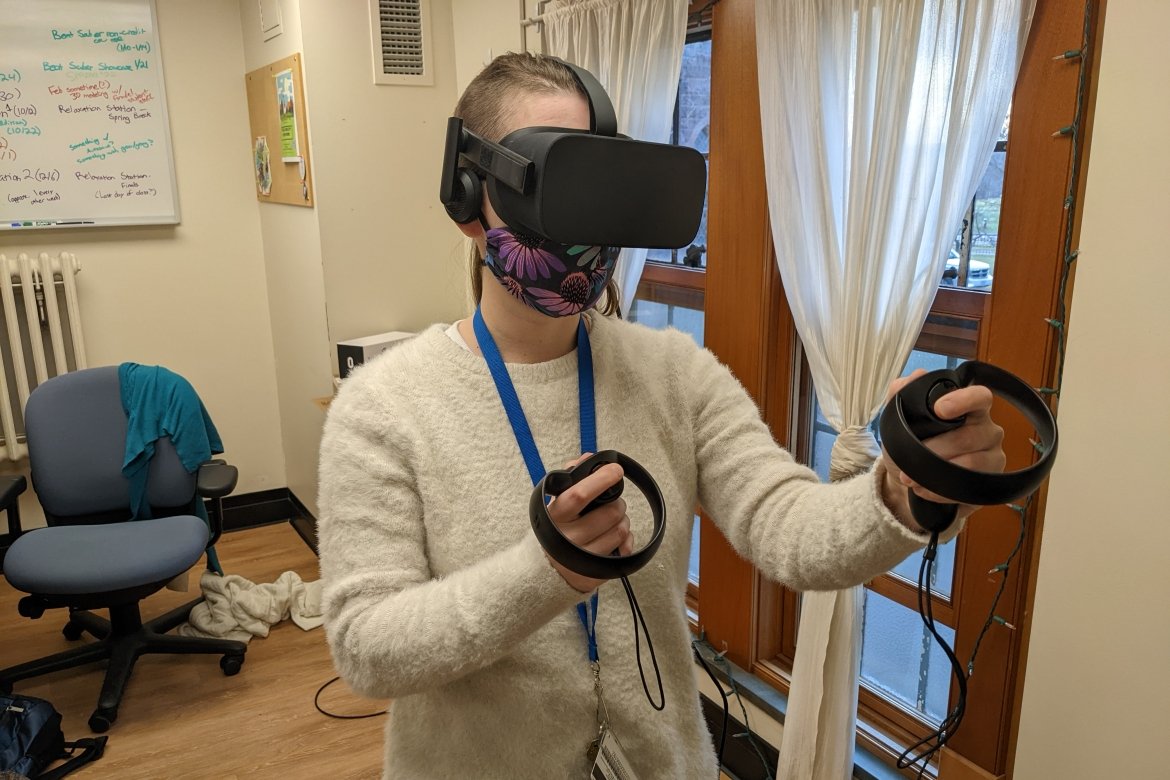 Mount Holyoke's Library, Information, and Technology Services has rolled out virtual reality workshops to enhance in-person teaching and learning.
When Mount Holyoke reaffirmed its commitment to in-person teaching in 2021, its Library, Information, and Technology Services, or LITS, doubled down on its virtual reality pilot program as a method to support this pledge. 
"Virtual reality can be a great way to display concepts that are otherwise tough to model in real life," said Stephanie Friedman, instructional technologist and specialist in emerging technologies for LITS. "Our vision and hope right now would be to have some planning conversations with anyone on campus who's interested in joining us on incorporating VR into their class."
This semester, students had the opportunity to get up close and personal with VR technology at open houses hosted by LITS, where they could explore the equipment and develop their own creative ideas for ways they might want to use it to enhance their research and learning. At the events, students engaged with VR through Google Earth, Google Tilt Brush or Beat Saber.
Some students used Google Earth to return to their hometowns, explore national parks or visit destinations around the world. Other students made a beeline to Google Tilt Brush, a program that allows users to create 3D sculptures in front of them, while some chose the rhythmic, adrenaline pulsing virtual world of Beat Saber, where users can slash beats of music that are hurled at them.
Tayloe, a lab instructor for the Computer Science department who goes by their last name, has a personal interest in virtual reality. They decided to bring the VR pilot program to the CS department and collaborated with LITS to host a meet and greet where CS students, faculty and staff would use both the VR Oculus Rift and phone headsets. 
"Virtual reality provides a space that allows for flexible visual exploration of concepts," said Tayloe. "In virtual reality, complex systems can be seen, explored and manipulated with only digital modeling needed."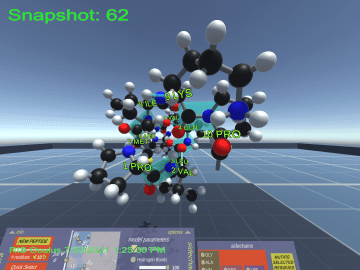 Tayloe's meet and greet for the Computer Science department touched off a groundswell of interest in the technology among the students.
"The Oculus Rift was in constant use," said Tayloe. Several students expressed interest in learning more about VR after the event.
Enam Dartey '24, a CS major, experienced first-hand the power of the technology and how it could aid her learning experience.
"As a computer science major I have to learn programming languages. Seeing them in use in virtual reality would be so much easier," said Dartey. Engaging in VR is not just a unique way of learning but a way to ignite excitement. "It would just increase any student's passion to learn because you're actually seeing what's happening," said Dartey.
The overwhelmingly positive response to Tayloe's initial meet and greet inspired Tayloe to plan another event during January Intersession. The event was a noncredit, week-long class teaching students how the game Beat Saber works and learning how to modify it and create new game levels. Even when in-person events moved to remote formats, the class proceeded virtually with eigth students completing full levels.
Created in 2019, LITS' virtual reality pilot program first introduced VR technology into high-level biochemistry classrooms. During the virtual lab sessions students explored protein structures and electrochemical reactions and the way they interact with one another.
"We have a good sense of how to run a lab that takes place over the course of a single class meeting and gives everyone a chance to engage with the VR," said Friedman.
LITS is now looking to expand the program with more student events and by partnering with other campus partners, including biological sciences and geology and the Fimbel Maker & Innovation Lab to create more opportunities for the Mount Holyoke community to engage with VR.