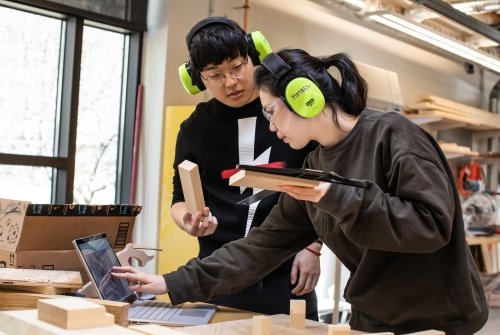 The Mount Holyoke College Fimbel Maker & Innovation Lab supports novices and experts alike as they turn their ideas into tangible reality. We foster collaboration across the College and inspire our students to pursue careers and projects they might never have considered.
The Lab brings together the tools, people, and resources to support maker culture on campus. We welcome all ideas and facilitate interdisciplinary collaborations. We will connect you to the wealth of expertise and facilities on our campus and beyond.
Self Guided Virtual Tour
Using the Fimbel Maker & Innovation Lab
The Fimbel Lab is open to all members of the Mount Holyoke College community, including Five College students who are taking Mount Holyoke College classes. Academic projects receive priority, but we also welcome personal projects. There is no charge to use the space, but there may be a charge for materials.
Work also extends beyond the Mount Holyoke community. Fimbel Lab staff regularly hold workshops for middle school and high school students in both informal and classroom settings. Please contact us if you would like to learn more.
Upcoming events