Welcome, Mount Holyoke class of 2021!
Welcome, Mount Holyoke class of 2021!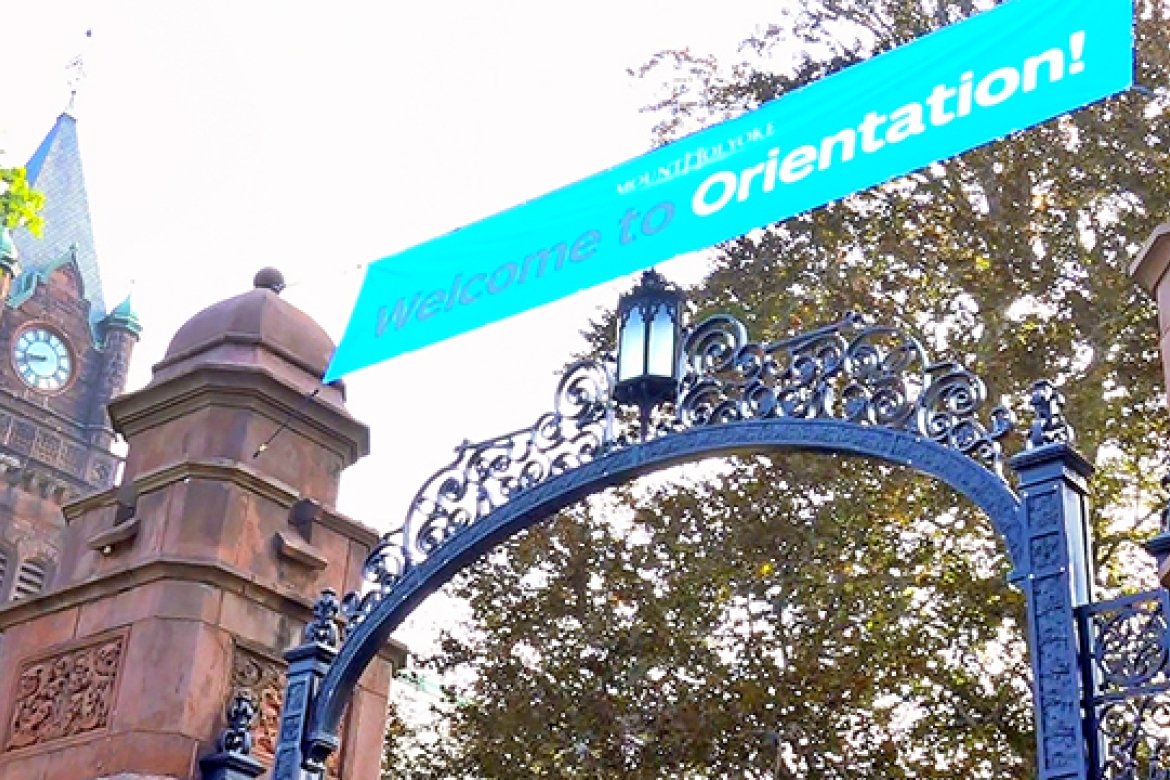 Mount Holyoke's newest students are welcomed to the community through Orientation: four packed days of fun, community-building and celebration.
By Sasha Nyary 
Mount Holyoke College's newest members are about to arrive on campus for Orientation 2017. 
Orientation for the College's 592 new students begins on Friday, September 1, and continues for four full days packed with social, practical and academic activities to help new students build community and make connections as soon as they step onto campus. The weekend culminates with the official start to the fall semester, Convocation, on Tuesday, September 5. 
Orientation is designed to set the tone for the academic year, and give new students the information and resources they need to successfully transition to the Mount Holyoke community, said Marcella Runell Hall, vice president for student life and dean of students. 
"Orientation is a special moment and we recognize that it is all about new beginnings and transitions for our first-year students, transfers and Frances Perkins scholars," Hall said. "The entire Orientation team, including our student fellows, have worked hard to create thoughtful programs that help students connect with one another. We want to make sure every aspect of Orientation is truly special from start to finish." 
The 411 on the class of 2021 
The new arrivals include 540 first-year students, plus 32 transfers and 20 Frances Perkins scholars, members of the College's program for students 25 years and older who have experienced an interruption in their education. 
The first-year students come from 33 states and 38 countries — 28 percent report a first language other than English. More than two-thirds attended public high school and more than 80 percent graduated in the top 20 percent of their class, with a grade point average of 3.8. 
Among them are accomplished poets, professional dancers and published writers. They have studied Ebola, sea turtles, woodpeckers, polymers and the effect of pollution on marine life. Mount Holyoke's newest students have advocated at the United Nations for children's rights, collected jeans for Syrian refugees in Jordan, prepared meals for needy families in Vietnam and mentored middle-school girls. 
They farm llamas, keep bees and raise award-winning chickens. Expert musicians, they are skilled in voice, French horn, Chinese bamboo flute, dulcimer, mandolin, clarinet and violin. Their athletics skills include judo, taekwondo, boxing, wrestling, golf, swimming and fencing, and they are champions in mountain climbing and outrigger canoeing. 
Now they bring their talents, skills, passions and dreams to Mount Holyoke, where they will be welcomed by a team of 14 Orientation leaders, led by Orientation fellows Heaven Hodge '18 and Katie Dick '19. 
"We are excited to welcome our newest members to campus," said Hodge, a neuroscience and behavior major. "We've been engaging with them all summer through different platforms, working to prepare them for when they arrive, and crafting Orientation to ensure they make connections, learn about our resources — and have fun." 
Orientation teaches the new students about the community and empowers them to make it their own, said Dick, who is majoring in politics. 
"It's their opportunity to learn that there are many ways to shape their time at Mount Holyoke, and to energize them to go out and do so," she said.
Orientation events new and old 
A central focus of Orientation this year is the new Be Well program, a framework designed to help students develop and practice strategies and lifelong skills for well-being, said Karen Engell, the executive director of health services. Engell and Hall oversaw the creation of Be Well. 
"We are excited to launch Be Well, first with Orientation and then all students throughout the year," Engell said. "This program focuses on four aspects of healthy communities: healthy minds, healthy body, healthy life and healthy community. Creating balance within each area brings the full circle of well-being: Be Well." 
The new program exemplifies Mount Holyoke's holistic approach toward fostering student resiliency and wellness, said Erica Weathers, outreach coordinator from Counseling Service, who was part of the program's development team. 
"Students who learn to thrive as individuals contribute in positive ways to others, which ultimately creates a robust and successful community for Mount Holyoke and beyond," she said.
Other Orientation events have long been offered. As the oldest of the Seven Sisters, Mount Holyoke has many traditions, some that date back to the College's first year. In honor of their class color and animal, the green griffin, the members of the class of 2021 will receive a green bandana. Like generations before them, they will watch "Dirty Dancing" in the Richard Glenn Gettell Amphitheater and holler when they hear the line, "Baby's starting Mount Holyoke in the fall." They will experience their first M&Cs — milk and cookies — and sing the traditional Mount Holyoke songs. They will stop by the Talcott Greenhouse to pick up a plant, a tradition since 1971. 
In a more serious vein, everyone attends the Honor Code Ceremony in Abbey Memorial Chapel with Acting President Sonya Stephens, and adds their name to the list that goes back decades. Orientation ends on Monday night with the rousing tradition of Orientation 101, which is designed to introduce students to the varieties of life at Mount Holyoke.
In a final, culminating tradition, the College community comes together Tuesday morning for Convocation, the ceremony that celebrates and honors the start of the academic year. The atmosphere is both formal and festive, with each class dressed in its color and seniors in graduation gowns.
The evening of Convocation concludes with a talk by Claudia Rankine, author of "Citizen: An American Lyric," which is this year's Common Read. The talk will be held in Chapin Hall at 7:00 p.m. and the College community is invited.
Next year in South Hadley! Visit.