Working for peace against a backdrop of chaos
Working for peace against a backdrop of chaos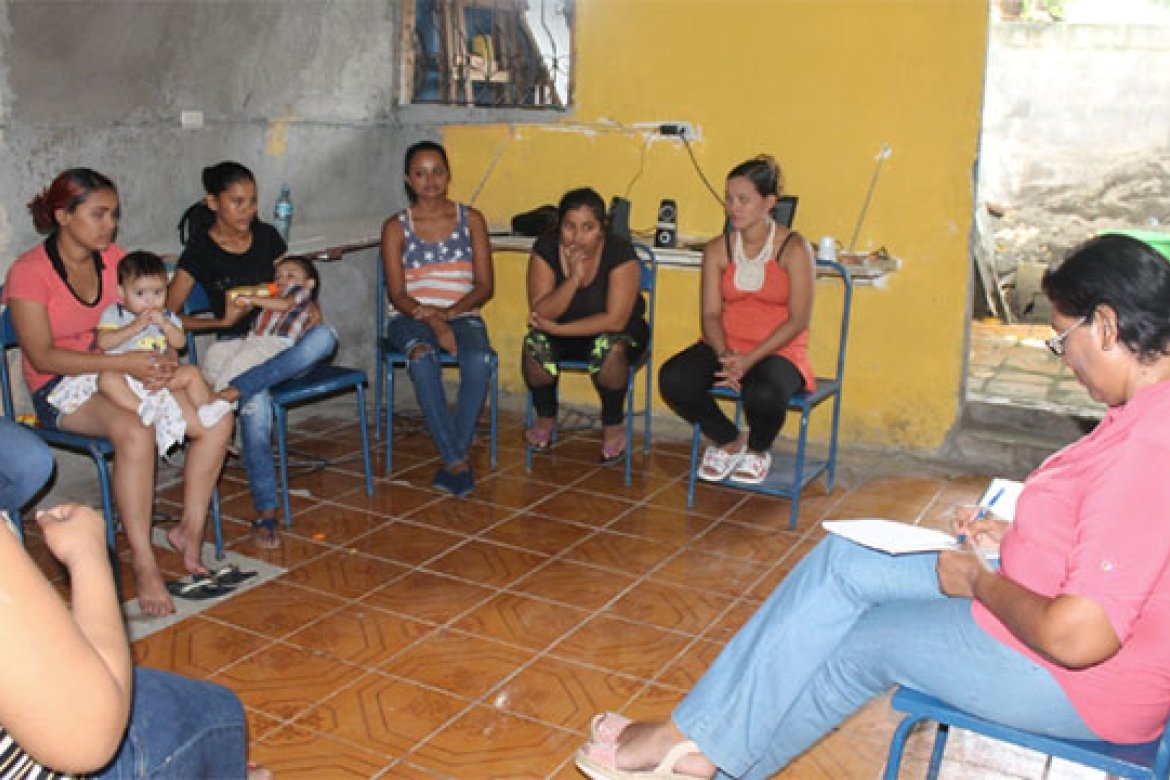 Mount Holyoke's Rosalyn Leban '18 had plans to serve a community in Nicaragua. Civil unrest changed her project but not her commitment.
After spending her undergraduate years engaged in social justice at Mount Holyoke College, Rosalyn Leban '18 had a vision. She planned to serve and support a community in a neighborhood in Managua, Nicaragua's capital.
Leban had arrived at Mount Holyoke with a clear idea that she wanted to engage in social justice work, and it was the Community-Based Learning program that enabled her to transform her dreams into reality. In 2016, Kirk Lange, associate director of the McCulloch Center for Global Initiatives, connected her with Podcasts for Peace, an organization in Managua co-founded by alumna Mika Weissbusch '11.
"Working with Community-Based Learning was an amazing opportunity to learn about theories and best practices in asset-based community development, and the community center in Managua is the perfect place to apply those concepts," she said.
For the summer after graduation, Leban wanted to expand on her earlier work with Podcasts for Peace, which began in 2016 when She proposed bringing computer equipment into a local community center to teach technical skills to those who were interested.
"I have always been impressed with how Rosalyn was attentive to community priorities and strengths, and how thoughtful she was about how she could best partner on community-driven initiatives," said Lange.
In her original application for the Davis Projects for Peace Award, Leban, an English major with a Chinese minor and a Nexus concentration in educational policy and practice, outlined her plan to bring technology education to the local community to improve the members' life skills and employability.
Projects for Peace is a competitive national program, inspired by the late philanthropist Kathryn Davis. Undergraduates who attend an institution in the Davis United World College Scholars Program are invited to design grassroots projects in support of the peace-building mission. Projects can be based anywhere in the world and receive $10,000 in funding. Mount Holyoke students have won 13 Davis Project awards since the organization started in 2007.
Leban won. She also received funding from Mount Holyoke's Social Innovation Initiative, offered by the McCulloch Center.
But then a wildfire broke out. The fire decimated an important Nicaraguan biological reserve, and the Nicaraguan government's slow — and, by many accounts, shamefully inadequate — response incited tensions across the country. President Daniel Ortega's subsequent move to decrease social security benefits while increasing pay-ins ignited even more political tumult. Protests became violent, communities were in chaos and Leban's project had to change course.
Working with Lange, Weissbuch and Ryan Lewis, the College's national fellowships advisor who connected her to the Davis Foundation, Leban was able to restructure her plan while maintaining her original vision, meeting community needs.
"The Davis Foundation has encountered these kinds of issues before," said Lewis. "They were eager to work with us to change the project in a way that maintained the original vision."
Leban's original vision was to bring stability and hope to a community that struggled with both. But computer education was no longer the most pressing need in the community.
"There was a lot of food insecurity and psychosocial stress, so rather than bringing in new computers and a computer curriculum, she used her funding to respond to what was most needed in the community," said Lange.
Leban decided to work from Guatemala in coordination with a nonprofit group led by a board with both Nicaraguan- and U.S.-based members and project managers. She coordinated with a psychologist who worked with community members in one-to-one settings as well as with the young mothers' group. She then parlayed extra grant funds into expanding the free breakfast program offered through the community center's alternative education program.
As a result of her efforts, the community center was able to pay a dedicated staff member to cook and provide breakfast for students — a job which was previously done by the head teacher. The expansion and stabilization of the nutrition program increased enrollment and attendance by 50 percent.
"The economy is really struggling in Nicaragua, so the fact that we were able to provide these students with one meal a day was very significant," said Leban.
In addition to the economic hardships faced by the community, she explained, drugs and violence are a part of many of the children's daily lives — and the community center offered a place of respite.
"It's a safe space where they will get fed and have people who care about them," she said. "That can make a huge difference in their lives."
Leban is currently in Guatemala as a Fulbright fellow, working as a legal assistant for a group that supports missing and detained asylum seekers. She's unsure what's next for her, but one thing is for certain: She will have her pick of opportunities. Podcasts for Peace has now become a full-blown community resource center, now called "Huellas de Paz,"or Footprints of Peace, in part due to her efforts.
"When Rosalyn decides to go for her Ph.D., or whatever she chooses, she'll have people begging her to come to their department," said Lewis.