Morena Svaldi
Faculty Director of the Language Assistant Program; Senior Lecturer in Italian
on leave spring 2024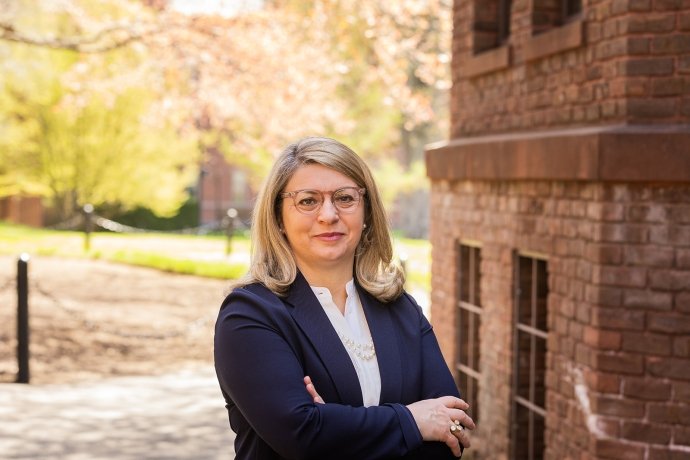 Lecturer Morena Svaldi joined the Italian faculty in 2004. She has been the Language Assistant Program Director since 2014. Svaldi is a member of the Five Colleges Blended Learning Steering Committee and the Language Floor Advisory Board at Mount Holyoke College.
Svaldi teaches courses at the elementary and intermediate level and organizes and coordinates training in foreign language pedagogy for Language Assistants and Language Mentors for all the languages taught at Mount Holyoke College. Over the years, she has also taught Intermediate/Advanced Italian Conversation at Smith College and Elementary Italian at the University of Massachusetts, Amherst. 
Svaldi is originally from Padua, Italy where she received a Laurea in psychology from the University of Padua. She worked for many years in the field of psychology in Italy and published articles related to mental health. In 2003, she received the Specializzazione post universitaria (Ph.D.) in Clinical Psychology at the University of Padua.
Svaldi relocated to the United States in 2004 and, since then, has focused on her new career in teaching Italian language and culture.
At Mount Holyoke College, Svaldi developed many projects to engage students in learning Italian. One example is the Skype VP – 50 Exchange project with the University of Bologna. Her goal was to give her students the opportunity to connect with other students in Italy, to arouse their curiosity about other cultures and languages and to prepare them not only for their study abroad experience, but also to be global citizens.
In 2014, she received a Five Colleges Mellon Blended Learning Initiative Grant to develop a project about blended learning in elementary Italian with colleagues at Smith College.
In 2015, she received a Five Colleges Innovative Language Teaching grant to develop an Elementary Italian Bridge Course in collaboration with the Mount Holyoke Italian faculty.
Additionally, Svaldi is currently working with Smith colleagues on a new Five Colleges grant project to develop an online learning platform for Intermediate Italian students. In 2010, Svaldi created Mount Holyoke College's first internship in Italy, at the University of Venice Ca' Foscari in collaboration with the McCulloch Center for Global Initiatives.
Since 2005, she has organized and presented at the Annual Five Colleges Italian Symposium in Pedagogy. She is an enthusiastic and active participant of the annual meeting of the ACTFL (American Council on the Teaching of Foreign Languages) and is a member of AATI (the American Association of Teachers of Italian).
Areas of Expertise
Foreign language pedagogy, teaching language through technology, Blended Learning
Education
Ph.D., B.A., University of Padua
M.A. Ca' Foscari University of Venice