Shakia Barron
Assistant Professor of Dance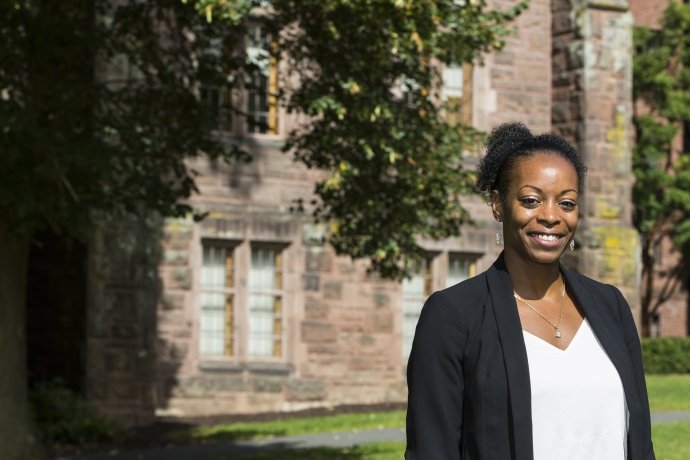 Shakia Barron is a choreographer, performer and dance educator whose work is rooted in the African Diaspora, focusing on hip-hop, modern and traditional African dance forms. She is an MFA candidate in choreography at Wilson College. Her other dance training includes the Bates Dance Festival, Jacob's Pillow and Pioneer Valley's Performing Arts Charter School.
Barron has choreographed and directed more than 50 hip-hop, modern, African and lyrical works that have been performed at Trenton Educational Dance Institute, Rider University, the Princeton School of Ballet and the Bates Dance Festival. She has performed for numerous hip-hop events and has opened for concerts by Fat Joe, Jadakiss, 112, Charlie Baltimore, Kima from "Total" and Omarion. In 2005, she choreographed a hip-hop number for the Celtics/NBA halftime show. Barron has toured nationally and internationally, dancing with Face Da Phlave Entertainment and Illstyle & Peace Productions. Recently, she made a guest appearance with Rennie Harris PureMovement.
As a dance educator, Barron spent four years teaching at the Bates Dance Festival and more recently teaching community classes at Jacob's Pillow. Her recent work, titled "Our House," was selected to be performed for Community Day at Jacob's Pillow. Prior to joining the Five Colleges program as a full-time faculty member, she served as an adjunct at Mount Holyoke, Smith and Connecticut colleges. Barron was also the 2019 Arthur Levitt Jr. '52 Artist-in-Residence at Williams College.
Education
B.A., Westfield State University
Teaching Artist Certificate, National Dance Institute in New York
A.A., Dean College