Launching Leadership: Suzan-Lori Parks '85 and Debra Martin Chase '77
Launching Leadership: Suzan-Lori Parks '85 and Debra Martin Chase '77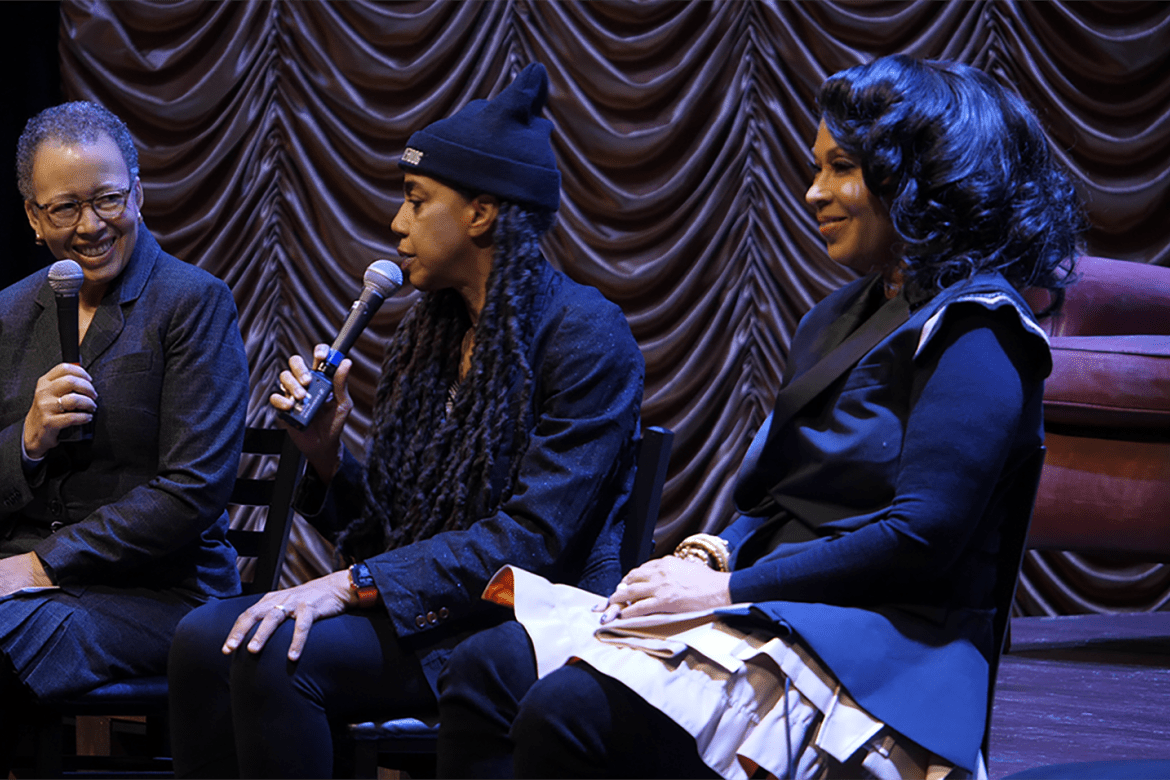 Love, work and the importance of connection were the overarching themes of a Launching Leadership discussion with Mount Holyoke alums Suzan-Lori Parks '85 and Debra Martin Chase '77 after an electrifying performance of Parks' play "Topdog/Underdog."
Warning: Mild spoilers for "Topdog/Underdog" are in this article. 
After an electrifying performance of the revival of the Pulitzer Prize–winning play "Topdog/Underdog," more than 300 Mount Holyoke alums and students stayed in their seats at the John Golden Theatre in New York City to listen to a talk with playwright Suzan-Lori Parks '85, producer Debra Martin Chase '77 and Interim President Beverly Daniel Tatum. 
Parks had a simple key to her success that she shared with the audience: "I love my work," she said, "And I work my love." 
Love, work and the importance of connection were the overarching themes of the Launching Leadership discussion, which included director Kenny Leon and producer LaChanze in the first twenty minutes. 
Leon said he wanted to work on "Topdog/Underdog" because of "the greatness of Suzan-Lori Parks. That's why one does this play." 
He continued, saying, "Every day in rehearsals, we start by talking about what's missing in the world." He lamented people's disconnection from each other and said it was mirrored in the play's ending, with one brother who's dead and one brother who's living — but is dead inside. 
"We all need each other," he said. "I believe in the younger generation. We need you. I love you." 
Interim President Beverly Daniel Tatum invited Parks and Chase to look over their post-Mount Holyoke careers and, as she does during all the Launching Leadership discussions, to "connect the dots." 
"I love my work, and I work my love."  — Debra Martin Chase '77
Parks, who was an English and German literature major at Mount Holyoke, was able to take a class with the renowned James Baldwin through the Five College Consortium while he was teaching at Hampshire College. She also had three "great" teachers at Mount Holyoke who "believed in" her and "cheered" her on: Leah Glasser, John Lemly and Mary McHenry. 
Ultimately, though, Parks "committed [herself] to doing the work, the daily showing up — writing. Writing. Writing whatever. That's the most important thing — showing up at the blank page or the blank screen every day." 
After Mount Holyoke, Park didn't go to grad school, because she "had James Baldwin as a teacher." Instead, she said, "I had a series of day jobs. I typed for people who yelled at me. I swept floors for a theater downtown. Menial jobs were not beneath me. I was patient in my own ability." 
She said others may have been better writers at the time, but she "loved writing more [than others]," and she worked harder.
Debra Martin Chase was a political science major at Mount Holyoke College. She always loved film and television, "but I didn't know anybody," she said. 
After graduating, she went to Harvard Law School and practiced law for five years. "And I was miserable," she said. 
"I knew I had something to contribute to the world," she said. "I'm going to bet on myself, bet on my passion." 
She joined Columbia Pictures and was part of their legal department while going through their training program. "I was a glorified intern, an executive intern — but it allowed me to transition," she said. 
Tatum then asked Chase and Parks to expound on the idea of being "authentically bold."
Chase said, "What Mount Holyoke gave me was that period of intellectual intensity. I didn't have to stand down for anybody. At Mount Holyoke, we are all fierce. We are strong."
"When I started at Mount Holyoke as a first-year [student]," said Parks, "we survived. All of us here have been driven and are prized. Mount Holyoke helped me hear myself. I was sitting in the Rockies and that was the first time I heard voices  — I heard the voices in my soul." 
Parks then leaned in to her audience. "Once you have your voice," she said, "they can't touch you." 
Parks and Chase also spoke about another alum  — playwright Wendy Wasserstein '71. 
Parks said, "When [Wasserstein] was on Broadway, she kicked down some doors. That meant doors opened for me, too. I felt that she was helping me get to where I needed to go." 
"I was a Trustee for eight years," said Chase. "One of the many things important to me is that we have two of the greatest female playwrights of the twentieth century as alums! I want to make sure we honor our theater tradition." 
To that end, Tatum reminded the alums and told the audience that there was a recent alum who was working on "Topdog/Underdog"  — Sueann Leung '09. 
The Alumnae Association then presented Parks and Chase with a gift; they were each given a framed, small-scale reproduction of a Mary Lee Bendolph etching, "To Honor Mr. Dial." The original was donated to the Mount Holyoke College Art Museum by Renee Conforte McKee '62. 
Parks said of Mount Holyoke alums, "We are the quiet storm! Just remember that you come from that!"