Little World Libraries have popped up on campus
Little World Libraries have popped up on campus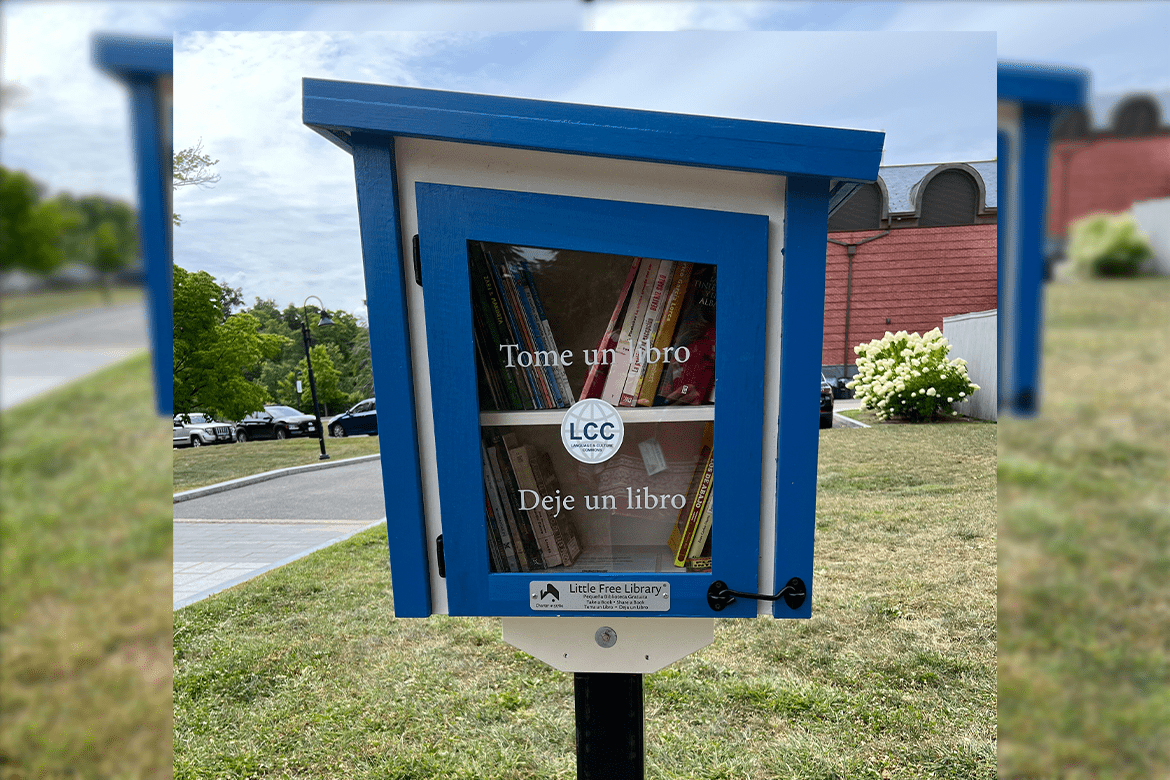 New communal libraries on campus invite Mount Holyoke College students to discover and share books written in a variety of languages.
From the Common Read to quiet evenings tucked in a tower of Williston Memorial Library with a book in hand, reading is a beloved pastime for Mount Holyoke College students. And when a story can be read in its native language, its world-building becomes even more immersive. A tale like "In the Time of the Butterflies," set in the Dominican Republic, takes on new life in Spanish.
Inspired by its diverse student body and commitment to global learning, the College is installing Little World Libraries around campus as dedicated places for sharing books written in a variety of languages. The communal library boxes invite students to drop by and discover a world of stories told in languages other than English. All members of the Mount Holyoke community are welcome to take or leave a book. Reading materials include classic novels, children's books, non-fiction books, autobiographies and more.
The Little World Libraries are the brainchild of Jean Janecki, coordinator of the Language and Culture Commons (LCC), who spent a year developing the project in close coordination with staff and students. Janecki enjoyed seeing Little Free Library boxes pop up in her own neighborhood and wanted to create versions that celebrated cross-cultural literacy and language acquisition on campus.
Student consultants at the LCC helped to breathe life into the project from its earliest stages, brainstorming with Janecki on locations for the libraries as well as which languages to include. The students had the special opportunity to actually design and build the library boxes. The project is funded by Library, Information, and Technology Services (LITS), with support from the Fimbel Maker & Innovation Lab, where the boxes were constructed. Kris Camp, design mentor and technical lead at the Fimbel Lab, jumped at the chance to collaborate and guide students through the creation process. "Mount Holyoke is such a supportive community," said Janecki. "This project is reflective of that — a prime example of how we work together and work for students."
"We chipped away at the project one learning moment at a time," said Camp. "We met almost every week to make progress by learning each step of construction, from the first cuts of raw lumber through to the finishing touches of decorative paint and laser-engraved plexiglass doors. I commend these students for stepping out of their comfort zones to learn new hands-on skills that have empowered them to share something they are passionate about."
Amelia Luo '23 is a double major in philosophy and politics and a native Mandarin speaker from Beijing, China. "I appreciate the opportunity the LCC has given me to work in the Fimbel Lab. I love the makerspace, but as a humanities/social science major, it is not my usual setting," said Luo. "With the help of others who work there, I helped build the library boxes from scratch. I used the laser cutter to make doors for the libraries and helped with printing the patterns onto the boxes."
For Ruby Sapkota '25, sharing the magic of languages has been a labor of love. A double major in computer science and economics from Chitwan, Nepal, Sapkota speaks four languages fluently (English, Nepali, Hindi and Urdu), has taken Spanish classes and will try Korean next. "I love learning languages," said Sapkota. "Most people find it difficult to learn a new language, but with the little libraries, I want to get people interested in learning. We hope these libraries also become a symbol of the inclusion present in the diverse student body at Mount Holyoke."
Designed by Claudia Gonzalez-Vazquez '25 of Cancun, Mexico, the decorations for each library feature flowers, the phrase "reading is power" and translations of "take a book, leave a book."
Stories play a powerful role in learning about language and culture. "It is fundamental to get that everyday perspective that storytellers provide: their characters, environment, what they eat. You put yourself in the place of a character in a story and experience their perspective," said Janecki. "I hope that this will bring larger awareness to all the different languages and cultures that people speak and belong to on campus, and I hope that those speakers will have more material to read.
"For those learning languages, they will have more books to choose from to spark their interest, hopefully. We want people to feel like they can contribute and share their own cultures."
"The little libraries are great resources to connect the Mount Holyoke community," said Luo. "I would love to donate some of my non-English books. Seeing others in my community use them to improve their language skills and enjoy them as much as I do would make me very happy."
Books are available in the following languages at these locations:
Arabic and Korean at Kendall Sports & Dance Complex
Chinese and Vietnamese at Pratt Music Hall
French and Italian at Dwight Hall (LITS)
Japanese at Eliot House
Russian and German at Prospect Hall
Spanish at Ciruti Language Center (LCC)
The College has officially registered its Little World Libraries as part of the Little Free Library network. The team at the LCC has created a map with a description of the project and locations of the various language libraries. There is a digital version of the map online. The student consultants have also been recording and sharing the entire journey on social media.
The College will celebrate the official opening of the libraries on campus later in the fall.