Meet the class of 2021: Abby Bridgers
Meet the class of 2021: Abby Bridgers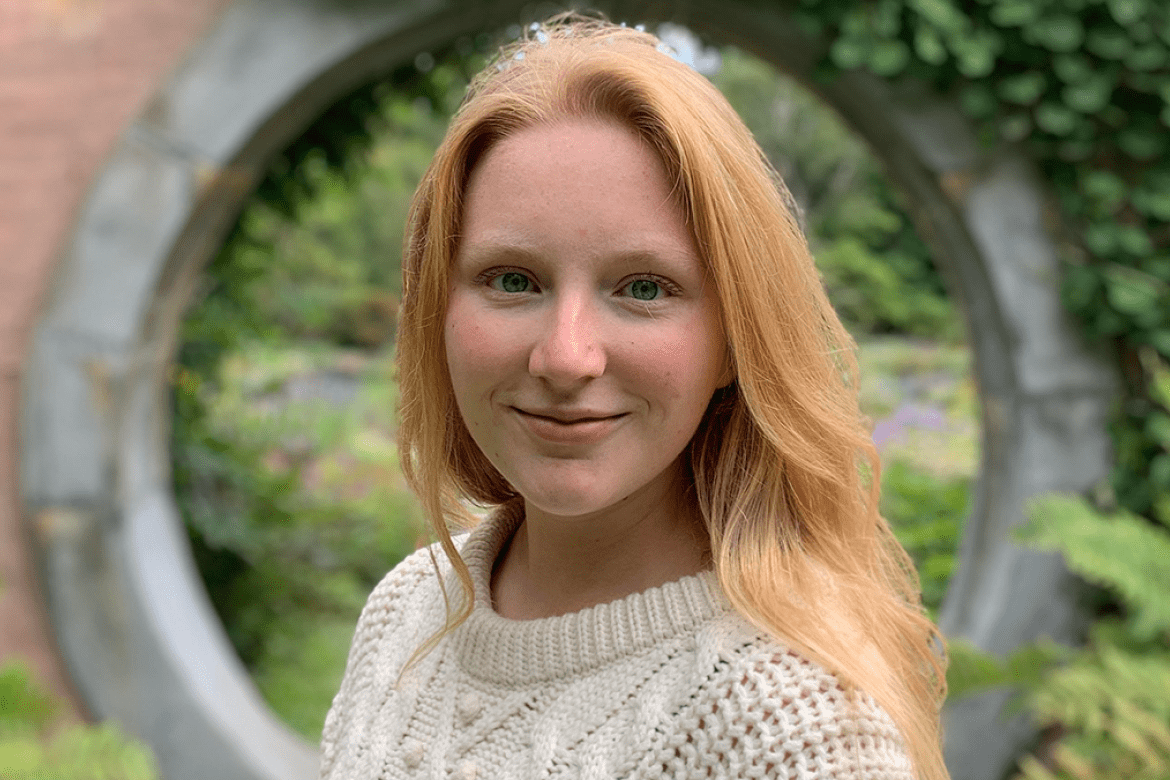 "Instead of trying to fit myself into a box, Mount Holyoke demanded that I think about where am I strongest, where can I put these skills to use."
Name: Abby Bridgers '21
Hometown: Bar Harbor, Maine
Academics: politics major
Pronouns: she, her, hers
Right at the start of her college search, Abby Bridgers had a feeling about Mount Holyoke. 
After interning at the world-renowned Jackson Laboratory in high school, Bridgers knew she wanted to major in a STEM subject in college. But she wasn't much interested in attending a "girls school." So she was quite casual in her admission interview, with an alum who had studied biology.
An hour later, after hearing about the College's powerful science programs — among baccalaureate colleges over the past 50 years, Mount Holyoke has the greatest number of women graduates who went on to earn doctorates in STEM subjects — she felt completely differently.
;
She arrived on campus ready to study biology and chemistry. But she wanted to take a first-year seminar that was outside her wheelhouse. 
"I thought, Politics of Inequality with David Hernández, that sounds awesome," she says. "And it pretty much started there. Right away I was beginning to think about my place in the world, and the world at large, especially in relationship to my interests in science and health and policy. I decided to step back and think about larger structures, look at things from a bigger picture. I've come to realize that I'm more interested in communication, patterns, systems and relationships than I am in being a lab scientist. That's how I ended up deciding to be a politics major." 
Since then, Bridgers has followed every path Mount Holyoke offers to learn more about advancing science and health — and there are plenty. 
She chose her advisor, Adam Hilton, assistant professor in the politics department, because he was so easy to talk to. "Adam is a sounding board, a great giver of advice, and it's cool to have similar interests."  
Building on her high school experience, Bridgers used her Lynk funding to intern for a research laboratory, this time in the public affairs office. She traveled to Washington, D.C. (and to Augusta, the capital of her home state of Maine), to promote scientific research. The experience was formative.   
"I realized I have the natural skills," she says. "I like talking to people. I like explaining things that are really important to me. I see the potential for advanced therapies from science and I think science needs people like me to promote them." 
Next, Bridgers completed a Leadership and Public Service internship through the Weissman Center for Leadership with State Rep. Lindsay Sabadosa, where she worked with constituents on health-related issues, including jails, substance abuse, housing and reproductive justice. 
With the help of the McCulloch Center on Global Initiatives, she studied global health and development policy in Geneva, Switzerland. But then COVID-19 sent her home. 
"I said, OK, time to find another experience, where I learn this from another angle," she says. So she joined the MHC in D.C. program, studying health policy, joining the Sara Gideon for U.S. Senate campaign, and interning for a health policy lobbying and consulting firm, run by Marsha Simon '73. 
"I taught myself data analysis techniques in order to work on a state SNAP forecasting project that was delivered to the Biden transition team, members of Congress and key stakeholders in federal health policy across industries," Bridgers says. 
In what is probably her proudest moment, the project was published by The Center for Accountability, Modernization and Innovation, or CAMI, in December.
"Instead of trying to fit myself into a box, Mount Holyoke demanded that I think about where am I strongest, where I can put these skills to use,'" Bridgers says. "I became passionate about blending the traits I already have with what I'm interested in rather than thinking about things in terms of, 'this could be my career.' Now it's, 'this is the thing that I really care about. How can Mount Holyoke help me?'" 
She has been accepted to Northeastern University's Roux Institute, where she will pursue a master's degree in analytics. 
And yes, she's still in touch with the alum from her interview. "She's really great," Bridgers says.  "She's so encouraging and she's really eager to talk. She's like the classic Mount Holyoke alum."
Like Bridgers is about to be.
The importance of AccessAbility Services 
An important part of her Mount Holyoke journey occurred when Bridgers realized that college academics, especially test-taking, felt far more challenging than it had in the past. After being diagnosed with ADHD, she went to AccessAbility Services, where the staff worked with her to develop accommodations for her classes and tests. 
"That was a pretty incredible moment, because I realized that maybe the hurdles I was running into didn't have anything to do with my studying, or in the way that I was preparing," Bridgers says. "Maybe it was just a difference in the way that I learn. It gave me the opportunity to stay in quantitative courses. It was a complete game-changer."
AccessAbility Services sits in the office of student success and advising and is part of the academic affairs and student life divisions. It works with students who have documented disabilities to determine reasonable and individualized accommodations. These include the areas of academic, dining, housing and student employment, as well as with assistive technology and collaboration with campus offices.