The power of paid internships
The power of paid internships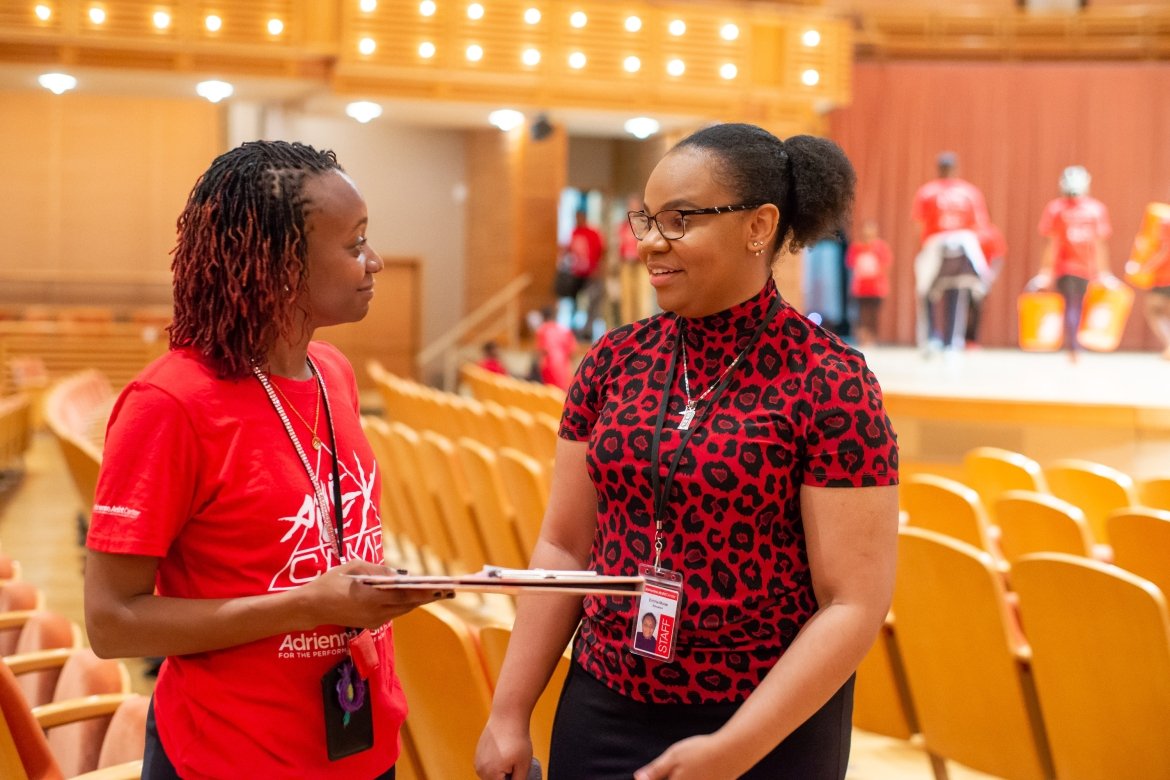 A current Mount Holyoke College student had a paid internship in Miami thanks to a gift from Adrienne Arsht '63 to the center that supports AileyCamp Miami.
When Mount Holyoke student and Posse Scholar Emma Moise '25 went back to her native Miami in 2022 to assist with interviews for campers at AileyCamp Miami, a six-week, fully funded summer day camp sponsored by the Adrienne Arsht Center for Performing Arts of Miami-Dade County, the experience took her back in time. Six years ago, when Moise was 14 years old and in the eighth grade, her own experience as an AileyCamp camper changed her life.
Honored by the White House as one of the nation's top youth development programs, AileyCamp Miami motivates students to learn about themselves and self-expression by immersing them in the world of performing arts, which includes taking classes in communication, personal development, jazz, modern ballet and West African dance. And it was during an especially sensitive time in her life that Moise started the program, she said. She had been recently diagnosed with some mental health issues and was dealing with suicidal ideation. "When I started AileyCamp, I was not really talking … I was very depressed. I had no energy and no purpose in my life," she said. "But throughout camp, I was able to just kind of find who I was, get out of my depression and really just become a different and better person."
So it seems like fate that Moise would learn during the camper interviews about another Arsht Center opportunity that has opened up new doors: a paid internship at the Arsht Center, the first of its kind thanks to an $11 million endowment that Adrienne Arsht '63 gifted to the center's internship program last year. The gift has now transformed the internship into a fully paid experience. Like the Posse Foundation, the Arsht Center shares a commitment to diversity, and funding internships is part of holding that commitment accountable.
"And I was like, 'Oh my god, that's amazing,'" Moise said, recalling her reaction to hearing about the internship. "Because now I can go back and see the other side of AileyCamp and give back to a camp that gave so much to me."
Although Moise had held internships before entering college, her summer internship at the Arsht Center was her first paid internship. And thanks to Arsht, other students will also have the chance to earn money while interning at Miami's leading performing arts center.
It's part of a broader set of initiatives that Arsht, who trained as a lawyer and is now one of the nation's leading impact philanthropists and business leaders, has been pursuing to create more equitable opportunities for students. When her own father was a top student in law school and was asked to join the law review — the equivalent of an unpaid internship — he was forced to decline the offer because he needed a job that paid, Arsht said. Then, when New York's Metropolitan Museum of Art made offering paid internships a priority as part of its commitment to antiracism and diversity after the murder of George Floyd, Arsht saw an opportunity. "I called them up and said that I would fund the interns," she said. Her $5 million donation made the Met the single largest art museum to fund 100 percent paid internships, and it was not long before the same became true for the internships at the Miami Arsht Center. 
"It's a strong belief that interns need to be paid," Arsht said of her reasoning to fund the programs. "That's the only way that a more diverse group of individuals will be able to enter many different areas. And an internship is a stepping stone to your career. And if they're unpaid, it's a stumbling block for many."
After the Met's 2020 announcement of its paid internships, the museum received a 200 percent increase in the number of hopeful interns applying for its spring 2021 program. The movement to pay interns continues to grow — the White House, for example, also started to pay its interns for the first time in history. 
This philosophy is strongly embraced at Mount Holyoke College, where every student is guaranteed access to funding for a summer internship or collaborative research opportunity through the College's Lynk initiative. By offering universal access to these experiences, Mount Holyoke seeks to fulfill the promise of economic mobility through higher education by ensuring those with high financial need have full access to the experiences that have been shown to help with post-graduation outcomes.
If it sounds like Arsht has helped to set the tone for paying interns, that's because she has — and Arsht is no stranger to being a trailblazer. Born and raised in Delaware, she applied to Mount Holyoke in the spring of 1959 as a high school junior. She knew she wanted to skip her senior year of high school, which was unheard of at the time, to start her collegiate path right away. She dreamed of following in her parents' footsteps and going to law school, and she wanted to be on that path as soon as possible. Mount Holyoke was the only college that would accept her without a high school diploma, she said, so the decision to attend was clear. 
Admittedly, it was lonely without any friends from high school who could share her particular experience, she said, but Mount Holyoke left her with memories. In between riding her bicycle on campus and taking skiing lessons as part of PE classes, Arsht took the bus over to nearby Amherst College to take the law boards. She would eventually graduate from Villanova Law School and become the eleventh woman admitted to the Delaware bar — her mother, also a trailblazer, was the fifth along with being the first female judge in the state of Delaware.
Indeed, from an early age Arsht learned from her parents — the Honorable Roxana Cannon Arsht and attorney Samuel Arsht — the importance of giving, being active in your community and doing the things that others might not be willing to do or able to take on. "I use this as the base of my philanthropic decisions and like to think [these lessons] are game changers in how I choose to make an impact," Arsht said. 
To Arsht, philanthropy is not just about the amount but about giving in any way you can. She encourages people to be involved in causes they believe in no matter how much they can give — and, if they are able to give, to be comfortable with letting others know about it. "Women, especially, shy away from recognition for their philanthropy," Arsht said. "I want to set an example for women so they know it's OK to give."
The drive to make an impact in a field traditionally dominated by men goes back to one of Arsht's favorite quotes attributed to Edmund Burke: "The only thing necessary for the triumph of evil is for good men to do nothing." She repeated it at Mount Holyoke's 2019 Commencement, where she was presented with an honorary doctorate for her achievements and contributions to society.
Over the years, Arsht has given donations that have financially secured a number of organizations and programs. That includes $30 million to Miami's Performing Arts Center in 2008 (the center was subsequently renamed the Adrienne Arsht Center for the Performing Arts of Miami-Dade County in her honor) and, this year, a $25 million gift to endow the Atlantic Council's Adrienne Arsht Latin American Center, which she founded in 2013 to focus on the role of South America in the transatlantic community.
The latter donation was announced in the midst of her gift to the Arsht Center's internship program. The Arsht internship welcomes both local interns from Miami and interns from all over the country, and transforming the Arsht interns program into a paid program has allowed for much greater access to this position, said Jairo Ontiveros, Arsht Center vice president of arts education and community engagement. "It opens up the opportunity to those who must earn a wage while learning — and this is an important factor in ensuring more equitable opportunities for all," he said. "We hope that the skills our interns acquire — whether they are professional or soft skills — ensure that they stand out from the crowd throughout their future."
For Emma, who eventually wants to go into engineering, the internship was a chance to directly give back to her community as well as to learn the ins and outs of other hard and soft skills: business, organization, time management, Excel, PowerPoint and so on. When the finale of AileyCamp neared and the campers prepped for a spoken word and dance performance that would attract over 1,000 attendees, Emma took the lead in organizing and fitting all the costumes.
"It's really cool because I got to see a side of the Adrienne Arsht Center I never got to see when I was little," she said. "And just being able to do all the behind-the-scenes work and helping out people who helped me has been really fun for me."