Red pegasi landing!
Red pegasi landing!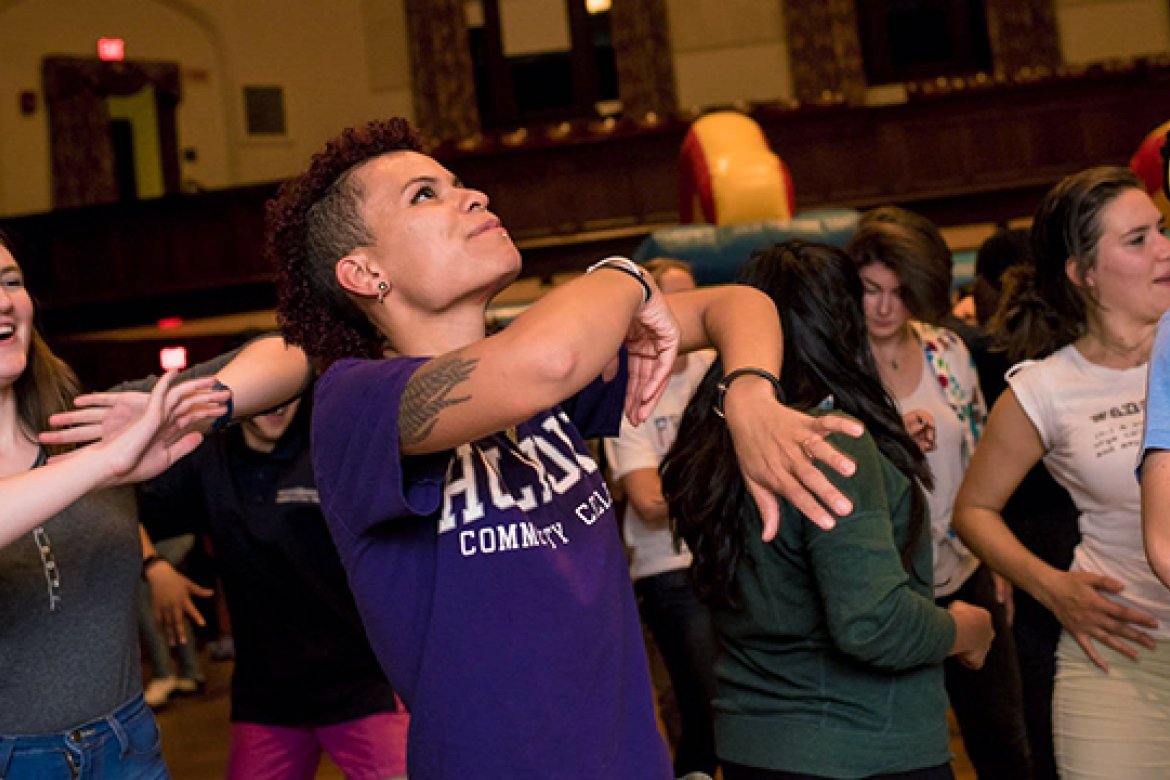 Welcome, class of '22, to Mount Holyoke College! We're so glad you're here.
The newest members of Mount Holyoke College are about to arrive on campus. International students arrive on campus for Orientation 2018 on August 29 and the rest of the class follows on August 31. Together they'll spend the weekend immersed in their new home, making friends, learning their way around — and having a lot of fun. 
Among the expected 670 undergraduates entering the gates of Mount Holyoke this fall are students from 38 countries, 38 states and Puerto Rico. Almost a third of them, 29 percent, learned a language other than English as their first language. In all, the class of 2022 speaks 28 first languages, including English. They are high-achievers, with an average GPA of 3.8. Three-quarters of them graduated in the top 20 percent of their high school classes. 
"This is an incredible moment for Mount Holyoke," said Marcella Runell Hall, vice president for student life and dean of students. "Orientation is a time for us all to come together as a learning community to co-create the world we would like to live, learn, play and work in. One of the greatest things about it is that we get to do all of this in a place that has a deeply rooted sense of tradition, coupled with a sincere commitment to fostering a sense of belonging for each and every member of the community." 
As with classes before them, the incoming students will be introduced to the College through some of those traditions, including Firstie Plants, M&Cs and the annual under-the-stars viewing of the movie "Dirty Dancing," where they will be poised to cheer for the line, "Baby's starting Mount Holyoke in the fall." 
In one of the College's newer traditions, this is the second year incoming students will engage in the re-imagined Honor Code Ceremony in Abbey Memorial Chapel, where they will take Mount Holyoke's Honor Code pledge and receive a personalizable handbook of the College's traditions. In honor of the incoming members of the class of 2022, Archives and Special Collections will be displaying a "treasure box" in the main reading room of the Williston Library of objects and mementos from the class of 1922. Students will also be introduced to Be Well at Mount Holyoke, the College's holistic wellness initiative that promotes well-being of all kinds at the College. 
"An astounding amount of energy"
Kim Parent, class dean for new students, is eager to greet the incoming group. 
"This class brings with it an astounding amount of energy and excitement to be joining the Mount Holyoke community," she said. "Each of the students I have spoken with this summer is super excited to start their time as a red pegasus, and each brings a diverse background and perspective that will add to the depth and diversity of the class of 2022." 
The red pegasus is the class animal of '22 — class colors and animals are another tradition, one that Mount Holyoke has maintained since the late 1800s. 
Twenty-three transfer students and 12 Frances Perkins scholars — students older than 25 who have experienced an interruption in their education — are expected to join the 635 first-year traditional-age students. 
While making the transition to college can be a challenge, Mount Holyoke's Orientation team, made up of 20 enthusiastic students, has developed soup-to-nuts programming to make the process informative, easy — and definitely fun, said Alicia Erwin, director of student involvement, who oversees weekend. 
"This year's Orientation will focus on celebrating the new class, making their college entry fun and instructive, and starting to connect them to their peers in their own class, as well as to returning students who can help guide them through the first few months and into a successful career at Mount Holyoke," Erwin said. 
Led by three student fellows, the Orientation team includes two who are dedicated to leading the group of transfer students and Frances Perkins scholars. 
In addition to having the opportunity to learning the nuts-and-bolts of campus life, new students will meet their classmates and advisors. While incoming students navigate through getting their keys and learning about campus life, their parents can learn about student life on campus, the resources and supports available to students and families, and the ways in which Mount Holyoke connects academic work to professional development from the moment a student step on campus. 
Orientation wraps up in the evening of Convocation with a talk by Cristina Henríquez, author of the 2018 Common Read, "The Book Of Unknown Americans". She will be speaking on Tuesday, 7:00 p.m. in Chapin Auditorium, Mary Woolley Hall. The public is welcome. 
Saddle up, pegasi, you're in for the ride of your life!
Ride with us.  Visit.  
Written By

Keely Savoie
Published