Senior Symposium 2023 showcases a range of student work
Senior Symposium 2023 showcases a range of student work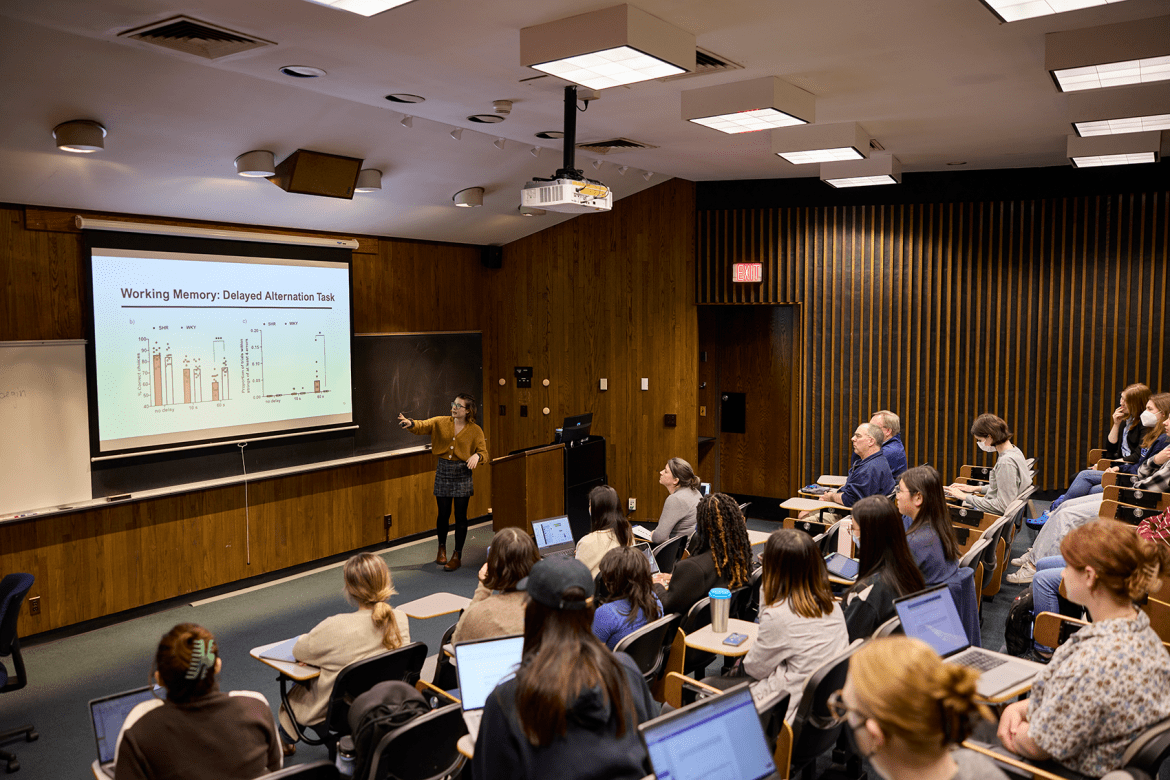 At this year's Senior Symposium, over 100 Mount Holyoke College seniors presented their research, capstones and independent coursework.
Before an audience of 20 people in Reese 302, Tianyang Gao '23 described her research exploring the particular stresses, microaggressions and social exclusions experienced by members of the bisexual community. Simultaneously, a short walk away in Kendade Hall, Nora Carrier '23 was explaining their research on the country's housing crisis.
The variety and specificity of those presentations is par for the course for Senior Symposium, which, this year, saw just over 100 graduating seniors offer public presentations on their independent coursework, scholarly research and capstone projects. Seniors presented their work before audiences in classrooms across campus on Thursday, April 27. The event was heralded by Interim President Beverly Daniel Tatum, who spoke about the range of work presented across the disciplines in an online video posted on the College website.
"As we approach the end of the academic year and get ready for Commencement, it is a delight to pause and celebrate the good work all of you have done this year," President Tatum said. "Savor the moment!"
One senior savoring the moment, Avni Wadhwani '23, a politics major from Oakland, California, was surrounded by well-wishers in Kendade 305 after she presented her research on criminal justice reform before an audience of 25.
Her work spanned a year, during which she interviewed elected leaders and political activists in Michigan, among conducting other research, as she sought to analyze the best way to market criminal justice reform proposals in order to get legislation passed. She grounded the discussion in the context of structural racism, class disparities and the political climate as barriers to bringing meaningful reform to the carceral system. Afterward, she responded to audience questions: One asked what she found most surprising in her research and another pressed her to carry her analysis further by assessing the likelihood of success of reform efforts.
Among the questioners was Mount Holyoke politics professor Preston H. Smith II, Wadhwani's advisor, who posed questions to all four panelists. Interviewed after the panel, Smith said he likes to encourage students — and not just the ones he advises — to examine their own thinking process and analysis to seek out broader implications.
"I'd love to hear more about your experience in Ghana," he told a student who presented research about reproductive health in Japan. She was, in part, inspired by an internship earlier in her academic career in Ghana.
"It's important academically and intellectually," he said. "My questions have a pattern of asking, 'How would this work in the real world?'"
Speaking after the four presentations in her panel block concluded, Wadhwani seemed relieved to have the presentation behind her. Heading into the presentation, she was nervous because the argument she was making about the carceral system had many nuances, and she didn't want it to be misunderstood.
The process of presenting and then answering questions posed by her advisor and others strengthened her work, she said.
"It helped me further integrate my argument and see what I need to support it," said Wadhwani, who intends to pursue law school after she spends a few years working in public policy or within organizations fighting for criminal justice reform.