Senior Symposium showcases student scholarship
Senior Symposium showcases student scholarship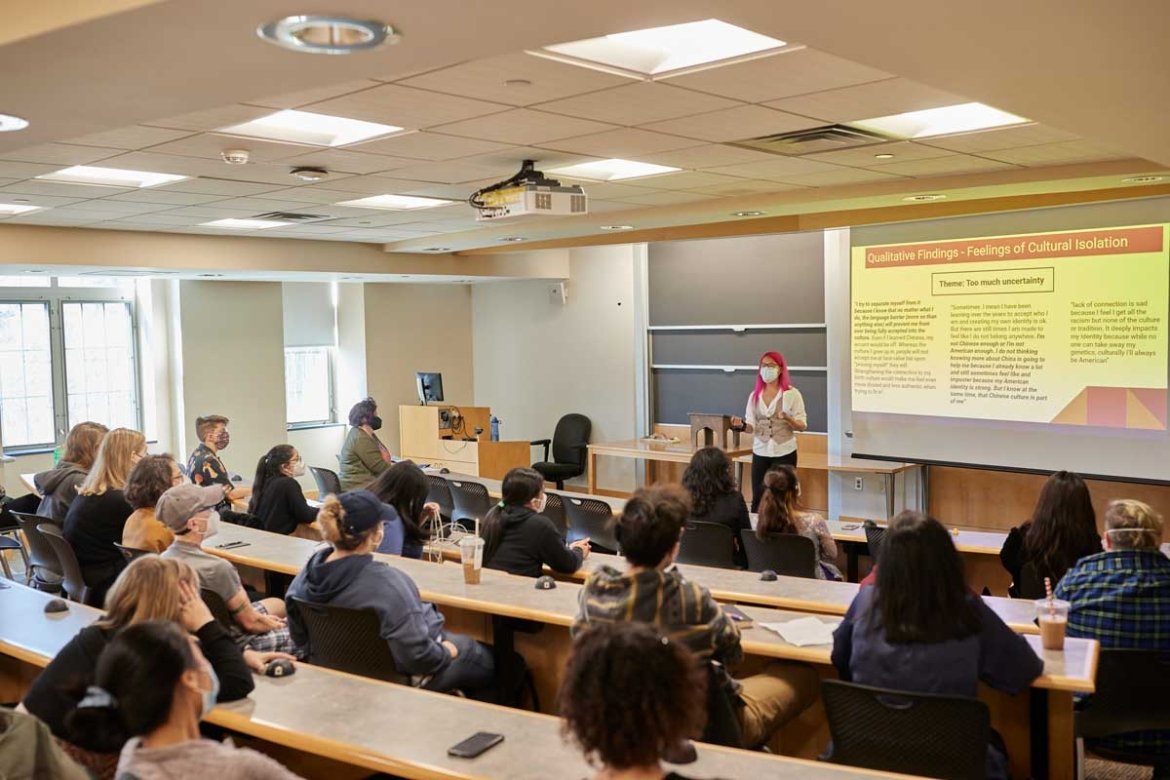 More than 100 seniors presented their research to peers, supporters and friends as senior symposium returned to campus.
Senior Symposium 2022 saw more than 100 seniors present their original research on topics that were as diverse as the students themselves. As presenters and attendees gathered on campus for the event on April 22, the College was also celebrating Earth Day.
Senior Symposium represents the zenith of academic achievement at Mount Holyoke for undergraduates. The research presented is the culmination of months — and sometimes years — of research on a topic that the student chooses.
The event was a return to in-person presentations after two years of being virtual. 
"It was very special to return to a primarily in-person Senior Symposium after two long years," said Amy E. Martin, director of the Weissman Center for Leadership, which oversees the program. "The opportunity to be together in community, hearing brilliant senior capstone work, has been a gift."
The event began decades ago as a project of the chemistry department and expanded to incorporate all of the sciences in 1975. In 2006 the rite of passage was open to, though not required for, the entire senior class — and so it remains. 
Presentations covered topics ranging from the genetics of ocular tumors in fruit flies to the role of Buddhist temples in supporting the LGBTQ movement in Japan.
One presenter was Saachi Khandpur '22, from New Delhi, India, who majored in psychology and politics and completed the Five College certificate program in reproductive health, rights and justice. She said that her presentation on the effects of violence against the LGBTQ community in India was born out of personal interest that existed long before she arrived at Mount Holyoke.
When she began her research, she immediately ran into a problem: "I kept looking for resources focused [on] queer Indian survivors, but I couldn't find any," she said. "This kind of work has never really been done before."
In her own research, she found that queer survivors of sexual violence in India face barriers to accessing support, which are associated with caste, religion and financial factors, But some things are changing: Up until 2018 it was illegal to be gay in India, and now survivors can openly talk about their experiences without fear of legal reprisal.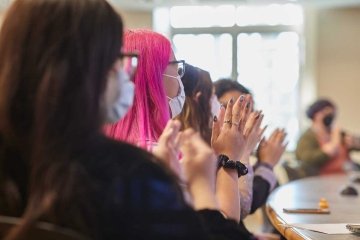 She said that her experience of Senior Symposium was a powerful one, not only because of the original, groundbreaking research she was able to conduct and present but also because it was an opportunity to talk about and share her findings with others. 
"I could see that people were surprised by some findings or were actually taking note of things," she said.
In a panel focused on politics and policy, Elena Frogameni '22, presented her research on the role that language differences can play in conflict development.  
"I was taking a course for my French major on translation studies while simultaneously exploring current conflict in Cameroon's Anglophone region in a course for my politics major. Learning about these two topics in tandem prompted me to ask: 'When, why and how does language emerge as a catalyst for conflict?'" she said.  
Frogameni, who will be studying on a Rhodes Scholarship in Oxford next year, said that for her, sharing the academic process of thesis development and writing with undergraduates was equally important.
"Doing year-long research is a process with many twists, turns and stumbling blocks, and I am grateful to the Weissman Center for facilitating an event where we can do peer-to-peer sharing and advising to help ease the process for future thesis students," she said. Her advice to students undertaking the challenge: "Get a carrel!" she said. 
"My carrel in LITS gave me a scholarly home-away-from-home, and it's a great place to keep all your books." 
Because Senior Symposium was on Earth Day, a special panel on environmental issues was presided over by Timothy Farnham, chair of environmental studies, in which students presented on topics that increasingly affect everyone, from highway design to access to green spaces. 
As the director of the Weissman Center and leader of Senior Symposium, Martin was delighted with the day. 
"Senior Symposium is a particularly wonderful tradition because we witness scholarly and creative projects that are the culmination of not just months but years of work completed by students," she said. "It makes visible the dedication, innovation and deep collaboration that is the foundation of the Mount Holyoke liberal arts education." 
Senior Symposium is supported in part by the Richard and Donna Taylor Endowment Fund, established by Jean Taylor '66.