Take the classes you want to explore.
Take the classes you want to explore.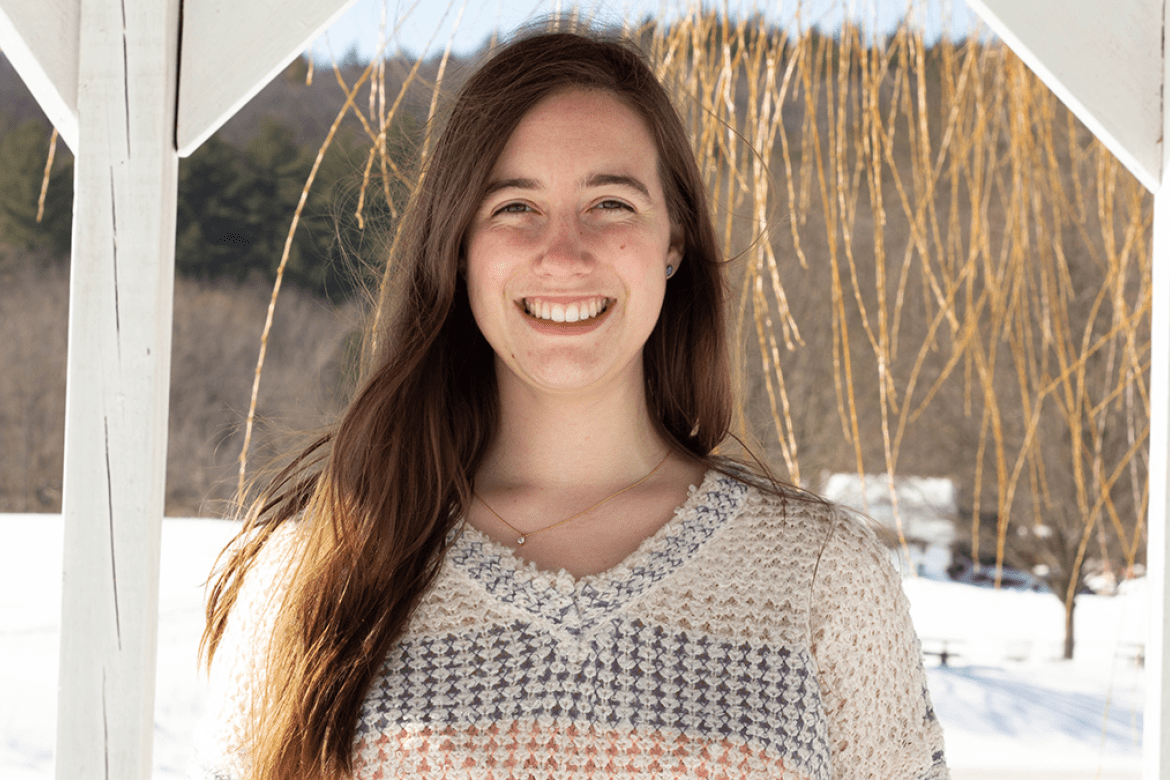 "I have such a greater understanding of the ways people are connected. Everyone here wants to have those conversations, to learn more about each other."
Hometown: Framingham, Massachusetts
Academics: Russian and Eurasian studies major
If Robin Kerr were to give advice to a first-year student, she would say, don't worry about your course credits. They'll fall into place. Take the classes you want to explore. 
That's what she did, right from her first semester. Self-described as "indecisive with many interests," Kerr found the early bread crumbs to her academic career in her first semester and followed them for the next four years to linguistics, language and Russian and Eurasian studies — along with a few side trips. She had help from professors, other students and even the famous Mount Holyoke alum network. 
"Mount Holyoke offers so many amazing courses in every department," she says. "The requirements are like an exploration. It's so exciting. I was just experimenting with all of the resources that we have here."   
Kerr came to college with an interest in languages. She was introduced to translation in her Chinese literature first-year seminar, taught by Ying Wang, Felicia Gressitt Bock Professor of Asian Studies. She took Spanish and later, when she switched to Russian, she lived on the Spanish Language Floor Living-Learning Community so as not to lose the language. She took linguistics at the University of Massachusetts Amherst, through the Five College Consortium. She studied computer science, on the premise that coding is a kind of language. She took research methods in psychology and was surprised to find that she loved it — and that it came in handy.
Unsurprisingly, Kerr also had an interest in international relations. She started in her first semester with a couple of classes in Russian and Eurasian studies. And that's where she found her calling. 
"The professors in the department are very nurturing and excited about the material that they're teaching," she says. "That really brought me in and I felt like there were many opportunities there. I started to take more classes. I took a Russian literature class and it just kind of expanded from there. All of a sudden I was taking Russian language."
It was that first semester when Kerr took a class with Stephen Jones, professor of Russian studies, who became her advisor. It was a 200-level course and as the only first-year student, she felt out of her league. 
"I met with him a couple times and he talked about ways that he could help as a professor, to make me feel more comfortable and participate more," she says. "And from there, he was really supportive. He's always looking out for me and I can ask him anything." 
After Kerr returned from an inspiring two-week trip to Russia, sponsored by Smith College, Jones helped her get an internship in Tbilisi, the capital of Georgia. She used her Lynk funding to go, working for the Center for Social Sciences and doing research for Jones that involved interviewing politicians and academics on the Georgian constitution. 
She took Mount Holyoke with her. Before she traveled, Kerr reached out to College alums who had lived in Georgia for advice and guidance — she made the connections through her supervisor, Lydia Malone FP'13, at the Weissman Center for Leadership. And once she was in the country, Kerr connected with the local Seven Sisters Facebook group.  
The experience was life-changing, Kerr says.  
"I began to learn more about this country, situated between Russia and the European Union, and struggling with this identity crisis," she says. "I also became really aware of the power that language plays in identity for people and their connection to land." 
She started taking Georgian in order to connect with people in their native language. Back at Mount Holyoke, she was able to do some basic research using the connections she had made in the country.   
"Mount Holyoke has deepened my global outlook in the sense that I have such a greater understanding of the ways people are connected," she says. "It's so important to have an understanding of the historical connections, to see the conflicts that we have now. Everyone at Mount Holyoke wants to be having those conversations. There's a sense that everyone is interested in talking with each other and learning more about each other, which is a really powerful thing." 
In the near future, Kerr plans to travel and hopes to end up back in Georgia. Whether she explores graduate school, teaching or perhaps journalism, she will be working with language and politics.